Published
30th August 2023
Precision Hydrogen generator is safest option for SDSC SHAR
Satish Dhawan Space Centre SHAR (SDSC SHAR), the Spaceport of India, is one of the lead centres of the Indian Space Research Organisation (ISRO), Department of Space (DOS), & Government of India. The Centre provides world class launch base infrastructure for national and international customers in accomplishing diverse launch vehicle & satellite missions for remote sensing, communication, navigation & scientific purposes. 
Following the recent successful moon landing by ISRO, we spoke with Dr Bakul Das, a scientist at SDSC SHAR ISRO, to get an insight into their use of the Precision range of hydrogen and zero air gas generators in India.
"Quality of gas, highest standard of safety, occupying very little space, soundless, and trouble free."
Dr Bakul Das,
SDSC SHAR ISRO
Typically what is the focus of your GC analysis?
The evaluation of the purity and impurity profile of liquid ingredients in connection to qualifications of the materials to be use in our process.
What PEAK Scientific generators do you have in your laboratory and what instrument(s) do they supply?
Can you explain the safety benefits Precision has brought to your lab?
The volume of gas produced per minute is low which means the chance of hydrogen LEL value in testing environment becoming dangerous is remote. This gives us no concern from safety point view in comparison to compressed gas cylinder.
How has the Precision's compact size impacted your laboratory footprint?
This is a robust, elegant generator which occupies a very small area. The compressor runs without noise helping to meet best quality requirements for usage in our quality control lab.
What prompted you to choose a PEAK Precision hydrogen generator for your analysis?
This is best find compared to other available gas generators on the market and provides trouble-free service without any haze for longer duration/use.
What has been the key benefit of deploying PEAK's Precision for your analysis as opposed to your previous gas supply solution?
The yield/gas quality which is 99.999%, which is excellent, meets our process requirement. There is no alarming pressure buildup, no question of reaching hydrogen LEL value and hence it's a huge gain in terms of safety.
Would you recommend PEAK Scientific generators to other laboratories? If yes, what would be your main reason for recommendation?
Yes. Quality of gas, highest standard of safety, occupying very little space, soundless, and trouble free.
Need help finding a solution?
Contact our team of experts today to find the best solution for your lab's GC & GCMS
The team at SDSC SHAR ISRO have seen the benefits that come from using the Precision range of generators and have touched multiple times on the safety aspect that comes with the use of a hydrogen generator in your lab rather than the risks that come with the use of compressed gas cylinders.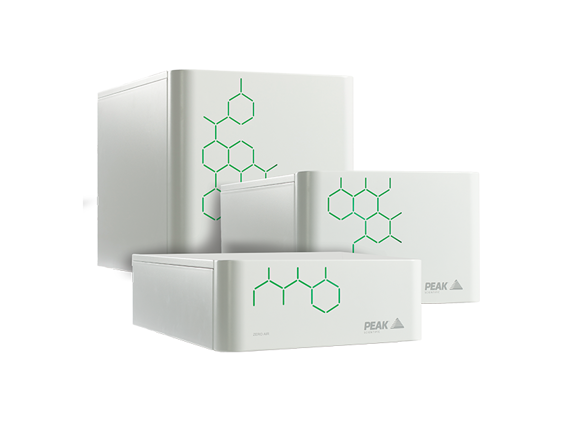 PEAK's Precision range of hydrogen, nitrogen and zero air gas generators
The hydrogen safety concerns are high on the list of many lab managers thoughts when it comes to carrier gas for their lab's GC. But, with the Precision range of hydrogen gas generators, you can put your mind at ease that all safety aspects of hydrogen in the lab have been considered and factored into the design of the generator.
PEAK's hydrogen generators offer a number of built-in safety features to make sure you can have peace of mind at all times. The include an internal leak check on start-up, external leak detection, pressure monitoring to prevent leaks and pressure build up, automatic cell shutdown at high pressure and audible/visual alarms.
Unlike a compressed gas cylinder, which has none of the safety benefits of a PEAK gas generator, if your hydrogen cylinder was to develop a leak, the possibility of reaching LEL could happen in mere seconds due to the volume stored in the cylinder. This is where much of the worry around hydrogen comes from, but with the low volume of stored gas in a gas generator, this is not something that needs to be considered nearly as much.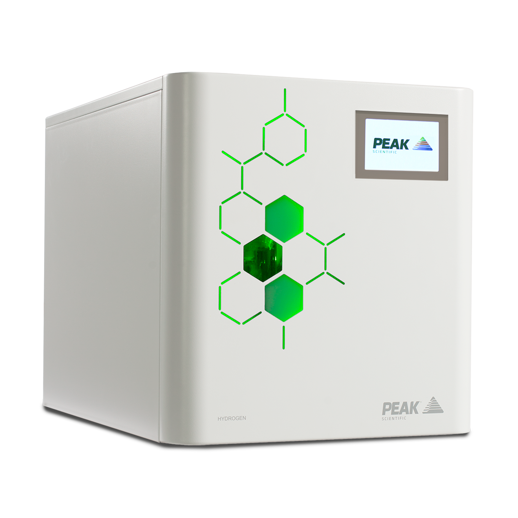 PEAK Scientific's Precision Hydrogen Gas Generator
PEAK takes the safety of their customers seriously and wants to make sure you are protected when you use our products. This is why we also have a range of service offerings to make sure that your generators are maintained and in perfect working order at all times which, again, minimizes the risk of issues arising and causing safety concerns for your lab personnel.
If you want to take advantage of the safety features and convenience of an on-site hydrogen gas generator like the team at SDSC SHAR have done, you can contact our local team of experts to find the perfect solution for your lab's requirements and start seeing the benefits an on-site gas generator can bring to your lab. 

Need help finding a solution?
We are experts in our field - with over 20 years' worth of experience in pioneering cutting-edge gas generator technology, we have worked closely with leading instrument manufacturers to help you find a solution tailored to your specific needs.