University of Ferrara uses PEAK hydrogen generator to streamline GC research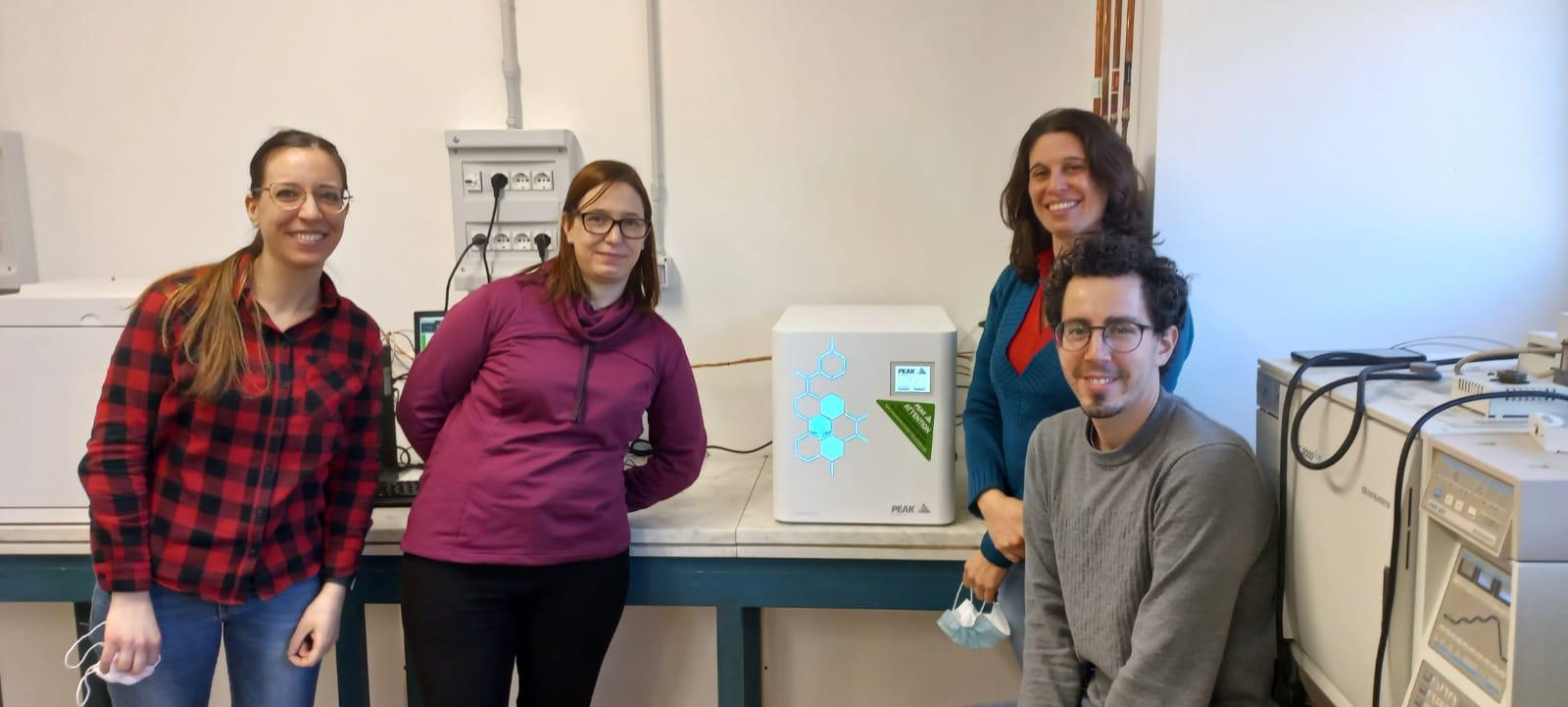 Assistant Professor Flavio Franchina and his team at the University of Ferrara, use their PEAK Precision Hydrogen Trace 250cc to assist research in the Department of Chemical, Pharmaceutical and Agricultural Sciences (DOCPAS). Established in 2012 the department has over 70 teaching and technical employees and hosts scientists from the National Research Council. There are many scientific topics studied at DOCPAS such as, Analytical Chemistry, Pharmaceutical Chemistry, Pharmaceutical Technology, plus many more. 
We spoke to Professor Flavio Franchina about his experience using the Precision Hydrogen Trace 250cc.
Typically what is the focus of your GC analysis - what sort of applications?:
We use GC mainly for educating our students at the university.
What Peak Scientific generators do you have in your laboratory?
We have the Precision Hydrogen Trace 250cc hydrogen generator
Is your generator used for carrier gas, detector gas or both?:
At the moment, we are using it for detector gas.
Are you using a GC method(s) for your analysis? If yes, which method(s)?:
We are using GC-FID methods for pharmaceutical analysis and essential oils.
What prompted you to choose a Peak generator for GC and how long have you used it?
We rely on our PEAK hydrogen generator to supply our GC. If we didn't have this reliable gas supply, we wouldn't be able to educate our students.
How would you describe your Peak generator purchasing experience in terms of speed of response, ease of ordering, catering for your needs and timing of delivery?
Our experience ordering our PEAK generator was excellent every step of the way.
Have you ever had a site visit from a Peak engineer in relation to your generator for GC, if so, could you describe your experience of this support?
Our visit from the PEAK engineer was hassle-free and they provided an excellent service.
Would you recommend Peak Scientific generators to other laboratories? If yes, what would be your main reason for the recommendation?
We would recommend PEAK Scientific to other labs because of their great service and reliable products. Our generator produces hydrogen continuously, allowing us to deliver practical training to our students without having to worry about our gas supply running out.
Professor Flavio Franchina has described how having a Peak hydrogen generator in his lab, has helped his students at the university. Their hydrogen generator keeps vital laboratory instruments running for as long as they need and eliminates the risk of running out of gas. Could a hydrogen gas generator be what you need for your lab?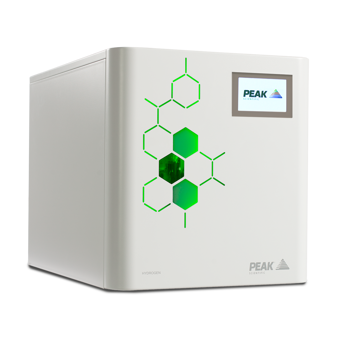 Precision Hydrogen Trace 250cc generator
How can an on-site hydrogen generator benefit your lab?
PEAK Scientific hydrogen generators are the safest and most convenient method of supplying high-purity carrier and detector gas to GC instruments.
Gas generators generate gas on demand, meaning they only store a minimal amount of gas at any one time. This is important for Flavio and his team, as having hydrogen generator removes the safety risks of using hydrogen cylinders.
A PEAK Scientific hydrogen generator is the safest and most practical alternative to gas cylinders. The Precision Hydrogen generator used by Flavio at the University of Ferrara, produces up to 250cc/min of hydrogen, in comparison to the 9,000 liters of gas stored in cylinders.
There are a number of safety features that are built into each of our PEAK generators to give you and your lab staff peace of mind as they work. These include:
Internal leak check on start up
External leak detection
Pressure monitoring to prevent leaks and pressure build up
Automatic cell shutdown at high pressure
Audible/visual alarms
Helium Shortage for GC applications
Another reason to consider switching to a hydrogen gas generator is the global helium shortage. Helium is often used in gas chromatography (GC) as a carrier gas, producing a good standard of separation analysis. However. helium is running out and as a result, is highly expensive. For these reasons, as well as a number of other benefits, GC researchers, like Professor Flavio Franchina, are converting to hydrogen gas.
Hydrogen generators are reliable and convenient
Helium is a non-renewable resource, therefore is becoming scarce, which leads to shortages in supply and increased costs affecting numerous industries, including analytical laboratories. Having a hydrogen gas generator means labs can produce high purity carrier gas in-house, and not have to think about cylinder deliveries or going over budget due to sudden spikes in helium prices. In some analysis, hydrogen can deliver faster results and is the more efficient carrier gas than helium.
Environmentally friendly
After a hydrogen generator is installed, it stays in the lab, removing the need for cylinder deliveries and reducing the lab's overall carbon footprint. The process of producing hydrogen gas is eco-friendly. Hydrogen gas is produced from deionized water, offering a renewable alternative to helium gas. If you are looking to invest in an in-house gas generator for a more sustainable and environmentally friendly lab practices without compromising your workflow, get in touch with us today.
Find out more about our green lab gas solutions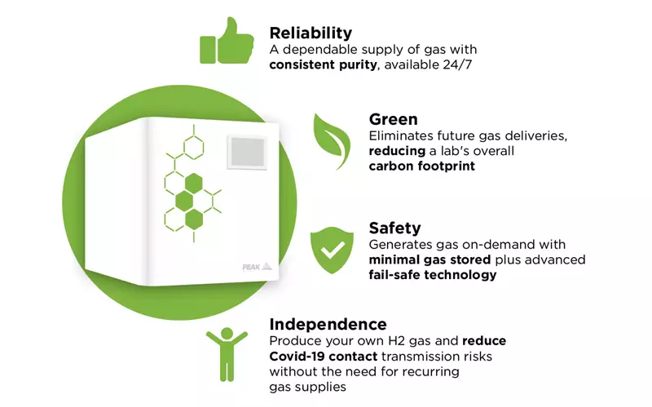 Precision Hydrogen Trace 
For a safe and reliable source of hydrogen gas, Peak Scientific's Precision Hydrogen Trace range of hydrogen generators make the switch even easier with user friendly touchscreen operation.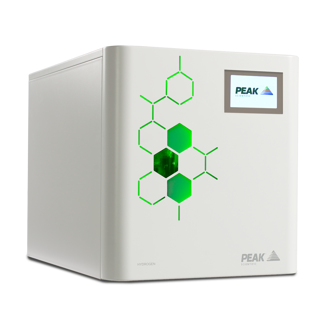 Precision Hydrogen Trace 250cc generator
Specifically designed for GC and also suitable for FID, Precision Hydrogen Trace is available in various flow rates for all lab gas requirements, all available at a maximum purity of 99.99999%. Offering greater safety, Precision Hydrogen Trace comes in a compact and space-saving design, maximizing your lab's floorspace.  

Need help finding a solution?
We are experts in our field - with over 20 years' worth of experience in pioneering cutting-edge gas generator technology, we have worked closely with leading instrument manufacturers to help you find a solution tailored to your specific needs.