Genius XE 35 laboratory nitrogen generator
Inspired by the success of our best-selling Genius line of nitrogen gas generators for LC-MS, Genius XE Nitrogen is a cutting-edge evolution combining advanced technology with refined and robust engineering. With two models - XE 35 (up to 35 L/min) and XE 70 (up to 70 L/min) - Genius XE Nitrogen provides a premium standalone nitrogen solution for high performance LC-MS and other mission-critical laboratory applications where performance and reliability are paramount.
Smaller, more discrete, and easier to use than ever before thanks to PeakOS™, Genius XE is the ultimate solution for zero-stress nitrogen gas in the lab. Featuring Multi-Stage Purification™ and next-generation integrated compressors with Electronic Compressor Optimization™ (ECO) technology, Genius XE delivers factory certifiable purity up to 99.5% on-demand, 24/7 with a convenient fixed annual service interval.
Request a quote
Features
Variable flow up to 35 LPM
Variable pressure up to 116 psi
Multi-Stage Purification™ producing analytical grade nitrogen gas up to 99.5% purity
2 year comprehensive manufacturer's warranty*
Touch-screen full colour user interface for ease of operation
ECO (Electronic Compressor Optimisation™) technology for low energy consumption and compressor durability
Next-generation high performance premium compressors, engineered exclusively for Genius XE
Smaller & quieter than previous generation of Genius
On-board service scheduling and system diagnostics
* Year 2 of warranty subject to generator being serviced at end of year 1 by a PEAK-approved agent in accordance with fixed annual maintenance schedule.
** Factory certified purity with respect to O2 content. Actual purity varies in relation to flow (min. 95% at maximum flow output)
*** Noise level expressed as SPL (Sound Pressure Level) measured at 1m from source in a reverberant chamber
Gas
Gas Type: Nitrogen
Max Gas Flow: 35L/min
Hydrocarbon Content: <1ppm
Max Output Pressure: 116psi/8bar
Max Purity: 95-99.5% **
Site & Installation
Gas Outlets Fitting: 1 x 1/4" BSPP
Start Up Time: 30 mins
Power Consumption: 960 VA (120V) / 1265 VA (230V)
Voltage: 120 ± 10% VAC / 230 ± 10% VAC
Frequency: 50 / 60 Hz
Current: 12 Amps / 8 Amps
Heat output: 4118 (BTU)
Max Operating Temp: 35°C / 95°F
Particles: <0.01µm
Phthalates: Phthalate & BHT Free
Contaminants: none
Suspended Liquids: none
Noise Level: <56 dBA ***
Accreditations: CE, FCC, CSA, KC
Dimensions & weight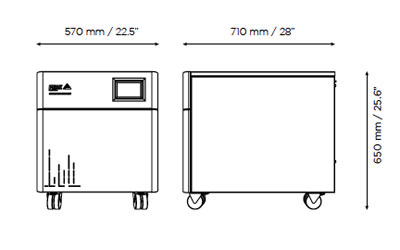 Size (HxWxD) mm: 650 x 570 x 710 mm
Size (HxWxD) Inches: 25.6 x 22.4 x 28 inches
Generator Weight: 92kg / 202.4lbs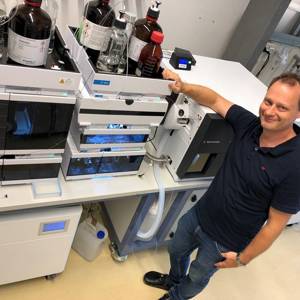 There is no need for any additional installments, piping or construction work. The generators are located directly next to the mass spectrometers and offer a mobile and space saving solution.
Jan Ungewiß
3B Pharmaceuticals, Germany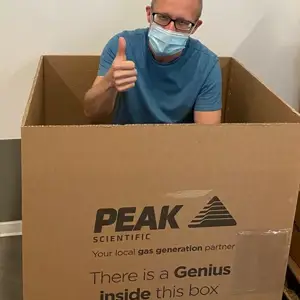 Genius XE 35 is easy to use and intuitive to work with. The pressure is easy to dial up or down as required. The generator is simple: plug and play.
Dr Sushma Rao
Adelaide Proteomics Centre, SAHMRI, ACRF, Australia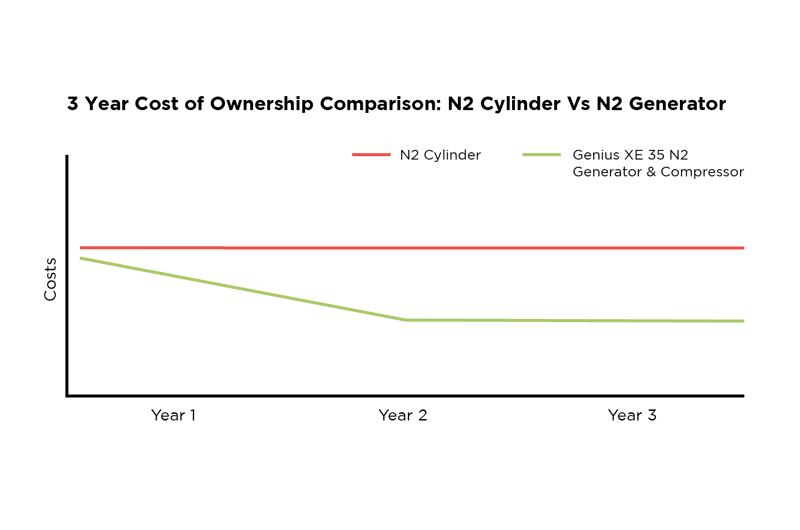 Save money with a nitrogen gas generator
With the Genius XE 35 nitrogen gas generator you can save as much as 50% on your lab's nitrogen supply over 3 years, and even more if your lab has more than one LC-MS.

Need help finding a solution?
We are experts in our field - with over 20 years' worth of experience in pioneering cutting-edge gas generator technology, we have worked closely with leading instrument manufacturers to help you find a solution tailored to your specific needs.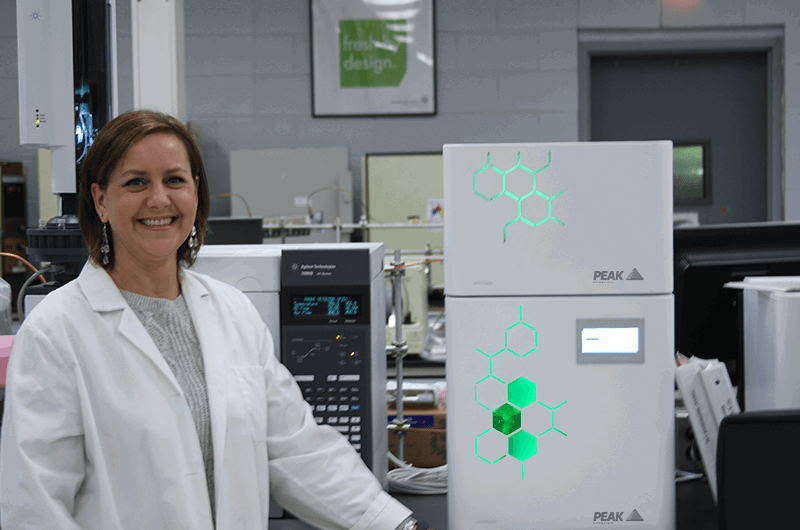 Share your experience
We'd love to find out more about your work and experience with Peak Scientific's gas generators. Share your experience and your story could be published on the Peak Scientific website.