Application Types TOC
Part number: 42-1040 (230V) - UK
42-1050 (230V) - EU
42-1060 (110V) - US

Status Discontinued i
Integrated compressor No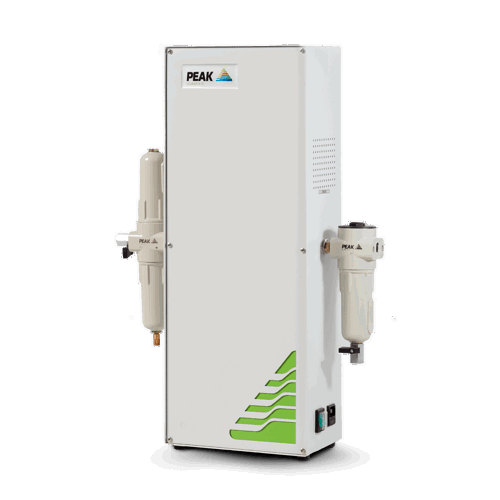 TOC 1500 HP Total Organic Carbon Generator
Peak Scientific's TOC range of specialist generators have been designed specifically to supply clean, dry, carbon dioxide and methane free air for Total Organic Carbon analyzers.

Delivering carrier or combustion gas from an external air supply, these generators are available in two models, depending on your requirement, the standard model is suitable for non-purgeable organic carbon (NPOC) whilst the HP model is suitable for TC-IC process Total Organic Carbon analyzers.
View active replacement
Features
Produces clean, dry, hydrocarbon and carbon dioxide free air
Ideal for TC-IC process TOC analyzers
Performs 24/7 if needed
Few moving parts means little maintenance required and ensures long life of the generator
Completely silent in operation
Minimal set-up required
Can be supported by Precision Air Compressor
12 month comprehensive on-site warranty
Gas
Gas Type: Air
Max Gas Flow: 1.5L/min
Max Output Pressure: 80psi/5.5bar
Max Purity: <1ppm CO2/ 0.1ppm THC
Site & Installation
Gas Outlets Fitting: 1x 1/4" BSP Female
Min Inlet Pressure: 100psi/6.9bar
Max Inlet Pressure: 120psi/8.3bar
Power Consumption: 115 W
Voltage: 115 / 230 V ± 10%
Frequency: 50 / 60 Hz
Current: 2.6 / 5.2 A
Max Operating Temp: 25°C / 77°F
Accreditations: CE
Dimensions & weight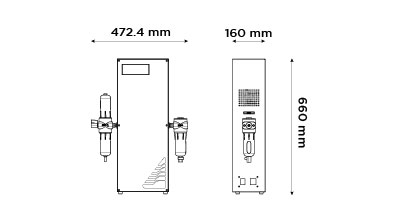 Size (HxWxD) mm: 620 x 430 x 410 mm
Size (HxWxD) Inches: 24.4 x 16.9 x 16.1 inches
Generator Weight: 57kg / 125.4lbs
Service Requirements
Annual replacement of particulate filters

Need help finding a solution?
With over 20 years' worth of experience in developing gas generator technology alongside leading instrument manufacturers, we offer reliable laboratory gas solutions to meet your specific needs.