Published
28th September 2020
Nitrogen Generator China: PEAK Visits Tsinghua Pharmaceutical Innovation Center
Established in 2010, the Tsinghua Pharmaceutical Innovation Center of Tsinghua University is a public service facility for drug discovery, drug development and drug evaluation. Our colleagues in China meet with two of our customers from the Center to talk about the benefits PEAK's nitrogen gas generators have brought to their lab.
The type of analyses conducted at Tsinghua Pharmaceutical Innovation Center is crucial for the application and implementation of major medical-related and life science research projects of Tsinghua University and off-campus research institutions.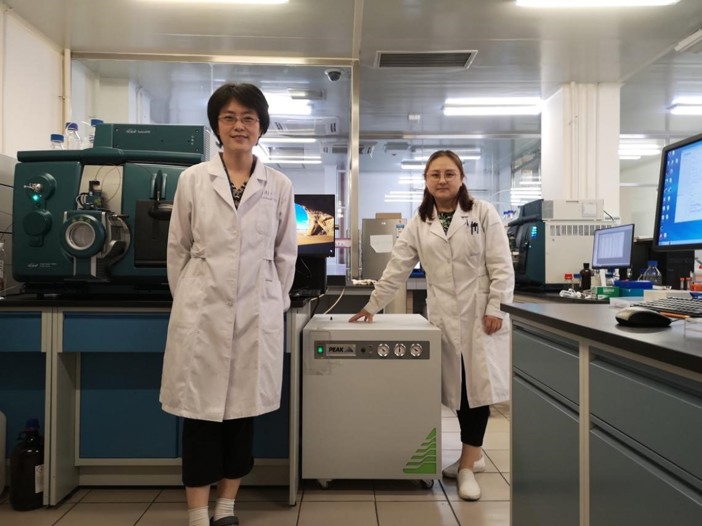 Deputy Director of the Tsinghua Pharmaceutical Innovation Center, Dr. Shang Shiying (left), and Engineer, Mrs Wang Weihua (right)
Tsinghua Pharmaceutical Innovation Center is also known for its research facilities including PK-PD (Pharmacokinetic—Pharmacodynamic) facility, drug activity screening facility, nuclear magnetic facility and computer-aided drug design facility. Among them, the PK-PD analytical core facility is the first facility built by the center equipped with a variety of chromatographic mass spectrometers. Such instruments allow the Center to provide technical services including drug active ingredient analysis, impurity ingredient identification, drug metabolite identification, in vivo pharmacokinetics, lipidomics and metabolomics.
Name: Dr. Shang Shiying and Mrs Wang Weihua
Job title: Deputy Director (Dr. Shang Shiying) and Engineer (Mrs Wang Weihua)
Company: Tsinghua Pharmaceutical Innovation Center
Location: Beijing, China
As one of PEAK's longstanding customers, the Tsinghua Pharmaceutical Innovation Center and our team in China have maintained a close relationship over the years. Recently, PEAK Scientific visited the center to interview Dr. Shang Shiying, the deputy director of the Center, and Mrs Wang Weihua, an engineer working in the drug metabolism facility. During the visit, Dr. Shang Shiying and Wang Wiehua introduced our colleagues in China to the technical features of their PK-DP facility and also spoke about the Peak nitrogen generators they use to support their work.
The PK-PD Facility
When explaining the Center's main functions, Dr. Shang Shiying said, "Pharmaceutical Technology Center is the only public service facility covering pharmacy in the school. It is positioned on pharmacy-related issues. The main direction is to find and support research on drugs for the prevention and treatment of major diseases that seriously endanger people's health, with a focus on research on innovative drugs.
"The main purpose of our PK-PD facility is to qualitatively and quantitatively detect small molecule compounds in biological, environmental and material samples. Mass spectrometry and liquid mass spectrometry are our most important analytical methods, and for mass spectrometry nitrogen gas supply equipment is essential for our facility."
Looking back on when the centre was built 10 years ago, Wang Weihua tells us that the first mass spectrometer purchased by the Center's metabolic facility was equipped with PEAK nitrogen generators. He says, "At that time, two mass spectrometers were purchased, and the other mass spectrometer was connected to a liquid nitrogen tank. Although the volume reached 180L, it was still very troublesome to use, especially when the sample volume was large. It often ran out of gas within 2 or 3 days. Every time I conducted an experiment, I felt very nervous always having to check the pressure gauge to see if there is gas supply still available. The liquid quality that uses the nitrogen generator is very easy to use, and there is no need to consider the gas source."
At present, the facility is equipped with 8 PEAK nitrogen generators, including Genius 1024, Genius NM32LA, Genius AB-3G and Genius XE 35. Wang Weihua said, "Genius XE 35 was the latest nitrogen generator purchased in November 2018. This device is better in use than the previous ones. It's small size is very important for a laboratory like ours with tight space.
"Regarding its noise levels, I basically can't hear its running sound. The instrument is also equipped with an LED display which allows me to see the working status of this instrument at any time – it makes me feel at ease using it. Moreover, the filtering level of this equipment has been improved. The purity of the gas obtained is higher, and I can clearly feel that the mass spectrometer ion source environment is much cleaner, which also reduces the frequency of cleaning the ion source.
"In order to ensure the stable operation of our unit, we have equipped each LC-MS instrument with a special nitrogen generator. As a gas source supply equipment, the most important thing for a nitrogen generator is to ensure a continuous supply of of high purity gas. PEAK's nitrogen generator equipment is stable - product quality and gas quality are guaranteed."
After-Sales Service for Nitrogen Generator China
At PEAK Scientific, the service we provide to all our customers is what sets us apart from our competition. Our service offers peace of mind to our customers, providing their generators with the maintenance they need to operate to a high standard during the product life cycle. Wang Weihua and the rest of the team have had a positive experience with our service team. Talking to us about our after-sales team in Beijing, Wang Weihua said, "The after-sales service is very punctual and convenient. The team can respond within 24 hours and solve problems within 48 hours. We made this decision to choose PEAK after long-term research and trials."
Talking about the future of nitrogen generator technology, Wang Weihua said she hopes that the volume of the nitrogen generator can be smaller and smaller, so as to better save laboratory space. She said, "The gas generator is a future development trend, allowing for safer labs, more convenience and more environmentally friendly practices. This is not about the type of application, but more about an alternative trend, just like a mobile phones have replaced a landlines. It's all for the better, to improve the overall efficiency of the laboratory." 
Genius XE Nitrogen Generator China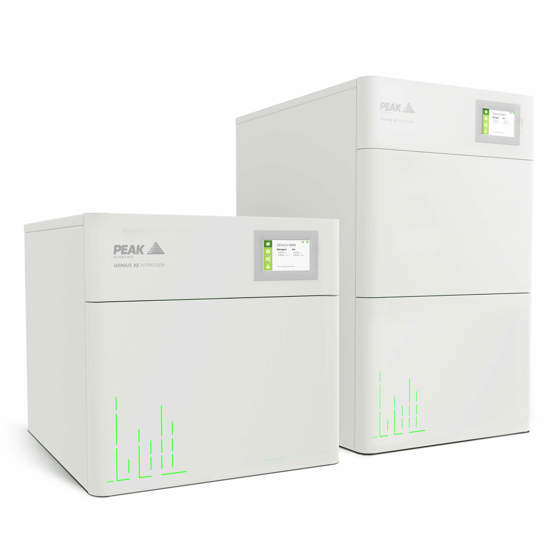 Genius XE nitrogen generator
PEAK's Genius XE 35 is the Center's nitrogen generator of choice. Modelled on the success of PEAK's best-selling Genius line as the latest upgraded version of the NM32LA, Genius XE nitrogen generators for LC-MS represent our cutting-edge and robust technology. Genius XE is available in two models, XE 35 (up to 35 L/min) and XE 70 (up to 70 L/min), providing a premium standalone nitrogen generator solution for high performance LC-MS applications at up to 99.5% purity. Accessible 24/7, labs can take control of their own gas supply with Genius XE, eliminating disruption to their lab's workflow.