Application Types CAD & ELSD, LC-MS
Part number: 65-0001

Status Available i
Integrated compressor No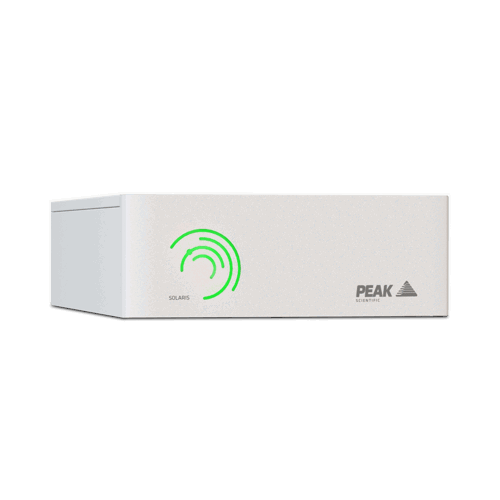 Solaris 10 ELSD nitrogen generator
Peak Scientific's Solaris 10 Nitrogen generator has been developed to provide an optimal gas generation solution for ELSD or Compact Mass Spectrometers, with the goal of reducing instrument downtime and improving workflow efficiencies. Engineered with a space-saving design, Solaris 10 can be placed on a benchtop and paired with an additional optional Solaris air compressor unit to provide air supply for labs without an in-house air supply or for those who wish to contain their gas supply in a single system.
Request a quote
Features
Variable outlet flow, pressure and purity
UHP nitrogen for ELSD at up to 10 L/min, 100 psi and up to 99.5% purity
Compact benchtop form factor, discrete aesthetic styling
Colour indicative LED lighting for easy status awareness
Optional Solaris Air Compressor stackable module
Engineered on reliable and proven existing technology
Manufactured and tested to highest spec in UK, CE/FCC certified
12 month comprehensive on-site warranty
Gas
Gas Type: Nitrogen
Max Gas Flow: 10L/min
Max Output Pressure: 100psi/6.9bar
Max Purity: 99.5% *
Site & Installation
Gas Outlets Fitting: 1 x 1/4 " BSPP
Min Inlet Pressure: 80psi/5.5bar
Max Inlet Pressure: 130psi/9bar
Min Air Inlet Flow: 18-30
Min Inlet Air Quality: ISO8573 - 1:2010 Class 1.4.1
Power Consumption: Up to 23 VA
Voltage: 110 / 230 V
Frequency: 50 / 60 Hz
Current: 0.1 A
Heat output: 78 BTU
Max Operating Temp: 35°C / 95°F
Particles: <0.1μm
Contaminants: Phthalate & BHT Free
Suspended Liquids: none
Accreditations: CE, FCC
Dimensions & weight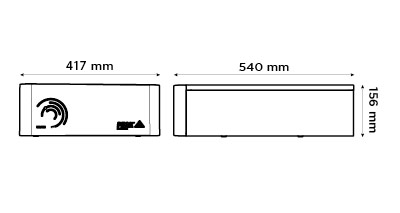 Size (HxWxD) mm: 156 x 417 x 540 mm
Size (HxWxD) Inches: 6.1 x 16.4 x 21.3 inches
Generator Weight: 12kg / 26.4lbs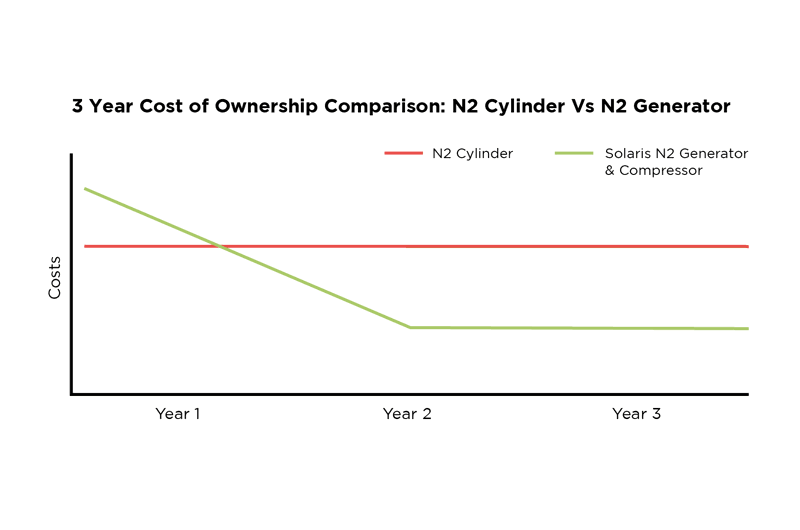 Save money with a nitrogen gas generator
With Solaris 10 nitrogen gas generator you can save 29% over 3 years.

Need help finding a solution?
With over 20 years' worth of experience in developing gas generator technology alongside leading instrument manufacturers, we offer reliable laboratory gas solutions to meet your specific needs.