Published
4th November 2020
Wallace Lab choose Precision for a safer and more reliable GC gas solution
PEAK's Precision range in the Wallace Lab
PhD student Jonathan Dennis tells us why the Wallace Lab has chosen our Precision range of gas generators for GC analysis of microorganisms, and also shares with us his positive experience with PEAK's service team.
The Wallace Lab is a multidisciplinary research facility part of the Institute of Quantitative Biology at the University of Edinburgh. The lab's research focus is on microorganisms and how they can, at a genetic level, produce valuable chemicals for certain industries using synthetic biology and synthetic chemistry. In merging these two disciplines, the researchers at the Wallace Lab investigate new methods and come up with solutions for sustainable chemical synthesis as current petrochemical practices become no longer viable due to the negative impact on our environment.
Operating with a Shimadzu GC-2010 Pro paired with our Precision range of hydrogen, nitrogen and zero air gas generators, The Wallace Lab team have eliminated the hassles associated with supplying and replacing gas cylinders, by opting to produce their own gas supply for a safer and more efficient workflow. The team have also secured a reliable source of high purity gas, obtaining the best results possible for their analysis.
First name: Jonathan
Last name: Dennis
Company: University of Edinburgh (Wallace Lab)
Job title: PhD Student
Location: Edinburgh, UK
Typically what is the focus of your GC analysis - what sort of applications? :
We use our GC for the analysis of small organic molecules, extracted from cultures of engineered microbes.
What PEAK Scientific generators do you have in your laboratory and what GC instruments do they supply?
We have a Hydrogen Trace, Compressed Air, Zero Air and Nitrogen. These supply a Shimadzu GC-FID 2010 system.
Is your generator used for carrier gas, detector gas or both?
Both carrier and detector gas
Are you using a GC method(s) for your analysis? If yes, which method(s)?
Yes, 3mL/min @ 50C, 1:5 Split mode, inlet 250C, detector 300C. ~15 min run time.
What prompted you to choose a PEAK generator for GC and how long have you used it?
We were getting a new GC system, and didn't want to have the hassle of gas cylinders.
What has been the key benefit of deploying PEAK generators for GC as opposed to your previous gas supply solution?
Smaller size, safety and not having to deal with gas cylinders or central supply lines.
How would you describe your PEAK generator purchasing experience in terms of speed of response, ease of ordering, catering for your needs and timing of delivery?
Excellent. All queries were well answered, and the generators arrived on time.
Have you ever had a site visit from a PEAK engineer in relation to your generator for GC, if so, could you describe your experience of this support?
Excellent, we were able to get the generator installed quickly after lockdown, and everything went smoothly. Ged [PEAK Scientific Field Service Engineer] was knowledgeable about the generators, answered all questions well, and was really helpful with planning maintenance of the generators.
Would you recommend PEAK Scientific generators to other laboratories? If yes, what would be your main reason for the recommendation?
Absolutely, the generators allow a self-enclosed GC system to be used on a single bench. No need to store/maintain gas cylinders or worry about leaks.
---
For the Wallace Lab team, GC is an important aspect of their research on microorganisms. The type of analysis the team works on requires the use of both carrier gas as well as flame support gas. For this reason, the Precision stack, comprising of hydrogen, nitrogen and zero air gas generators, provided a complete and reliable gas solution for the researchers, allowing them to produce their own gas, on-demand.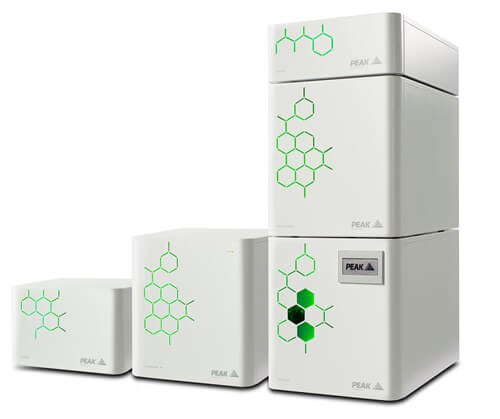 As Jonathan points out, with gas generators, labs no longer need to store high pressurized gas which can be a cause for concern, especially in the event of a leak or if not handled carefully. PEAK's Precision gas generators for GC only produce gas to meet the requirements of the instrument, meaning no gas is stored. Our Precision series gas generators are also equipped with leak detectors prompting the generator to shut down in the unlikely event of a leak.
Having the gas generators installed during the covid-19 pandemic also means the researchers can limit their contact to their own members of staff, minimizing exposure to contact transmission when supplying gas from third parties. What is more, the generator themselves as complete units can easily be sanitized from one user to another. Working with Precision gas generators for GC, the Wallace Lab research team can have peace of mind knowing their safety risks are reduced to a minimum.
Specifically designed for GC applications, the Precision series offers a combination of convenience and dependability in a space-saving design. Allowing for flexibility to select the models required for your application, the Precision hydrogen and nitrogen gas generators for GC are available in two variants, the Standard and Trace models, the Standard being designed for most GC detectors and with the Trace model designed for both carrier and detector gas. Precision also includes the zero air gas generator for labs requiring flame support gas.
One of the main reasons why the Wallace Lab chose PEAK Scientific was for the service we provide. What sets us apart from other gas generator suppliers is our world-class after sales care, and we pride ourselves in our ability to provide such quality service across the globe. Because our global team of dedicated Field Service Engineers are trained by PEAK Scientific, they gain extensive technical knowledge of our gas generators, resulting in a smooth installation as well as efficient maintenance and repair with a 95% first time fix rate. At PEAK, we also offer a range of [Peak Protected] service plans providing a selection of options for you to choose from, depending on your requirements.
As we can see from Jonathan's comments, Precision has brought numerous benefits to their research on microorganisms, particularly by removing all the hassles and inconvenience that come with traditional sources of gas supply, such as cylinders or dewars. The Wallace Lab will no longer need to order and swap out gas cylinders. They also have a safer work environment, without any concerns over leaks or exposure to covid-19 contact transmission. With an investment in Precision, the Wallace Lab have gained a complete gas supply solution for GC, all in a stackable and compact design.