UCL delighted with their new Halo MP-AES
University College London (UCL) was founded in 1826 in the heart of London and has since become a leading multi-disciplinary university, with more than 13,000 staff and 42,000 students from 150 different countries.
We caught up with Martyn Towner, Natural Sciences Teaching Laboratory Technician, to chat about UCL's Halo MP-AES Nitrogen generator and their experience with PEAK Scientific.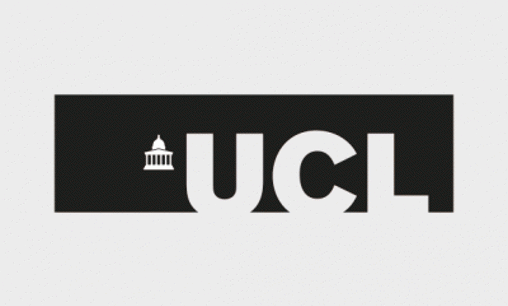 Typically, what is the focus of your analysis – what sort of applications?:
We got the new Halo MP-AES N2 generator for our master's analytical chemistry program and for other applications for the future (environment water testing, etc.).
What PEAK Scientific generators do you have in your laboratory and what MP-AES instruments do they supply?:
Halo Nitrogen generator supplying Nitrogen and Air to an Agilent 4210 MP-AES instrument.
What has been the key benefit of deploying PEAK generators as opposed to your previous gas supply solution?:
The major key benefit was not needing to worry about arranging and changing gas supplies which was our previous system - using a manifold. The generator also provides a sense of security knowing we are not reliant on fluctuating gas prices, supply issues and storage of high pressure cylinders.
What prompted you to choose a PEAK generator for MP-AES and how long have you used it?:
We didn't want to rely on gas cylinders for our gas needs and we are expecting an increase in the use of the MP-AES so we decided it was time to future-proof our gas needs. We've only used it for a week but have been impressed so far.
How would you describe your purchasing experience with PEAK in terms of speed of response, ease of ordering, catering for your needs and timing of delivery?:
Every step was great and communication was rapid. Delivery was told to us in advance and we had clear communication regarding engineer visits.
After purchasing your gas generator, how do you rate the level of service and communication you received from our service [PEAK Protected] team when setting up your service plan?:
I would rate the service as exceptional. From receipt of order to installation there was clear communication and introduction of several people who would be needed to get the generator running.
Have you ever had a site visit from a PEAK engineer in relation to your generator for LC-MS, if so, could you describe your experience of this support?:
We had a visit for both installation and to investigate an issue after installation. The installation with Darren was great. Very accommodating and very happy to answer our many questions. He gave a good overview regarding the use and even helped problem solve how to deal with the drain exhaust. He was great.
With the issue we experienced, we communicated with Julien who was quick to respond with some checks for us to do. Once those simple checks were performed, he arranged a video call to do some video technical support which was great as it helped me learn much more about how the generator works.
When it was apparent we couldn't resolve the issue an engineer (Kadri) was arranged within a few days who then discovered the issue. It was nothing wrong with the generator but how we had it set up where the N2 needed a purge when starting from zero. Simple fix was suggested and again great description of the issue and how to fix it was appreciated. Kadri offered to send extra parts as he didn't have them to hand but I declined as it was something we could procure ourselves.
Overall, even though there was a teething issue initially, the level of support from multiple people was amazing and it's the little things like listening to the investigation I did and taking that into account to prevent me repeating steps I've already done. It felt very collaborative.
Would you recommend PEAK Scientific generators to other laboratories - and if so, what would be your main reason for the recommendation?:
Yes I would, not only based on the generator we have, but on the level of customer service we received.
Contact us today and make the switch to gas generators
PEAK will always keep your lab running
UCL have benefited from PEAK's industry leading service packages which have meant their issues have been resolved with minimum disruption to their work.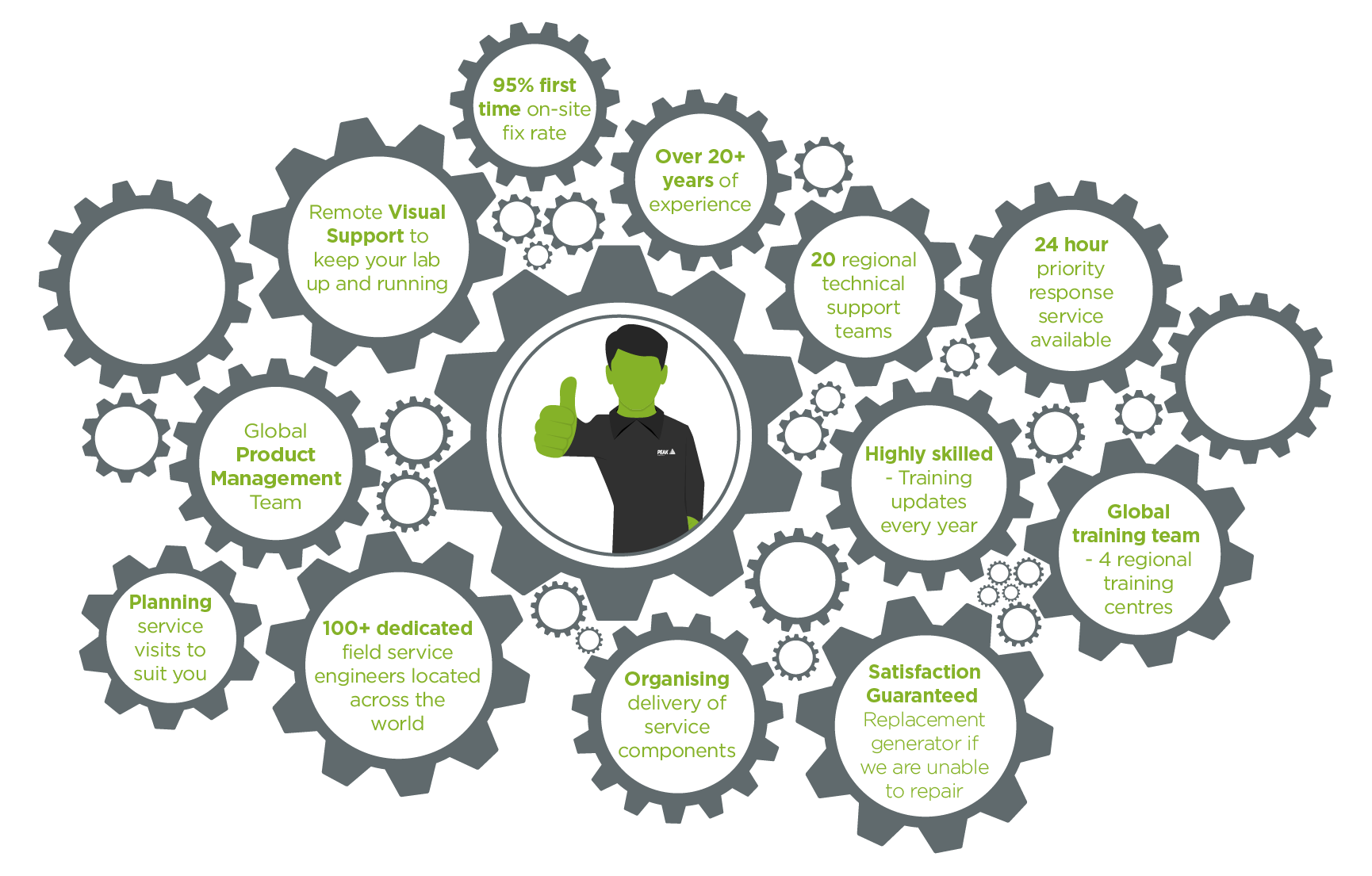 With a Complete Plan, PEAK provides guaranteed on-site response times of 72 hours (48 hours and 24 hours in some regions).
The Complete Plan also gives you the flexibility to arrange annual preventative maintenance at a time that suits you – this could be the same time other instruments in the lab are being serviced, ensuring any downtime is limited to a window of time that suits your lab.
Our Global Technical Support team are available by phone, email or our new visual support.
PEAK have recently launched our Visual Support offering which allows our Technical Support team to provide immediate assistance.
With Visual Support we are able to see your generator in real time through your mobile phone camera which allows the team to diagnose the problem on the call while guiding you through the steps to solve the issue. Where this isn't possible, our Field Service Engineer will be schedule to visit and will be armed with all the knowledge of the specific problem before even arriving on site.
The Halo MP-AES Nitrogen Generator
The Halo MP-AES nitrogen generator is designed as a dedicated solution for MP-AES instruments supplying high-purity nitrogen for plasma support gas. Producing up to 25 L/min of 99.5% pure nitrogen with a supporting dry air supply of up to 36.5 L/min, the Halo MP-AES is a compact, space-saving solution for your lab.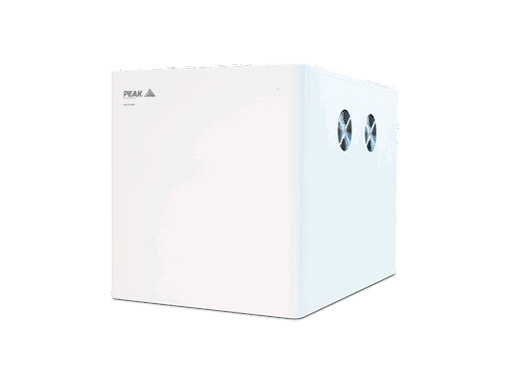 The Halo has been engineered to operate comfortably in high-altitude environments (up to 4,000 meters) and is far easier to transport for field research than bulky gas cylinders or generators with an external air source.
Manufactured with the most advanced gas generation technology in order to produce reliable, high-purity nitrogen and dry air for your MP-AES applications.
How could a gas generator help your lab?
The lab world has been seeing steadily increasing gas prices over recent years, with no sign of this changing soon. Coupling this with issues that can arise due to supply chain problems, a gas generator from PEAK provides labs with an on-demand source of gas which can be supplied to lab equipment at the press of a button.
Take control of your lab gas supply and make the switch from gas cylinders to a PEAK gas generator today.

Need help finding a solution?
We are experts in our field - with over 20 years' worth of experience in pioneering cutting-edge gas generator technology, we have worked closely with leading instrument manufacturers to help you find a solution tailored to your specific needs.