Published
15th November 2022
Agriculture & Agri-Food Canada simplify with nitrogen generators
Agriculture and Agri-Food Canada is the department of the Government of Canada responsible for the federal regulation of agriculture including policies governing the production, processing, and marketing of all farm, food, and agri-based products.

We spoke with Research Scientist Srinivas Sura about their experience with PEAK and how our nitrogen generators support their lab's LC-MS analysis.
Typically what is the focus of your LC-MS analysis?

We use our HRMS/UHPLC to identify and quantify mycotoxins in cereal grain and bioactive compounds in fruits. Our lab is focused on small molecule analysis up to 2000 Da.

What PEAK Scientific generators do you have in your laboratory?

We have two nitrogen generators: the Genius NM32LA and the Corona Nitrogen 1010.

What prompted you to choose a PEAK generator for LC-MS?

We wanted a steady supply of nitrogen for our HRMS and Corona detectors without the difficulty of moving compressed gas cylinders.
We found PEAK instruments capable of fulfilling this objective. Their reliable instruments and good customer service made us choose PEAK.

What has been the key benefit of deploying PEAK generators for LC-MS as opposed to your previous gas supply solution?

In the past we have used liquid nitrogen tanks, compressed gas tanks or nitrogen generators and all these have their own difficulties. The maintenance was high on our previous nitrogen generators and moving gas tanks was a hassle.
With PEAK, it was easy. We hardly think about it as it provides us with a steady supply of nitrogen. We ensure it is serviced once a year and don't need to worry about it.

How would you describe your purchasing experience with PEAK in terms of speed of response, ease of ordering, catering for your needs and timing of delivery?

It was easy and delivery was on time. We gave our requirements and the PEAK engineers suggested suitable generators. Everything else was smooth, from ordering to delivery and post delivery service.

Have you ever had a site visit from a PEAK engineer in relation to your generator for LC-MS, if so, could you describe your experience of this support?

The PEAK engineers are knowledgeable and perform a good service. They take about 2-3 hours per year, and this is the only time we don't have nitrogen gas. They make sure the system is in good condition before they leave.

Would you recommend PEAK Scientific generators to other laboratories - and if so, what would be your main reason for the recommendation?

Yes, I would recommend PEAK generators without hesitation. In fact, I have recommended PEAK Nitrogen Generators to many of my colleagues who were interested in a nitrogen gas supply. The main reason for this would be the reliable, continuous, and steady supply of nitrogen to my instruments and peace of mind to me and my team.
Need help choosing?
Let us help you choose the right nitrogen gas supply for your laboratory.
How can a gas generator simplify your lab?
As Srinivas has mentioned, a gas generator can take the hassle out of your lab by providing a constant, steady and reliable stream of gas to your instruments, giving you the peace of mind you will not run out mid-analysis.
With PEAK's world-class service offering, you can schedule the annual maintenance of your generator like the lab at Agriculture and Agri-Food Canada to ensure you know when downtime will happen in your lab. By having the flexibility to schedule your maintenance, you are able to plan this around other lab instrument maintenance to make sure there is as little disruption to your lab as possible throughout the year.
Corona 1010
The Corona 1010 has been designed to meet the specific needs of the Thermo Scientific Corona VEO Charged Aerosol Detector. The generator can be purchased as a single nitrogen unit or it can come with a stackable air compressor should your laboratory have the requirements for compressed air.
PEAK's Corona 1010 nitrogen gas generator
The Corona is suitable for a variety of applications requiring high purity nitrogen and comes with a 12-month comprehensive on-site warranty which provides you with the peace of mind your generator is protected.
Genius XE
The Genius XE range replaced our flagship NM32LA nitrogen generator and is now the most advanced nitrogen generator in the PEAK range.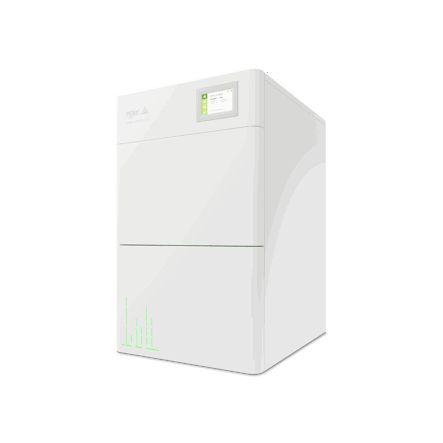 PEAK's Genius XE 70 nitrogen gas generator
The Genius XE 70 supplies variable flow rates of up to 70 liters per minute with pressure up to 116psi. For smaller labs only running a single instrument, the Genius XE 35 is the perfect solution; the Genius XE 70 is better suited to labs running multiple instruments where the maximum nitrogen requirement is 70 liters per minute.
The Genius XE range has also been designed with Multi-Stage Purification™ which allows the generators to produce analytical grade nitrogen gas with a purity up to 99.5%. Along with Multi-Stage Purification, the Genius XE comes with Electronic Compressor Optimization (ECO) technology to reduce energy consumption and increase compressor durability.

Need help finding a solution?
We are experts in our field - with over 20 years' worth of experience in pioneering cutting-edge gas generator technology, we have worked closely with leading instrument manufacturers to help you find a solution tailored to your specific needs.