Published
20th February 2023
Nitrogen Generator Helps Canalysis Labs Achieve High-Performance Analysis
Canalysis Laboratories is a high volume testing laboratory in Las Vegas, Nevada who issue verified Certificates of Analysis for cannabis hemp products. An independent cannabis testing laboratory, the facility is designed to process a high volume of samples on a daily basis and rapidly report accurate results.

The team at Canalysis Laboratories utilize Agilent Technologies equipment supported by the Genius NM32LA which provides the nitrogen gas needed for their analysis.
We spoke to Trevor Low, the Lab Director at Canalysis Laboratories, to understand their experience with PEAK Scientific and their Genius NM32LA.

Typically what is the focus of your LC-MS analysis - what sort of applications?
Pesticide/mycotoxin analysis

What PEAK Scientific generators do you have in your laboratory and what LC-MS instruments do they supply?
We have a Genius NM32LA which supplies our Agilent 1260 & Ultivo MS

What prompted you to choose a PEAK generator for LC-MS and how long have you used it?
The generator has been in use for three years and was ordered before I started with the company.

What has been the key benefit of deploying PEAK generators for LC-MS as opposed to your previous gas supply solution?
The biggest benefit of having a Genius NM32LA  is that it removes the hassle of repeatedly ordering cylinders for the LC-MS.

How would you describe your purchasing experience with PEAK in terms of speed of response, ease of ordering, catering for your needs and timing of delivery?
PEAK's response to emails is quick and I've found it smooth to schedule PM visits. 

Have you ever had a site visit from a PEAK engineer in relation to your generator for LC-MS, if so, could you describe your experience of this support?
Yes, we do have regular PM visits included with our service contract. The field tech is knowledgeable and professional.

Would you recommend PEAK Scientific generators to other laboratories - and if so, what would be your main reason for the recommendation?
Yes, for ease of use.
Need a nitrogen solution?
Let us help you choose the right nitrogen gas supply for your LC-MS
Nitrogen gas generator solutions for your lab
The Genius NM32LA nitrogen gas generator is the flagship nitrogen generator from PEAK Scientific to support LC-MS equipment. This generator is the basis for all subsequent Genius instruments and has been the blueprint for future innovations and technological advancements.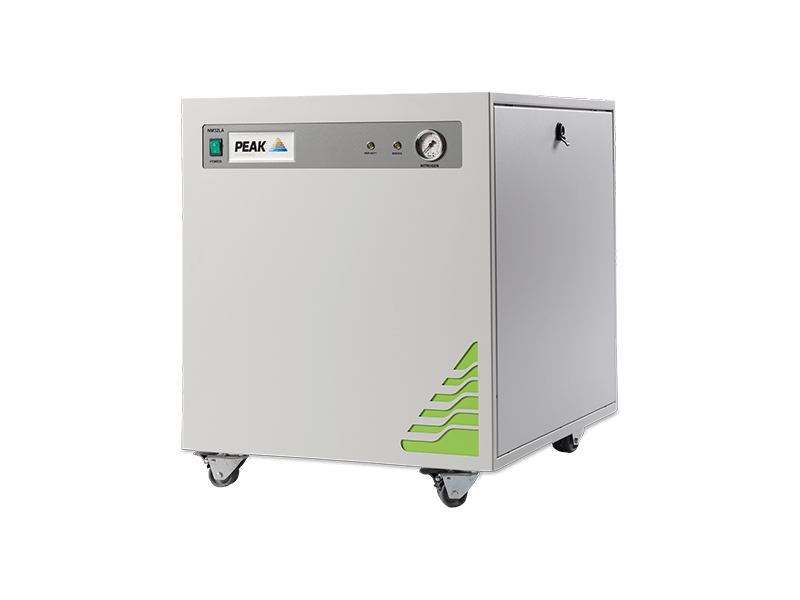 PEAK Scientific's NM32LA nitrogen gas generator
Delivering up to 32 liters per minute of nitrogen gas, the NM32LA is suitable for most LC-MS instruments in the market. With a built-in compressor which removes the need for an external air supply and its robust and reliable engineering - the NM32LA has been a staple in many labs across the globe.
There are many benefits to having an in-house, on-demand source of nitrogen gas for LC-MS. One of the biggest benefits, as Trevor mentioned, is the fact it removes the need to repeatedly order gas cylinders. This removes administrative tasks within the lab, but also removes monthly expenditure as well as the wasted time of lab personnel switching cylinders when the supply runs out.
With an on-site gas generator you don't need to worry about running out of nitrogen gas mid-analysis.
Make the switch now
Contact us today and we'll help you make the change to a nitrogen gas generator
The new face of the Genius
The Genius XE is inspired by the success of the NM32LA nitrogen generator. A pioneering evolution which combines advanced technology with refined and robust engineering, the Genius XE is a nitrogen generation solution that your lab can rely on to maximize uptime in your lab.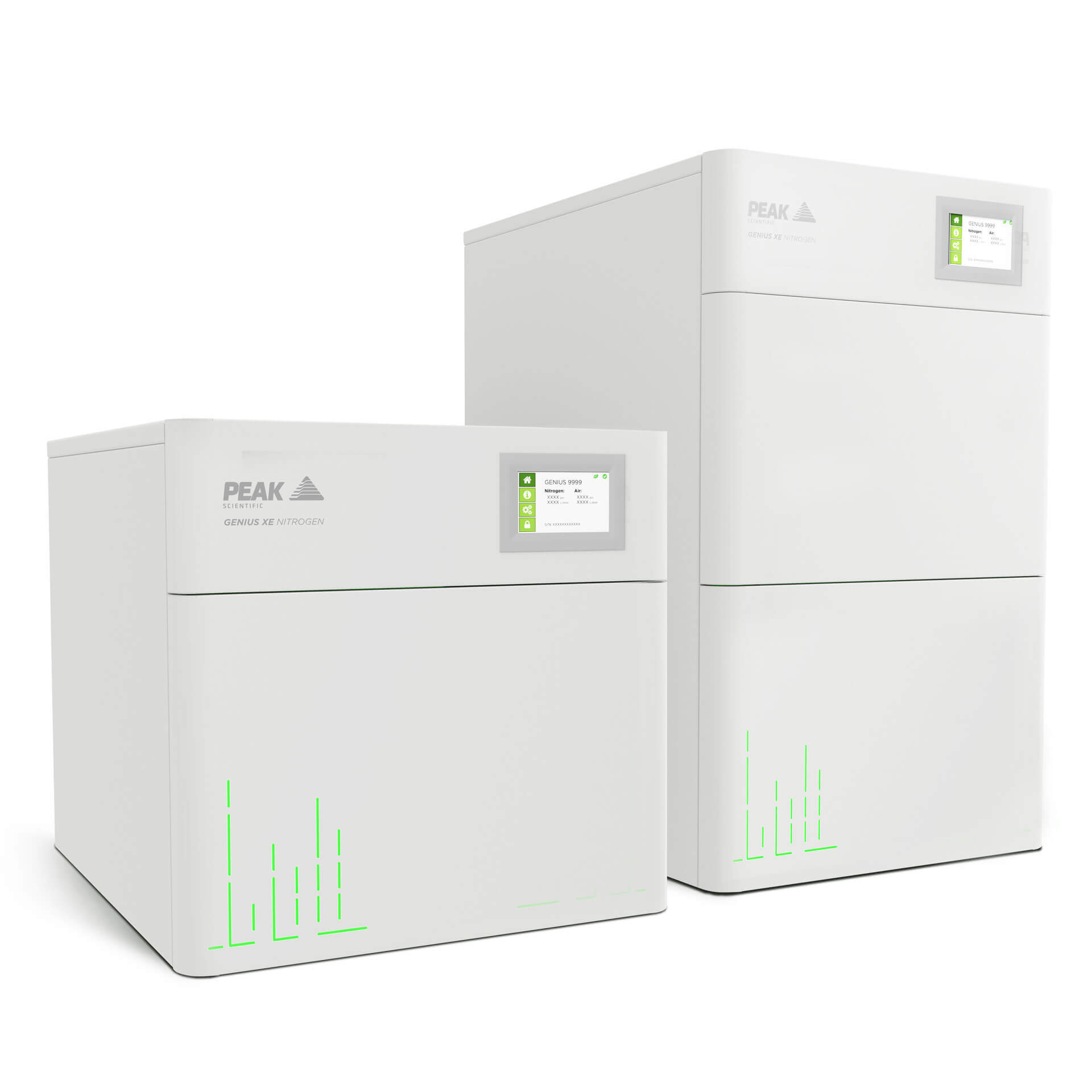 PEAK's Genius XE 35 and Genius XE 70 nitrogen gas generators
The Genius XE comes in 2 models providing up to 35 liters per minute and up to 70 liters per minute of nitrogen gas to your high-performance LC-MS. The Genius XE nitrogen generator is smaller, more discrete and, thanks to PeakOS, easier to use than ever before.
Coming with a two year comprehensive manufacturer's warranty, the Genius XE can provide peace of mind should anything happen to your generator and ensure your lab experiences as little downtime as possible.

Need help finding a solution?
With over 20 years' worth of experience in developing gas generator technology alongside leading instrument manufacturers, we offer reliable laboratory gas solutions to meet your specific needs.