Published
9th January 2020
3B Pharma Chooses Genius XE for their LCMS analysis
The mobility and ease of use of these generators made them the perfect choice for 3B Pharma's laboratory.
Name: Jan Ungewiß
Job title: Senior Manager Analytical Unit
Company: 3B Pharmaceuticals
Country: Germany

3B Pharmaceuticals is a biotechnology company from Berlin, Germany which develops radiopharmaceuticals and diagnostics for oncology indications. Radiopharmaceuticals are medical products that contain one or more radioactive isotopes and can be used for the diagnosis and, progressively, for the therapy of diseases.
Jan Ungewiß, Sr. Manager Analytical Unit, shares his experience with Genius XE and what benefits his lab had received after opting for an in-house supply of nitrogen gas.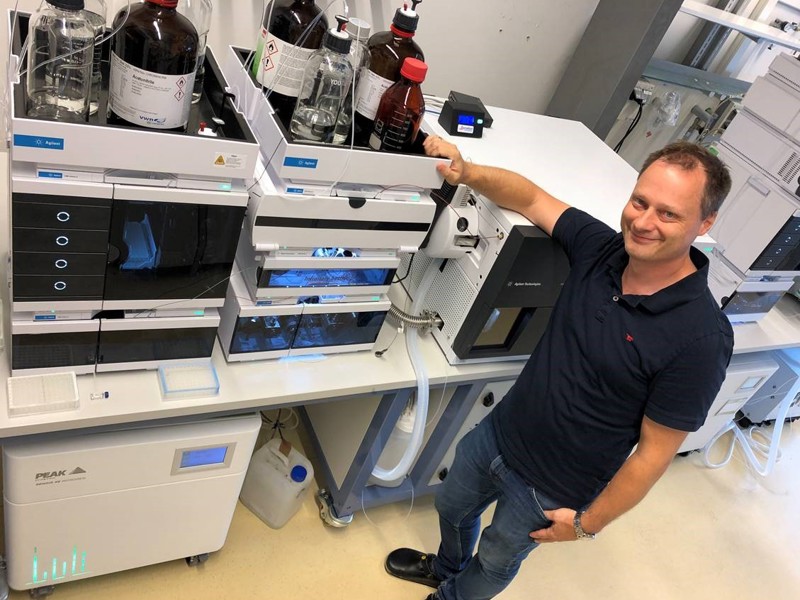 Typically, what is the focus of your LCMS analysis - what sort of applications?
We focus on quantification of pharmaceutical development candidates in biological matrices.
What PEAK Scientific generators do you have in your laboratory and what LCMS instruments do they supply?
We have two Genius XE 35 nitrogen generators that supply Agilent LCMS instruments.
What prompted you to choose PEAK generators and how long have you used them?
At the time of purchase we already knew that the location of the mass spectrometer would be temporary, and that the equipment would have to be moved at least once more. We therefore needed a mobile solution for our nitrogen gas supply which has brought us to PEAK. We've been using the generators for over half a year now.
What has been the key benefit of deploying PEAK generators as opposed to your previous nitrogen gas supply solution?
The mobility of the nitrogen generators. There is no need for any additional installments, piping or construction work. The generators are located directly next to the mass spectrometers and offer a mobile and space saving solution.
How would you describe your purchasing experience with PEAK in terms of speed of response, ease of ordering, catering for your needs and timing of delivery?
We are very satisfied with the customer support during the entire purchase process and the associated processing of the order.
Have you ever had a site visit from a PEAK engineer, if so, could you describe your experience of this support?
The technician was present during the installation of the generator. He also visited at a later stage for a repair. He was very competent and able to help in a timely manner.
Would you recommend PEAK Scientific generators to other laboratories - and if so, what would be your main reason for the recommendation?
Yes. Especially the mobile Genius XE series of generators is ideal when the installation of a large compressor and the necessary piping is not an option.
---
As a biotech organisation 3B Pharma mainly focuses on radiopharmaceuticals development, using LCMS analysis. Their two Genius XE nitrogen generators for LC-MS supply Agilent instruments with on-demand high-purity nitrogen gas and provide a mobile solution for the 3B lab. As Jan mentions his team were looking for a flexible piece of equipment that could be moved around the lab – a feature they found in PEAK's Genius XE.
The Genius XE series combine advanced technology with robust engineering to provide a premium compact solution not only for high-performance LC-MS in the field of radiopharmaceuticals, but also for a variety of other mission-critical laboratory applications. As well as the flexibility offered by the mobility and compact, space-saving design of Genius XE, this nitrogen generator also offers a number of advanced features such as Multi-Stage Purification™, ECO (Electronic Compressor Optimization™) technology and PeakOS™ touch screen interface, all ensuring optimum performance and high quality results. Genius XE nitrogen generators for LC-MS also come in two models - XE 35 and XE 70, providing 35 l/min and 70 l/min respectively, depending on the individual lab's needs.
Find out more about Genius XE
PEAK Scientific nitrogen generators, like the best-selling Genius XE, are a safer, convenient and cost saving solution for labs currently using nitrogen gas cylinders to supply their analytical instruments. As opposed to cylinders, nitrogen generators don't store large amounts of gas under high pressure - they supply nitrogen gas on demand at the push of a button and don't pose a risk of asphyxiation or explosion in the event of a leakage. Moreover, a long-term investment such as a nitrogen generator has a small footprint on the environment and make labs immune against the constantly fluctuating cylinder prices, costs of renting cylinders and deliveries.
Jan also shares his positive experience with PEAK's customer support team during the purchasing process and the competency of PEAK's field service engineer when installing the generators and the service visit at a later stage. PEAK takes pride in the second-to-none customer service we provide as we strive to ensure customers' expectations are met.
When you purchase a generator from PEAK you also get access to [Peak Protected] via your generator's warranty - market-leading-on-site maintenance and service support. Once the generator's warranty expires labs can additionally purchase a service plan for their generator in order to have peace of mind and ensure their generators get the maintenance they need to operate to a high standard during their life cycle.
Request a quote for Genius XE nitrogen generator
With the 2 year fully comprehensive warranty* that Genius XE nitrogen generators for LC-MS come with you can have the comfort of knowing that every part of your generator is fully covered and you can concentrate on what is most important in the lab – your analysis.
With Genius XE, 3B Pharmaceuticals have found the flexible, mobile and high-quality nitrogen supply for their lab demands. As the very latest in LC-MS nitrogen technology and supported by the world's most comprehensive laboratory gas generator service, 3B Pharmaceuticals can look forward to consistent results and minimal downtime in their radiopharmaceutical analysis with Genius XE.
*Year 2 of warranty subject to generator being serviced at end of year 1 by a PEAK-approved agent in accordance with fixed annual maintenance schedule. For full terms and conditions visit: www.peakscientific.com/warranty-statement