Published
16th February 2016
Peek into PEAK: Our History
Sharing a bit more about PEAK's history in the latest Peek into PEAK blog post. 
As many of you are already aware, PEAK is family owned business and, as such, people are at the core of everything that we do.  The importance placed on people at PEAK is consistent throughout the organization, it is the reason why we are committed to on-going training and a policy of continual improvement in our engineering, manufacturing and field service capabilities - delivered by over 360 employees worldwide.
Throughout the years there have been milestones in PEAK's history which have defined PEAK's success, growth and key products.  From our origins as a distributor of air compressors, pre 2004, to our new beginnings as a manufacturer of laboratory gas generators in 1997, PEAK has grown in stature locally and overseas. With a global presence in over 20 countries, a footprint of over 360 employees' worldwide and strong OEM relationships throughout the globe, PEAK is very proud of its success to date. 
Since its formation PEAK has sold thousands of gas generators which have taken pride of place in labs throughout the world.  Our four key product ranges, Genius (2010), Infinity (2011) Precision (2013) and i-Flowlab (2015) have been designed to be: convenient, by producing gas on demand; consistent, by providing a constant flow of gas at a stable purity; and safe, as there is minimal gas stored at a low pressure.
For further information on PEAK Scientific visit our 'About Us' section of the website, to see the PEAK timeline of events and view our milestones click here and to learn more about PEAK and its product offering, please click here. 
PEAK's MD, Robin MacGeachy breaking the ground for PEAK HQ's extension  (2012)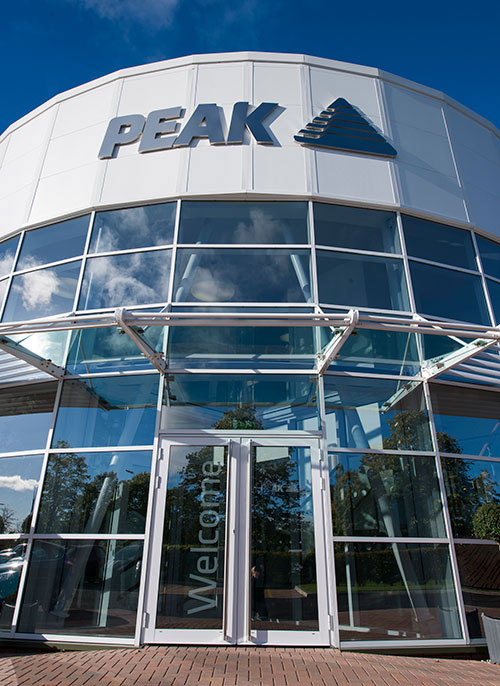 PEAK HQ foyer after extension (2013)