ASMS 2022 Round-Up
ASMS 2022 took place in Minneapolis last week (5th - 9th June) and we were delighted to be in attendance for the first fully in-person conference since 2019.
With almost 5,000 attendees from around the world, the conference was a great success and was a fantastic opportunity to see our customers and partners again, as well as catching up on the latest launches in the industry.
There were a number of instrument manufacturers in attendance who launched a range of products including Agilent and Waters.
Agilent launched their new 6475 triple quadrupole LC/MS system, 5977C GC/MSD, the 7000E GC/TQ and the 7010C GC/TQ representing the latest revolution in Agilent's more than 50 year history in mass spectrometry.
Their new LC/TQ and GC/TQ products offer built-in instrument intelligence to simplify lab operations, while their new GC/SQ and GC/TQ have been equipped with the HydroInert source to help customers overcome key performance challenges with Hydrogen carrier gas.
As hydrogen is not inert, it does not work well with semivolatile organic compounds, but the new Agilent HydroInert source helps to address this problem. It is designed to improve chromatographic efficiencies with a hydrogen carrier. The HydroInert source will allow labs to:
Maximise your return on investment for hydrogen carrier gas
Achieve faster, shorter separations
Reduce sensitivity loss and spectral anomalies
Minimize downtime caused by system maintenance and ion source cleaning
Allows labs to stop using helium and switch to hydrogen with more ease
PEAK's Genius XE35/70 is well suited to the requirements of the new 6475 triple quadrupole LC/MS system while the Precision Hydrogen Trace is perfectly placed to support the range of GC equipment that Agilent have just released - providing your lab with a sustainable gas solution in the current climate of helium shortages which is affecting the productivity of many labs around the world.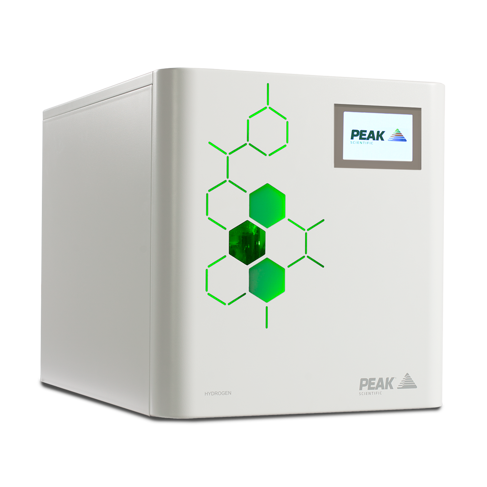 PEAK's Precision Hydrogen Trace 1200 gas generator
Waters were also present and launched their newest instrument, the Xevo G3 Qtof system, which is a high-performance, benchtop mass spectrometer for characterizing and quantifying molecules in applications such as biotherapeutics, forensics, metabolite identification, metabolomics and extractables and leachables.
Offering up to 10 times more sensitivity than its class-leading predecessor, the Xevo G3 Qtof excels at measuring and characterizing denatured or native proteins, peptides and other biotherapeutics.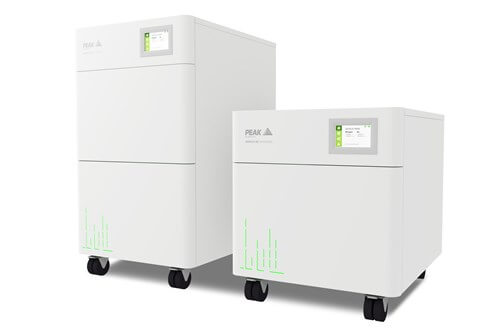 PEAK's Genius XE 35 & Genius XE 70 N2 gas generators
PEAK's Genius XE35 is perfectly situated to supply the necessary nitrogen gas which is required for the newest iteration of the Waters Xevo range of instruments.

Switch from helium to hydrogen today
End your reliance on the volatile helium market with a Precision hydrogen gas generator. We have worked closely with leading instrument manufacturers to help you find a solution tailored to your specific needs so you can confidently make the switch to hydrogen today.