Alternative Carrier Gases for ASTM D7213 Simulated Distillation Analysis
Leading manufacturer and developer of chromatography columns and accessories, Restek, recently published an article focused on the Petroleum and Petrochemical industry titled: Alternative Carrier Gases for ASTM D7213 Simulated Distillation Analysis by Katarina Oden, Barry Burger and Amanda Rigdon. In the article the authors discuss Simulated Distillation (SimDist) and the carrier gases that can be used in this GC method.
SimDist is a GC technique that allows fast, reproducible, and easily automated determination of boiling point distribution of crude oil samples, which, until recently, could only be supported using helium gas. The ASTM SimDist committee has now approved the use of alternative carrier gases, nitrogen and hydrogen, for this technique.
Research into the alternative carrier gases indicate that nitrogen is a suitable and convenient alternative to helium as it is readily available, has no explosive properties and is the most efficient carrier gas when compared with helium and hydrogen at their respective optimal velocities.
Hydrogen, on the other hand, is comparable in price to nitrogen and has a faster optimum linear velocity than helium. This means that, with proper translation, methods can be shortened by approximately 25% meaning a much faster analysis.
Carrier gas changes for SimDist methods, can be easily implemented in your daily process as PEAK Scientific offer both alternative carrier gases which complement this GC analysis. PEAK Scientific's Precision Hydrogen Trace and Nitrogen Trace models would be ideal solutions for those wishing to make the switch from helium since the trace models ensure the lowest possible baseline and accuracy in your results.
PEAK's Precision Hydrogen Trace models produce ultra-high purity hydrogen at flow rates ranging from 250cc-500cc per minute, utilising a Proton Exchange Membrane to create the hydrogen gas from deionized water, with Pressure Swing Absorption (PSA) employed to remove moisture content down to trace levels. The hydrogen models come with additional safety features such as an internal leak detection, automatic safety shutdown, and create hydrogen on-demand ensuring minimal storage of hydrogen in the system.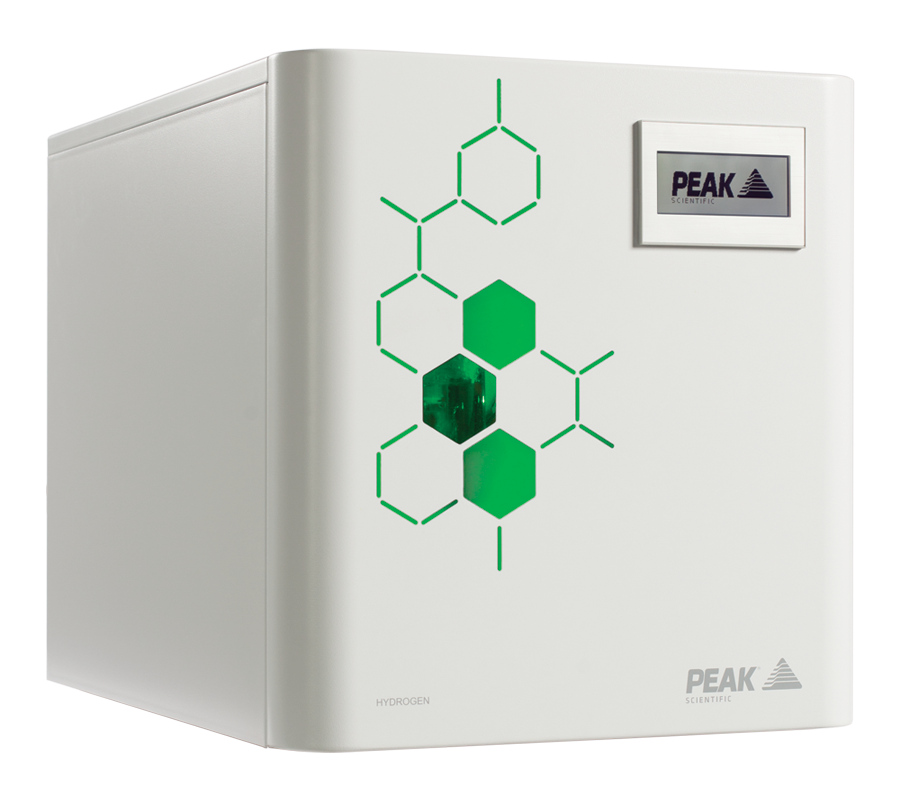 Precision Hydrogen Trace 
Precision Nitrogen Trace models are capable of delivering high purity nitrogen, removing oxygen and moisture via PSA, using Carbon Molecular Sieve and are available at flow rates ranging from 250cc-1000cc per minute. These models offer a constant and consistent supply of gas which means labs will not run out of gas during analysis and require minimal maintenance with just an annual filter change.
Precision Nitrogen Trace 
Making the switch comes with additional benefits, as not only does the Precision range come in a stackable, space-saving modular design it is also the practical and cost-effective alternative to pressurized gas cylinders, dewars or bulk storage of laboratory gas.
Find out more about how Precision can benefit you in your GC applications or speak to one of our gas specialists.