Application Types LC-MS
Part number: 10-1028

Status Discontinued i
Integrated compressor No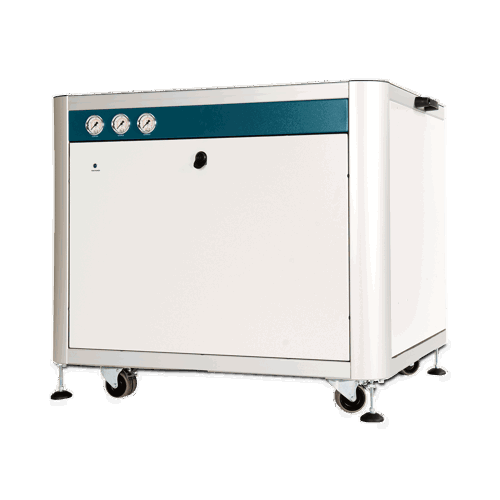 SCIEX Table 2N Hi-flow
The MS table has been designed as an SCIEX exclusive product to house the Triple Quad™, QTRAP™ or IVD MS systems. The MS table comes in a standard and premium form, the premium version including an inbuilt Infinity 1031 , or 1031 Hi-flow for MD instruments, allowing the supply of curtain, source and exhaust gases. Furthermore, the MS Table also comes supplied with an accessible sound proof enclosure for the required vacuum pumps for these applications.
View active replacement
Features
Table designed to hold SCIEX Mass Spectrometer
Can be supplied on its own or with an integrated nitrogen generator
Reduced lab footprint
Minimal set-up required
Sound proofed reducing noise of generator
Gas
Gas Type: Nitrogen
Max Gas Flow: 10L/min
Max Output Pressure: 65psi/4.5bar
---
Gas Type: Air
Max Gas Flow: 22L/min
Max Output Pressure: 110psi/7.6bar
---
Gas Type: Air
Max Gas Flow: 10L/min
Max Output Pressure: 60psi/4.1bar
Site & Installation
Gas Outlets Fitting: 3 x 1/4" BSPP
Min Inlet Pressure: 120psi/8.3bar
Max Inlet Pressure: 145psi/10bar
Min Air Inlet Flow: 115
Min Inlet Air Quality: 1.4.1
Start Up Time: 30 mins
Power Consumption: Up to 240 VA
Voltage: 110-240 V
Frequency: 50 / 60 Hz
Current: 1 A
Heat output: 818 BTU
Max Operating Temp: 30°C / 86°F
Particles: <0.1μm
Phthalates: none
Suspended Liquids: none
Accreditations: CE, CSA, FCC
Dimensions & weight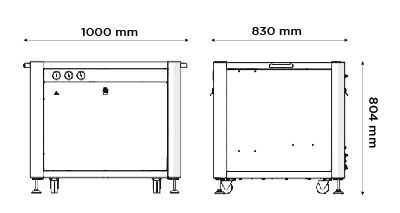 Size (HxWxD) mm: 1000 x 830 x 804 mm
Size (HxWxD) Inches: 39.4 x 32.7 x 31.7 inches
Generator Weight: 109kg / 239.8lbs

Need help finding a solution?
With over 20 years' worth of experience in developing gas generator technology alongside leading instrument manufacturers, we offer reliable laboratory gas solutions to meet your specific needs.