Application Types LC-MS
Part number: 3302084

Status Available i
Integrated compressor No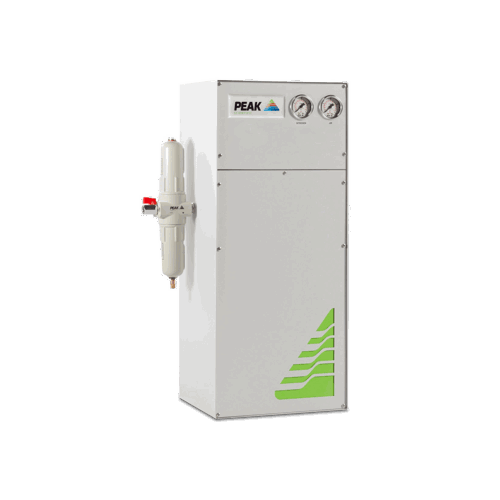 Infinity 1046 Nitrogen Generator
Generating up to 20 L/min nitrogen and 70 L/min dry air, the Infinity 1046 has been specifically designed to support the PerkinElmer QSight Triple Quad, whether single/dual source configuration. The Infinity Series are compressor-free gas generators which require a clean source of in-house air to operate effectively. With very few moving parts, these generators are effectively silent in operation and need only minimal care to ensure continued high performance and extended product life.
Request a quote
Features
Delivers nitrogen (drying gas) at up to 20 L/min and air (source gas) at up to 70 L/min
Capable of supplying both single and dual source QSight models
24/7 operation at optimum performance if required
Highly economical source of nitrogen and air with low lifetime running costs
Minimal set-up required
Completely silent in operation
12 month comprehensive on-site warranty
Gas
Gas Type: Nitrogen
Max Gas Flow: 20L/min
Max Output Pressure: 110psi/7.6bar
---
Gas Type: Air
Max Gas Flow: 70L/min
Max Output Pressure: 110psi/7.6bar
Site & Installation
Gas Outlets Fitting: 2 x 1/4" BSPP
Min Inlet Pressure: 120psi/8.3bar
Max Inlet Pressure: 145psi/10bar
Min Air Inlet Flow: 180
Min Inlet Air Quality: ISO8573 - 1:2010 Class 1.4.1
Start Up Time: 60 mins
Power Consumption: 0
Voltage: n/a
Frequency: n/a
Current: n/a
Heat output: n/a
Max Operating Temp: 30°C / 86°F
Particles: <0.01µm
Phthalates: none
Contaminants: none
Suspended Liquids: none
Dimensions & weight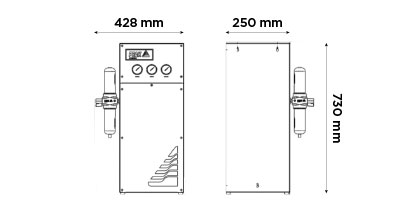 Size (HxWxD) mm: 730 x 422 x 250 mm
Size (HxWxD) Inches: 28.7 x 16.6 x 9.8 inches
Generator Weight: 23kg / 50.6lbs

Need help finding a solution?
With over 20 years' worth of experience in developing gas generator technology alongside leading instrument manufacturers, we offer reliable laboratory gas solutions to meet your specific needs.