Application Types LC-MS
Part number: 10-1320

Status Available i
Integrated compressor Yes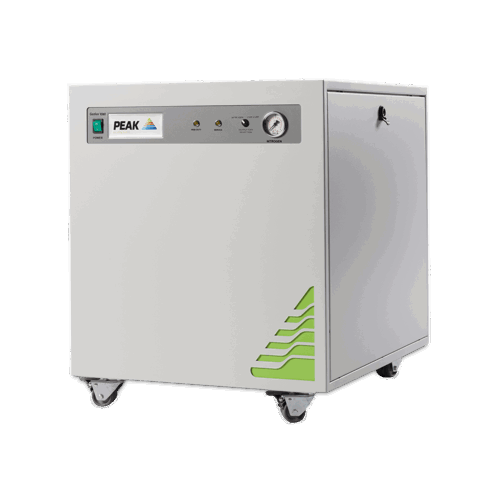 Genius 1061 - Nitrogen & dry air gas generator
The Genius 1061 is a dual gas generator providing both nitrogen and dry air designed to meet the specifications of the Shimadzu LC-MS 8050 for labs with an electrical supply up to 100V. This system contains two compressors allowing nitrogen and dry air flows to function independently of one another. The generator is configured to change the flow ratio of nitrogen and dry air, so long as the combined sum results in a total of 25L/min. The gas flow ratio is automatically controlled by the instrument's demand.
Request a quote
Features
Operates in labs with electrical supplies of 100V and below
Innovative CMS and PSA technology ensures high performance
Compressor based solution, no need for an external air supply
Minimal set-up required
Highly economical source of nitrogen gas with low lifetime running costs
The latest generation of compressors located in an insulated chamber reducing noise and vibration
Service indication to allow planning of preventative maintenance
Gas is supplied on demand so generator works to your schedule
Wheels make it easy to manoeuvre generator around the lab
12 month comprehensive on-site warranty
Gas
Gas Type: Nitrogen
Max Gas Flow: 25L/min
Max Output Pressure: 96psi/6.6bar
---
Gas Type: Air
Max Gas Flow: 25L/min
Max Output Pressure: 100psi/6.9bar
Site & Installation
Gas Outlets Fitting: 2x 1/4" BSPP
Start Up Time: 30 mins
Power Consumption: 1150 VA
Voltage: 100 ± 10% V
Frequency: 50 / 60 Hz
Current: 12 A
Heat output: < 3922 BTU
Max Operating Temp: 35°C / 95°F
Particles: <0.1μm
Phthalates: none
Suspended Liquids: none
Accreditations: CE, CSA
Dimensions & weight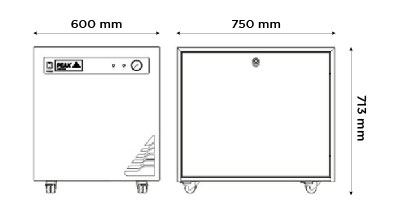 Size (HxWxD) mm: 713 x 600 x 750 mm
Size (HxWxD) Inches: 28.1 x 23.6 x 29.5 inches
Generator Weight: 119kg / 261.8lbs

Need help finding a solution?
With over 20 years' worth of experience in developing gas generator technology alongside leading instrument manufacturers, we offer reliable laboratory gas solutions to meet your specific needs.