Application Types CAD & ELSD
Part number: 65-0003 (230v)
65-0004 (110v)

Status Available i
Integrated compressor Yes
Solaris Air Compressor for ELSD
Peak Scientific's Solaris Air Compressor generator has been designed to support the Solaris Nitrogen generator for ELSD in labs without an external supply of high quality air. Available in both a 230v and 110v option this unit is suitable for all regions. 
A common feature in all of Peak's products is ease of use for laboratory workers, allowing them to concentrate on analysis. This unit has been engineered to limit use of valuable laboratory workspace through its stackable design, the Solaris ELSD nitrogen generator can be stacked on top of the compressor. 
Solaris has been developed to provide an on-site gas supply of high purity nitrogen for ELSD (Evaporative Light Scattering Detector) for labs using HPLC (High Performance Liquid Chromatography) or alternatively to supply Compact Mass Spectrometer instruments.
Request a quote
Features
Stackable with Solaris nitrogen generator for ELSD and Compact Mass Spectrometers
Provides air for nitrogen system for labs without an external supply
Gas is supplied on demand at the push of a button
12 month comprehensive on-site warranty
Gas
Gas Type: Air
Max Gas Flow: VariousL/min
Max Output Pressure: 120psi/8.3bar
Site & Installation
Gas Outlets Fitting: 1 x 1/4" BSPP
Power Consumption: 1150
Voltage: 230 ± 10% VAC
Frequency: 50 / 60 Hz
Current: (100v) 5 Amps / (230v) 2.3-2.7/3.2 Amps
Heat output: 2420 (BTU)
Accreditations: CE, FCC
Dimensions & weight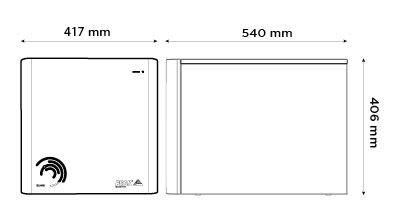 Size (HxWxD) mm: 406 x 417 x 540 mm
Size (HxWxD) Inches: 16 x 16.4 x 21.3 inches
Generator Weight: 42kg / 92.4lbs

Need help finding a solution?
With over 20 years' worth of experience in developing gas generator technology alongside leading instrument manufacturers, we offer reliable laboratory gas solutions to meet your specific needs.