Published
30th November 2016
National Center for Quality Testing of Alcoholic Beverages
Name: Sergiu Rusu
Job Title: Leading engineer of instrumental analysis sector
Company: National Center for Quality Testing of Alcoholic Beverages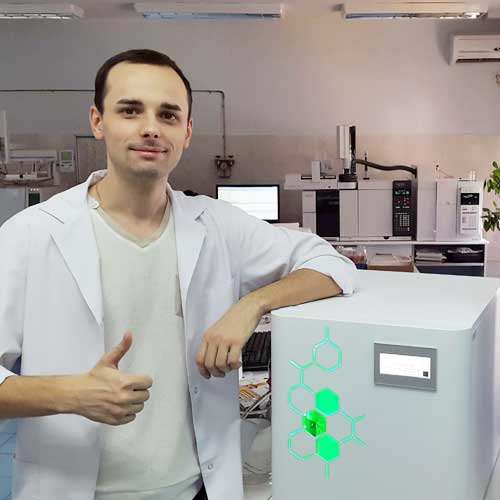 Sergiu with his Precision Hydrogen Trace 500

Sergiu Rusu and his colleagues at the National Center for Quality Testing of Alcoholic Beverages are responsible for ensuring alcohol produced in Moldova is quality tested and is safe for sale within local markets, as well as those for export. Testing is carried out at their lab in Chisinau, where the team utilize various laboratory instruments for analyses such as HPLC, FTIR, GC-FID, GC-MS and ICP.
Sergiu purchased his gas generator from one of Peak's trusted partners in Moldova, Lokmera. In this user story, Sergiu talks about his laboratory's GC analysis, gas generator and purchase experience – here is what he had to say:
Typically, what is the focus of your GC analysis - what sort of applications?
"Our laboratory is focused on quality control of alcoholic beverages. We offer to our customers a wide spectrum of analyzes, including aldehydes, esters, fusel oils, methanol, phthalates, synthetic fragrances, 3-methoxy-1,2-propanediol and many more."
What Peak Scientific generators do you have in your laboratory and what GC instruments do they supply?
"For now, we have a Precision Hydrogen Trace 500 that is connected to two GC/FIDs, one Agilent 6850 and another Shimadzu GC2010 Plus."
What prompted you to choose a Peak generator and how long have you used them?
"We have chosen the Peak product because it is a very high quality one. This is our first instrument made by Peak Scientific."
What has been the key benefit of deploying Peak generators as opposed to your previous gas supply solution?
"The key benefit is high purity gas, high flow rate and fault free operation."
How would you describe your purchasing experience with Peak in terms of speed of response, ease of ordering, catering for your needs and timing of delivery?
"We are very pleased with how the company have served us."
Have you ever had a site visit from a Peak engineer, if so, could you describe your experience of this support?
"We had a visit from an engineer of Peak Scientific because there was a problem but it was quickly resolved in our lab."
Would you recommend Peak Scientific generators to other laboratories - and if so, what would be your main reason for the recommendation?
"We definitely would recommend Peak Scientific generators to other laboratories. The main reason for recommendation will be robust, reliable and accurate equipment."
---
Peak's Precision Hydrogen Trace 500 generator has given the lab in the National Center for Quality Testing of Alcoholic Beverages confidence in their analysis and peace of mind, as the generator comfortably supplies gas to both their Agilent and Shimadzu GC-FID instruments. Despite the minor initial hiccup with the internal water pump, Sergiu and colleagues remain very pleased with the product and service, as the issue was quickly resolved via Peak's network of highly trained Field Service Engineers.
Peak's Precision Hydrogen Trace generators deliver high purity hydrogen for use as carrier or detector gas in GC and GC-FID. All Precision series generators have been designed as part of a modular stack, with hydrogen, nitrogen and zero air models that can be combined into a compact, complete GC solution.
To find out more about Peak Precision Series gas generators
Peak Scientific customers also get access to the most comprehensive gas generator warranty service available on the market, with the cost of all parts covered and on-site support, should the need arise. Once the warranty has expired, this cover can be extended with a [Peak Protected] service contract, helping to deliver additional peace of mind for years to come.
To find out more about [Peak Protected]