Published
10th March 2016
Deva Holding A.S shares their experience with Peak Precision generators
Caner Lodos, Analytical Equipment Qualification Chief for Deva Holding A.S in Turkey tells of his experience with Peak Precision generators.
Name: Caner Lodos
Job Title: Analytical Equipment Qualification Chief
Company: DEVA Holding A.S., Tekirdag, Turkey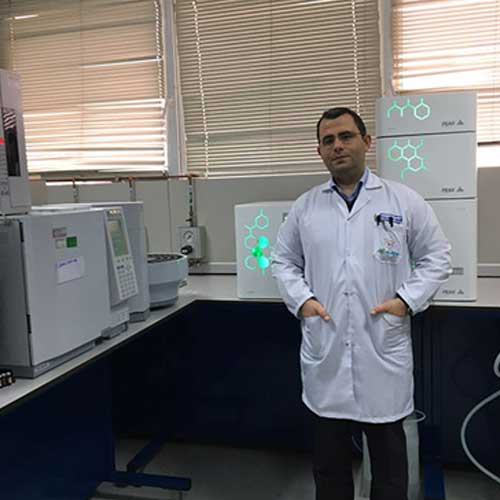 Caner Lodos, Analytical Equipment Qualification Chief
Providing results with Peak Precision
Caner Lodos, Analytical Equipment Qualification Chief for DEVA Holdings A.S has been using Peak gas generators in his laboratory for 6 years now.  He has multiple Peak gas generators which provide a consistent stable flow of gas to his Shimadzu and Agilent GCs. In this user story Caner identifies his purchase experience and aftersales support from Ant Teknik Ltd, one of Peaks authorized distributors based in Turkey.  
Typically, what is the focus of your GC analysis - what sort of applications?
 "Generally, OVI and Ethanol assay analysis are in progress with headspace and auto-injector applications."
What Peak Scientific generators do you have in your laboratory and what GC instruments do they supply?
"PH200 / ANG600 / Precision Nitrogen 600 / Precision Zero Air / Precision Hydrogen 200 for Shimadzu and Agilent GCs."
What prompted you to choose a Peak generator and how long have you used them?
"Service support in my location is the most important factor. Also spare part support has a big effect. When buying new GC equipment, the company we worked with advised us that Peak generators were the best for GC performance and I have been using Peak generators for six years now."
What has been the key benefit of deploying Peak generators as opposed to your previous gas supply solution?
"Compared to gas cylinders, which were our previous gas supply, generators are more stable and supply high pure gas flow. Also we find them safer compared to gas cylinders."
How would you describe your purchasing experience with Peak in terms of speed of response, ease of ordering, catering for your needs and timing of delivery?
"We had the introduction and price quotation very quickly. We did not have any problem with ordering and delivery. It was well-coordinated and organized."
Have you ever had a site visit from a Peak engineer, if so, could you describe your experience of this support?
"We are taking periodical maintenance from the Peak authorized local distributor once a year. Also they are supporting us for solving any malfunctions. Because of this, we are pleased with service support and visits Ant Teknik provides."
Would you recommend Peak Scientific generators to other laboratories - and if so, what would be your main reason for the recommendation?
"Yes, I recommend Peak generators for other laboratories. Main reasons are long life, stable gas flow, clear gas supply and safety in comparrison to gas cylinders. Also the service is good."
---
Amongst others, Caner has a Precision Nitrogen 600 , Hydrogen 200 and Zero air gas generator in his lab. The Precision series represents the cutting-edge of Peak Scientific innovation in robust and dependable gas generator design. It combines convenience and reliability in a stackable and modular design and is the safe and practical GC gas solution.  
Service and aftersales support was an important factor Caner and his team considered before purchasing the gas generators. They wanted to work with a company that could deliver not only product satisfaction, but also on customer service. This is why Caner purchased his Peak gas generators through Ant Teknik. Peak Scientific chooses its distibutors with great care and only the most trusted and competent distributors are given the training and authority to support Peak Scientific generators.
Peak and Ant Teknik have been working together for many years now and Peak are proud to work with distributor who uphold the same values of Peak and supports its vision of 'exceeding the expectations of our Customers, Colleagues and Suppliers'. 
Would you like more information?