Published
14th September 2018
University of Sheffield performs MS in the field with a PEAK gas generator
The University of Sheffield conduct metabolomics field research with the help of one of PEAK's Genius N118LA nitrogen generators.
P3 - Plant Production and Protection - a department at The Univeristy of Sheffield, uses forward and reverse genetics to identify regulatory genes of plant development and defence. One of the main priorities of their research is crop defence. Dr Heather Walker explained how their analysis has been improved by using PEAK gas generators - particularly for their field research.
Name: Dr Heather Walker
Job Title: Mass Spectrometer Facility Manager
Company: Univeristy of Sheffield 
Location: Sheffield, England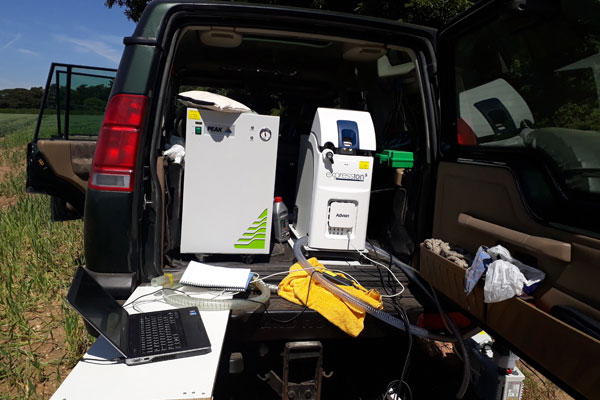 Sheffield University have used Peak's N118LA nitrogen generator for field reasearch
Typically what is the focus of your LC-MS analysis - what sort of applications? 
"Metabolomics."
What PEAK Scientific generators do you have in your laboratory and what LC-MS instruments do they supply? 
"We have a Genius N118LA nitrogen generator supplying an Advion CMS."
What prompted you to choose a PEAK generator and how long have you used them? 
"Our PEAK generator enables us to use the MS in the field and it reduced our gas costs. We have been using it for 2 years."
What has been the key benefit of deploying PEAK generators as opposed to your previous gas supply solution? 
"Ability to use the MS in the field and the reduced cost."
How would you describe your purchasing experience with PEAK in terms of speed of response, ease of ordering, catering for your needs and timing of delivery?
"We ordered through Advion when we bought the MS, not directly through PEAK."
Have you ever had a site visit from a PEAK engineer, if so, could you describe your experience of this support? 
"No."
Would you recommend PEAK Scientific generators to other laboratories - and if so, what would be your main reason for the recommendation?
"Yes, I would recommend PEAK generators as they are easy to use."
---
Using PEAK's Genius N118LA nitrogen generator, which can fit in the back of a vehicle as seen above, has enabled Dr. Walker to conduct Metabolomics research in the field.  With it's compact size, wheels for easy maneuverability and by being able to continuously produce a constant supply of nitrogen gas without ever running out, the N118LA is well suited to being used as a mobile gas solution. Dr. Walker explained that the reasons behind choosing the N118LA  was due to it's ability to be used in the field and also due to it's 'reduced cost' compared with other nitrogen gas supply solutions. After having a positive experience with the N118LA, which has been used by the University of Sheffield for 2 years, Dr. Walker has stated that she would recommend PEAK gas generators to other labs, particular as they are 'easy to use'.
If you are considering a new gas supply for your Compact MS, the Solaris 10 nitrogen generator produces up to 10L/min of high purity nitrogen (up to 99.5%) and has been designed with Compact Mass Spectrometers in mind. Developed with a space-saving design, Solaris can be placed on a benchtop and its small size (smaller than the N118LA) makes it an ideal mobile gas generator for field research. 
Looking for a Compact MS gas supply?
Found this user story interesting? You may also like:
Steno Diabetes Center Copenhagen - Metabolomics Analysis with the Genius Series
Lab gas generators - a better alternative to cylinders