Published
30th November 2021
Mérieux NutriSciences replace gas cylinders with PEAK gas generators

Joseph Kolb with the Precision Hydrogen and Zero Air generators from PEAK Scientific
Marcel Mérieux established the Institut Mérieux in 1897 and became a world leader in the field of human and veterinary vaccines. Today, Mérieux NutriSciences operates more than 100 laboratories in 27 countries and has over 50 years of experience in food safety and quality.
We caught up with Joseph Kolb, the Operations Supervisor at Mérieux NutriSciences, to talk about their experience with their range of PEAK gas generators, including the Infinity XE 5010, Precision Zero Air and Precision Hydrogen.
Typically what is the focus of your LC-MS analysis - what sort of applications?:
For LC-MS analysis we run pesticides, antibiotics, and vitamins.
What PEAK Scientific generators do you have in your laboratory and what LC-MS instruments do they supply?:
We use the Infinity XE 5010 for our LC-MSs. We also use Precision Zero Air and Precision Hydrogen for our GC-FIDs.
What prompted you to choose a PEAK generator for LC-MS and how long have you used it?:
We wanted to move away from cylinders and we have been using these for 2 years now.
What has been the key benefit of deploying PEAK generators for LC-MS as opposed to your previous gas supply solution?:
Not having to purchase Liquid Nitrogen Dewars has been great. Especially not having to move them around! Not to mention we have much more peace of mind because we are not worrying about the tank running out.
Have you ever had a site visit from a PEAK engineer in relation to your generator for LC-MS, if so, could you describe your experience of this support?:
I have not had a PEAK engineer visit, but we have had phone support and we were able to troubleshoot and fix the issue fairly quickly.
Would you recommend PEAK Scientific generators to other laboratories - and if so, what would be your main reason for the recommendation?:
Absolutely! Saving money and not having to switch out tanks would be the main reasons.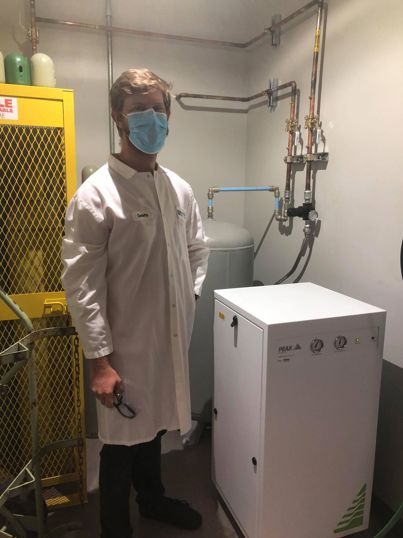 Joseph Kolb with the Infinity XE 5010 nitrogen generator from PEAK Scientific
A factor in Mérieux NutriSciences' decision to switch to their own onsite gas generation solution was the ability to move away from using gas cylinders. By removing their need for Liquid Nitrogen dewars they were able to have peace of mind that their analysis was not going to be disrupted by an inconvenient gas shortage. As a result of this shift from gas cylinders, Mérieux NutriSciences no longer need to worry about the current supply chain disruptions affecting labs across the globe because their lab gas supply is no longer reliant on deliveries.
With a range of generators supplying nitrogen, hydrogen and zero air to their LC-MS and GC-FIDs, Mérieux NutriSciences have also been able to reduce their lab's costs by removing the monthly outgoings that come with contracts associated with gas cylinder supplies.
Alternatives to the gas cylinder
Mérieux NutriSciences have done what many labs are currently looking to do; move away from using gas cylinders or dewars as their source of lab gas. The peace of mind that comes with owning your own on site gas generation solution is just one of the many benefits of a PEAK gas generator.
With a gas generator from PEAK Scientific, labs no longer have to factor recurring outgoings in their budget to cater to the increasing costs of gas cylinder contracts and their associated delivery fees, they are safe in the knowledge that the gas they are using is being produced in sustainable ways, while also making their lab safer in the current climate due to reduced personnel entering the lab with cylinder deliveries and, subsequently, reducing Covid contact transmission risks.
As a lab running both LC-MS and GC-FID, Mérieux NutriSciences have managed to remove the costs of two separate cylinder gases with the addition of the Infinity XE 5010 for their LC-MS and the Precision Hydrogen and Zero Air for their GC-FIDs. These generators are able to sustain their analysis by providing nitrogen and hydrogen on-demand with no need for continual replacement.
PEAK Gas Generators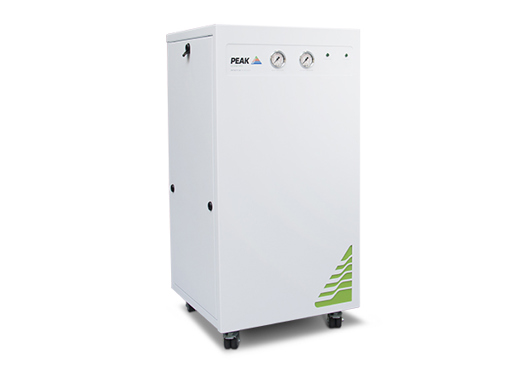 PEAK's Infinity XE 5010 nitrogen gas generator
Infinity XE50
PEAK Scientific's Infinity XE series generators have been engineered to provide nitrogen gas to laboratories that already have an external source of clean, dry & oil-free air. Producing between 10-130 L/min of high quality, laboratory grade nitrogen gas, the Infinity XE 501X can comfortably supply gas for multiple laboratory instruments.
Infinity XE series nitrogen generators are effectively silent whilst in operation and have no moving parts, so require minimal annual maintenance.
Our newest innovation in the Infinity range, the Infinity XE 60, offers all of these benefits with a much larger expandable flow rate of between 10-520 L/min while also taking advantage of our Intelligent Membrane Management. Our IMM optimizes compressed air requirements which results in reduced overall compressor run time, energy consumption and carbon footprint. 
Precision Hydrogen
The Precision Hydrogen Standard generators are designed to provide the gas needed for GC detectors requiring hydrogen fuel gas, such as FID. One generator is capable of supplying multiple detectors, and there are various flow rates available to suit individual laboratory needs.
Precision Hydrogen gas generators come with various safety features as standard, giving you complete peace of mind in the laboratory and are a far safer, dependable and convenient alternative to cylinders.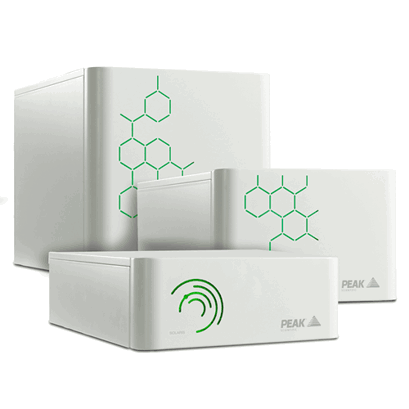 PEAK's Precision Zero Air Series
Precision Zero Air
The Precision Zero Air generators are designed specifically to supply clean, dry, hydrocarbon-free air to be used as flame support gas for GC at both standard and trace detection limits. 
As with all Precision series generators, Zero Air benefits from a compact and modular, stackable design, minimizing the total footprint required for GC gas supply, and providing flexibility to add or remove modules as your laboratory requirements evolve over time. 
Summary
Mérieux NutriSciences have seen the benefits of moving away from a reliance on gas cylinders to their own in-house gas generators. The financial savings they are making, coupled with the peace of mind of knowing their gas supply will not run out mid-analysis are enough of a reason for them to recommend a PEAK gas generator for your lab.

Need help finding a solution?
We are experts in our field - with over 20 years' worth of experience in pioneering cutting-edge gas generator technology, we have worked closely with leading instrument manufacturers to help you find a solution tailored to your specific needs.