Published
29th January 2018
Mentholatum shares how Precision benefits analysis of essential oils
Laboratory manager, Tracey Morton describes Mentholatum's experience using Peak generators and how they have benefited her work in essential oils with GC.
Specializing in family healthcare, Mentholatum is the UK's number one producer of pain relief heat and freeze brands which helps to manage muscular and joint pain. They also produce non-medicinal and food supplement products that help support people who lead active lives and those who continue to be active later in life.
From their manufacturing plant in East Kilbride, Scotland, Mentholatum produce and market to the UK, Europe, Africa and the Middle East. They are recognized for their innovative pain relief products, particularly the Deep Heat and Deep Freeze brands.
They continue to be innovative with a little help from a range of Peak Scientific's nitrogen, hydrogen and zero air gas generators. Laboratory manager, Tracey Morton tells us about her experience using Peak generators and how they have benefitted her work in essential oils.

Name: Tracey Morton
Job Title: Laboratory Manager
Company: The Mentholatum Company
Location: Scotland, UK
Typically what is the focus of your GC analysis - what sort of applications?
"Our focus is quantification of active ingredients, mainly essential oils."
What Peak Scientific generators do you have in your laboratory and what GC instruments do they supply?
"We have a full Precision stack comprised of the Precision Nitrogen Trace 1000; Precision Hydrogen 300; Precision Zero Air 3.5; and Precision Air Compressor."
What prompted you to choose a Peak generator and how long have you used them?
"We moved to Peak Generators due to the compact design of the generators and the proximity of the company for servicing."
What has been the key benefit of deploying Peak generators as opposed to your previous gas supply solution?
"Peak are very reliable and they provide and prompt service when you need them."
How would you describe your purchasing experience with Peak in terms of speed of response, ease of ordering, catering for your needs and timing of delivery?
"All staff were very helpful and informative, delivery was prompt and installation very fast."
Have you ever had a site visit from a Peak engineer, if so, could you describe your experience of this support?
"Yes, and the engineers are always very knowledgeable and helpful."
Would you recommend Peak Scientific generators to other laboratories - and if so, what would be your main reason for the recommendation?
"The generators are reliable & compact, and the staff provide a very friendly service."

Tracey explains how Mentholatum has benefited from the Precision gas generator's space-saving design. Peak knows that labs can get pretty busy with machinery, so Precision was built with this in mind. Have it on your benchtop next to your GC or floor stacked, it is a safe and practical way to have hydrogen and nitrogen gas in your lab.
The advantage of Precision is that it provides flexibility to the user, depending on their application. It comes in two variants being, Standard and Trace laboratory grades (for h2 and n2 only), and the correct model for you, depends on your lab's particular GC set up.
There are many benefits to having a Precision gas generator in your lab, but above all it eliminates the need for helium and nitrogen gas cylinders. These pose unnecessary on-going costs, risk of leak or explosion and the inconvenience of re-ordering tanks.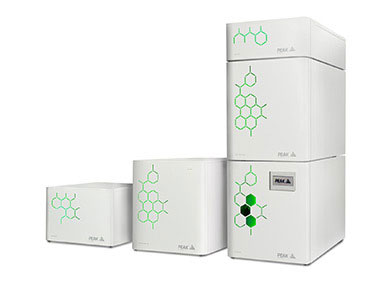 In addition to reliable and economic gas generators, Peak offer a range of aftercare plans to safeguard your gas supply. You will be supported locally wherever you are with [Peak Protected], with access to certified field service engineers, who can be on your doorstep within 72 hours (48 hours in some regions), to help you get your generator back up and running. This gives customers peace of mind and managed running costs for long hassle-free generator life.
To find out more about Precision
Some articles you may also like:
How does a hydrogen gas generator work?