Published
19th November 2020
Keio University Chooses Precision Hydrogen Following Helium Shortage
Dr. Akiyoshi Hirayama, Project Assistant Professor at Keio University in Japan, tells us about his positive experience after switching from helium to hydrogen as carrier gas for his team's GC research in metabolomics.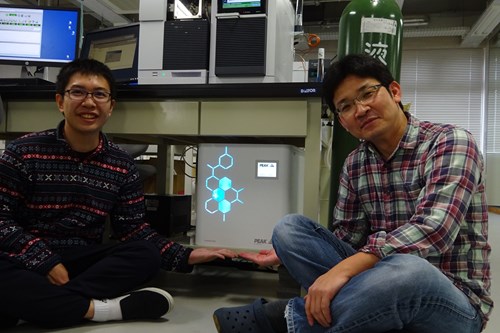 Dr. Hirayama and his colleague Dr. Ryosuke Hayasaka with their PEAK Hydrogen Trace generator
Name: Akiyoshi Hirayama 
Job title: Project Assistant Professor
Company: Institute for Advanced Biosecience, Keio University
Location: Japan
The Institute for Advanced Bioscience, forming part of Keio University, is a bioscience research centre first founded in 2001 at the Tsuruoka Town Campus in Tsuruoka city in Japan. The institute is well-regarded for its cutting-edge biotechnology by pairing the analysis of human and microorganic cell activity with computer analysis for research across environmental, medical and food sciences sectors.
Dr. Akiyoshi Hirayama, Project Assistant Professor at IAB tells us why his team opted for PEAK's Precision Hydrogen gas generator for carrier gas instead of helium gas for their GC research in metabolomics.
What PEAK Scientific generators do you have in your laboratory and what GC instruments do they supply?
Precision H2 trace 250cc which is connected to Agilent Intuvo 9000GC /5977B MSD

Is your generator used for carrier gas, detector gas or both?
Used for carrier gas

Typically what is the focus of your GC analysis - what sort of applications?
Metabolomics
Are you using any regulated methods in your analysis? If so, which methods do you use?
No

What advice would you give to other labs who are changing carrier gas from helium to hydrogen?
This is not a problem for many compounds, but for some compounds the MS spectrum may change depending on the carrier gas, so I would recommend that you'd better check the spectrum of your target compound once using standard reagents.

How big an impact did this disruption play in your decision to switch from helium carrier gas to hydrogen carrier gas for GC?
Good timing to change to a hydrogen generator due to soaring helium prices.

What has been the key benefit of deploying PEAK generators as opposed to your previous gas supply solution?
We can keep running a generator, just need to supply deionised water. Besides, we can select a larger tank depending on our requirement, so that we don't need to add water very frequently.

How would you describe your purchasing experience with PEAK in terms of speed of response, ease of ordering, catering for your needs and timing of delivery?
Everything was perfect.

Have you ever had a site visit from a PEAK engineer, if so, could you describe your experience of this support?
We are satisfied with their service quality when they visited us to solve a problem with the water supply pump.

Would you recommend PEAK Scientific generators to other laboratories - and if so, what would be your main reason for the recommendation?
I would be happy to introduce PEAK generators to other researchers. I used to have a bad impression of Hydrogen, but PEAK generators have safety features which can stop the generator promptly if anything happens to it.
---
The Institute for Advanced Biosciences at Keio University in Japan has had a very positive experience with using PEAK's Precision Hydrogen Trace generator and with PEAK's maintenance service. With the recent helium shortage and the subsequent helium price increase, Dr. Hirayama and his research team made the decision to switch to hydrogen for carrier gas instead of helium, as this was the most cost-effective option for their lab.
Helium is a non-renewable resource and a number of industries depend on this gas for operation. As demand for the gas continues, helium becomes more scarce and consequently, more expensive to source. Although some industries have no other option other than helium gas, the GC community can use hydrogen gas as a viable alternative for carrier gas for many methods. If you're not sure whether you can use hydrogen instead of helium, you can view our methods list here to check.
Unlike helium, which is scarce and requires an energy-intensive process for its sourcing and purification to analytical grade gas, high purity hydrogen can be made readily available with an in-house hydrogen gas generator. A hydrogen gas generator, such as PEAK's Precision Hydrogen, produces hydrogen gas from de-ionized water. This means that labs using a hydrogen gas generator for their analysis will have access to their carrier gas 24/7 and can therefore eliminate disruption to their analyses. Operating with an in-house hydrogen gas generator also means labs no longer have to worry about cylinder delivery or rental and swap-out charges. Once your PEAK hydrogen gas generator is delivered and installed, it will stay in your lab, readily available to supply your GC instrument.
As Dr. Hirayama points out, opting for a hydrogen gas generator instead of a pressurized gas cylinder is also an important consideration to make in terms of safety. Sourcing gas from a highly pressurized gas cylinder can be a safety threat due to its explosive potential if not handled carefully. With a hydrogen gas generator, however, labs can have peace of mind know only a small volume of gas is stored at any given time. In the unlikely event of a leak, PEAK's hydrogen gas generator will shutdown automatically to prevent safety risks.
At PEAK Scientific, our service extends beyond our product, thanks to our global tech support teams and field service engineers who are never too far away to help should you experience an issue with your generator. Once Dr. Hirayama reported the problem with the water supply, a local engineer promptly attended to Dr. Hirayama's request with no delay. If you would like to have more information on our [PEAK Protected] service plans to help maintain your hydrogen gas generator's best performance, please click here.
For the IAB, switching from a helium cylinder to an in-house hydrogen gas generator has been a major upgrade for their metabolomics lab. As Dr. Hirayama notes, performing GC analysis with a hydrogen gas generator means having a reliable source of gas you can depend on, not just for continuous operation, but also for savings of your lab's overall costs.
Discover similar user stories