Hae Jong, Jang, Dt&CRO's Laboratory Operations Manager, shares why they chose 23 PEAK gas generators for their analyses.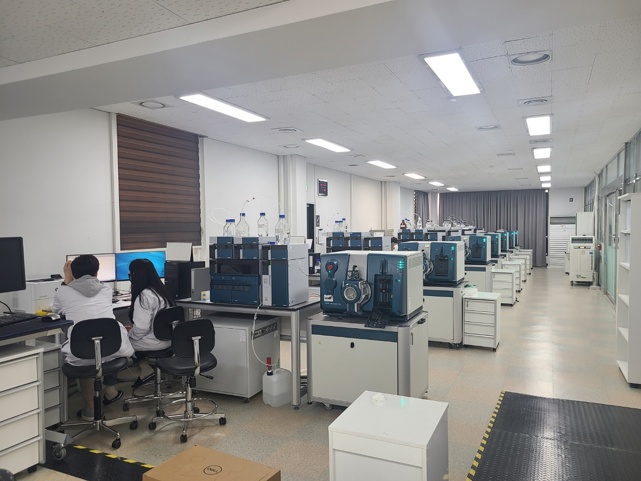 Dt&CRO was established in April 2017 in Korea, opening a bio-analysis center in January 2018 and a non-clinical trial center in November 2018. Dt&CRO offer a range of CRO services for new drugs, biosimilars, generics, industrial chemicals, food, cosmetics and medical devices.
Typically what is the focus of your LC-MS analysis – what sort of applications?
The key focus area of our LC-MS analyses is bio analyses which are Bio sample analysis, toxicokinetics (TK) analysis, Pharmacokinetics (PK) and non-clinical study.
What PEAK Scientific generators do you have in your laboratory and what LC-MS instruments do they supply?
We have 23 PEAK generators; the main generator is the Genius 1024 nitrogen generator for SCIEX Triple Quad™ 5500 and 6500. Today we are excited to be getting the most recent generator, the Genius XE SCI 2 for SCIEX Triple Quad™ 7500, installed.
What prompted you to choose a PEAK generator for LC-MS and how long have you used it?
Since I started my professional job in this analytical field, about 16 years ago, I have been using PEAK generators. When I had my first experience with a PEAK gas generator (DR series), I was very satisfied with the generator due to the stable performance and a back-up compressor which could prevent a generator from sudden shutdown. That first great experience prompted me to keep choosing PEAK generators and they are always releasing new generators which are suitable for the latest LC-MS analytical system like the SCIEX Triple Quad™ 7500.
What has been the key benefit of deploying PEAK generators for LC-MS as opposed to your pervious gas supply solution?
I have rarely had experiences of using other gas generators or gas supply solutions, but when I tried to recall a couple of experiences, I think that PEAK nitrogen generators are quieter, smaller and more stable than other generators.
How would you describe your purchasing experience with PEAK in terms of speed of response, ease of ordering, catering for your needs and timing of delivery?
We normally purchase PEAK generators from Korean distributor, Goojung EnT, and generally speaking, they always respond very quickly to our inquiries and the overall work process is easy and fast.
Have you ever had a site visit from a PEAK engineer in relation to your generator for LC-MS, if so, could you describe your experience of this support?
We have always made an annual maintenance contract with PEAK's Korea distributor, Goojung EnT. Their service engineer regularly visits our site to make sure our generators are running without downtime, and if we come across any sudden issue, they promptly resolve it.
Would you recommend PEAK Scientific generators to other laboratories – and if so, what would be your main reason for the recommendation?
I definitely say yes! Every time I have moved to a new company I have replaced the existing gas supply solutions with PEAK generators due to stable performance, quiet operation and the best service.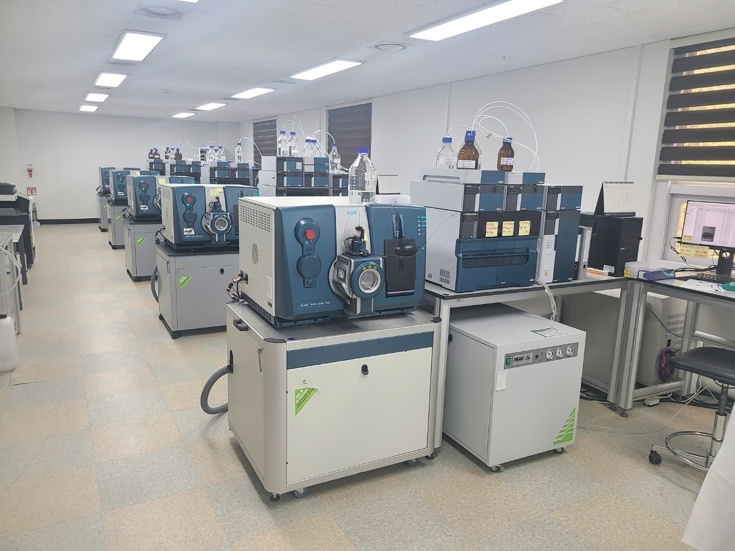 PEAK's Genius 1024 in the Dt&CRO lab
In a professional career that has lasted 16 years, PEAK has been Hae Jong, Jang's gas generator of choice for their entire career. Having had one great experience at the start of their career, it has been a conscious decision to replace every subsequent lab's gas generation solution with a PEAK solution.  Today, Hae Jong, Jang now has 23 PEAK gas generators supporting their SCIEX LC-MS instruments.
As Hae Jong, Jang has mentioned, the Genius 1024 and Genius XE SCI2 have a low impact on laboratories due to their low noise and heat emissions, as well as the Genius 1024 having reduced vibration through an insulated chamber where the compressors are located.
PEAK have been working with Goojung EnT, our trusted partner in Korea, since 2002 and it is through Goojung that Dt&CRO have had their gas generators supplied. Along with having their PEAK gas generators supplied by Goojung, Dt&CRO take advantage of their maintenance program to ensure the smooth running of their lab.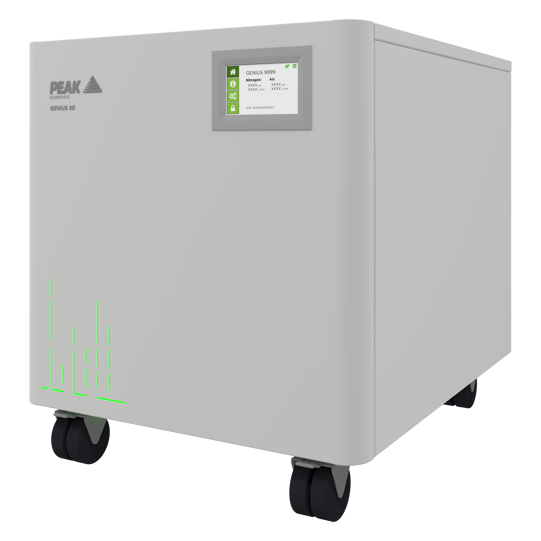 The Genius XE SCI 2 Nitrogen Generator
The Genius 1024 and Genius XE SCI 2 nitrogen gas generators, used by Dt&CRO, were developed in collaboration with SCIEX and designed to exclusively meet the needs of the SCIEX LC-MS systems. The Genius XE SCI2 was engineered to meet the demands of the newest SCIEX MS systems, the SCIEX Triple Quad 7500 LC-MS/MS System and the Echo MS System. While the Genius 1024 is suitable for all other SCIEX LC-MS systems. Both the Genius XE SCI 2 and the Genius 1024 were built around the proven technology of PEAK's Genius series of generators, providing peace of mind to SCIEX LC-MS instrument users.
Hae Jong, Jang has mentioned a host of benefits of PEAK gas generators, none more so than their reliability. These benefits – stable performance, back-up compressor, quiet, small, and stable -  have resulted in Hae Jong, Jang deciding to use PEAK gas generators as their gas generator of choice for the last 16 years. And, with a new Genius XE SCI 2 being installed, it appears this relationship will continue for many more.

Need help finding a solution?
We are experts in our field - with over 20 years' worth of experience in pioneering cutting-edge gas generator technology, we have worked closely with leading instrument manufacturers to help you find a solution tailored to your specific needs.