Danny Chou Lab uses PEAK nitrogen gas generator in insulin research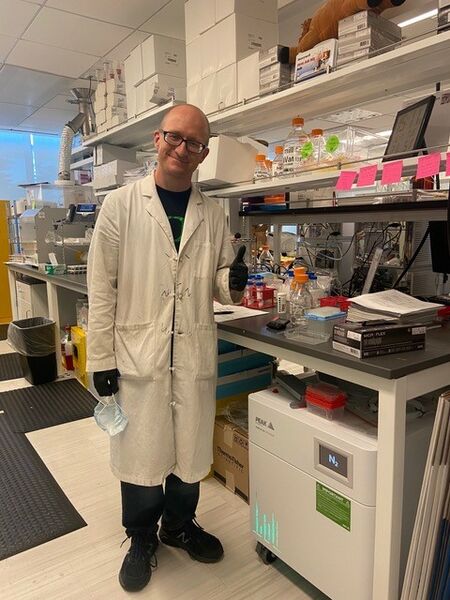 Michael Jacobsen with the Genius XE 35 nitrogen gas generator in the Danny Chou Lab
The Danny Chou Lab at Stanford University is a research program which integrates concepts of chemical biology, protein engineering and structure biology to design new therapeutic leads and generate probes to study biological processes. A key focus of the lab is insulin, an essential hormone in the body to reduce blood glucose levels. Since opening in 2020, the ultimate goal has been to translate the discovery into therapeutic interventions in human diseases.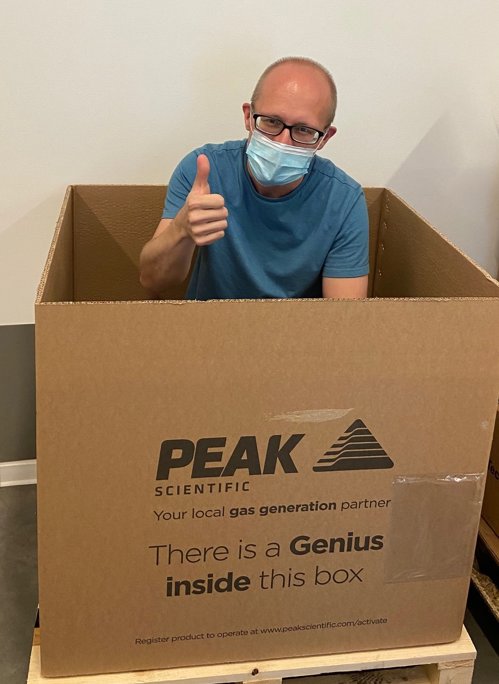 Michael Jacobsen, the 'Genius inside' the Danny Chou Lab
We spoke to Michael Jacobsen, Senior Research Manager (and resident Genius), at the Danny Chou Lab to find out about his experience with their PEAK Genius XE 35 nitrogen gas generator
Typically what is the focus of your LC-MS analysis - what sort of applications?
I manage the instrumentation in Danny Chou's new lab at the University of Stanford. We are using LC-MS to analyze new insulin peptides with interesting properties, such as glucose-responsiveness, enhanced stability, and ultra-fast action.
What PEAK Scientific generators do you have in your laboratory and what LC-MS instruments do they supply?
We have one Genius XE35 nitrogen generator that services two Agilent LCMS systems.
What prompted you to choose a PEAK generator for LC-MS and how long have you used it?
We have had the generator for about three months now. We initially chose the PEAK nitrogen generator primarily due to space constraints, as we can fit the generator cleanly under a lab bench for both LCMS systems.
What has been the key benefit of deploying PEAK generators for LC-MS as opposed to your previous gas supply solution?
Stability and reliability are really important. We cannot afford to pause our research efforts due to a bad Nitrogen tank or limited delivery over holidays. We want to ensure that our LCMS systems (this being an academic lab) are in operation 24/7.
How would you describe your purchasing experience with PEAK in terms of speed of response, ease of ordering, catering for your needs and timing of delivery?
It was a smooth process. Brad (our sales rep) was responsive and easy to work with. He was also recommended by our Agilent sales rep.
Have you ever had a site visit from a PEAK engineer in relation to your generator for LC-MS, if so, could you describe your experience of this support?
I've worked with PEAK before in industry, and their support process is robust. We were contacted in a timely manner when service was due.
Would you recommend PEAK Scientific generators to other laboratories - and if so, what would be your main reason for the recommendation?
I would definitely recommend PEAK generators. The main reason is reliability. We are trying to invent and discover new insulins, which demands reliable LCMS access and performance. Having a PEAK gas generator helps ensure that our LCMS systems are always in operation.
How can an on-site nitrogen gas generator benefit your lab?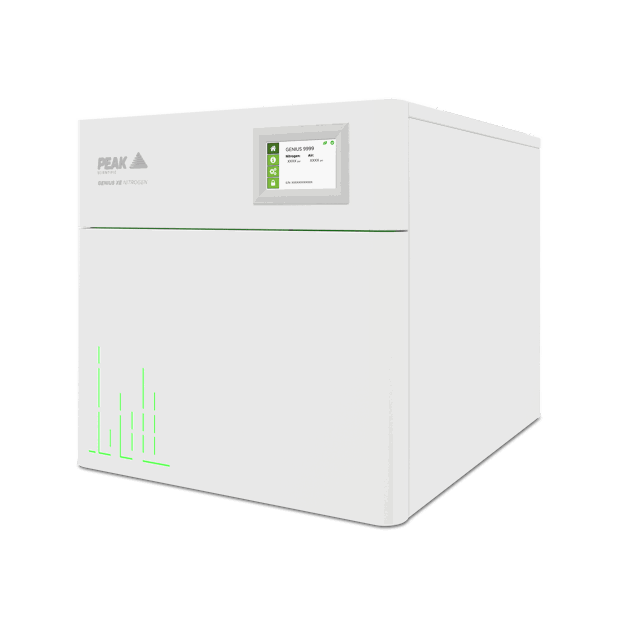 PEAK Scientific's Genius XE 35 nitrogen generator
PEAK nitrogen generators support a range of LC-MS applications and our Genius series is a compressor-based nitrogen gas generator built on more than a decade's worth of research and design. Through this research and development we have created the Genius XE, a cutting-edge evolution which combines advanced technology with refined and robust engineering. The Genius XE provides a premium standalone nitrogen solution for high performance LC-MS and other mission-critical laboratory applications where performance and reliability are vital.
As Michael said, stability and reliability are key factors for their lab. The possibility of having to pause their research efforts is not an option, therefore having onsite nitrogen gas generation to suit their needs is crucial. Not only does producing their own nitrogen have a positive impact on their lab's workflow, but it also helps to reduce their costs.
On average, one LC-MS instrument requiring 32 L/min to run for 8 hours over 5 days, consumes 4 million liters of nitrogen per year. This is equivalent to 450 gas cylinders which is a considerable cost for a lab. With the removal of these repeated gas deliveries, a nitrogen gas generator can earn their lab a quick return on investment.
The Danny Chou Lab has discovered the benefits of having an on-demand nitrogen generator for lcms in helping their lab to maintain their 24/7 operation. The reliability and peace of mind that is gained from knowing their LCMS systems will always be operational in the discovery of new insulins is of utmost importance and, at PEAK, we are proud to help support such important work.

Need help finding a solution?
We are experts in our field - with over 20 years' worth of experience in pioneering cutting-edge gas generator technology, we have worked closely with leading instrument manufacturers to help you find a solution tailored to your specific needs.