Published
21st December 2022
Precision hydrogen generator helps Citrus & Allied hit the fragrant notes
Citrus and Allied Essences is a family-owned and operated company who manufacture quality flavor ingredients and fragrance materials, including the essential oils of orange, lemon, lime, grapefruit, tangerine, bergamot, and clementine.
Established in 1933, Citrus and Allied create the building blocks of flavors and fragrances found in everyday consumer products.

We spoke with Barry Jacobs, a Project Manager at Citrus & Allied Essences to get insight into how they use their Precision Hydrogen gas generator in their lab.
Typically what is the focus of your GC analysis - what sort of applications?

Essential Oils & Flavor-Fragrance Chemicals

What PEAK Scientific generators do you have in your laboratory and what GC instruments do they supply?

We have a 1200cc Precision hydrogen gas generator which supplies hydrogen for 4 GCs (with 7 FIDs).

Is your generator used for carrier gas, detector gas or both?

Both

Are you using a GC method(s) for your analysis? If yes, which method(s)?

We use various GC methods, changing the oven program/injection size and integration parameters as needed. Our methods are proprietary, but are not anything unusual. We do use Fast GC.

What prompted you to choose a PEAK generator for GC and how long have you used it?

We have had our PEAK generator since early May 2022. There was a slight hiccup at the start, but since that was fixed the generator has been excellent.

What has been the key benefit of deploying PEAK generators for GC as opposed to your previous gas supply solution?

We used a competitor's generator for well over 15 years. Their quality has deteriorated through the years and their price has not been as competitive as PEAK. During the time between generators we used Hydrogen tanks.

How would you describe your PEAK generator purchasing experience in terms of speed of response, ease of ordering, catering for your needs and timing of delivery?

The speed of response of the salesperson was quick. Delivery was slower than we had hoped for. Installation was also a little delayed. We had an issue two days in, but the salesperson responded quickly, had an expert with him and the issue was resolved very quickly.

Would you recommend PEAK Scientific generators to other laboratories? If yes, what would be your main reason for the recommendation?

I would definitely recommend PEAK. We have other generators in our neighboring labs and as they break down PEAK is at the top of the list for replacement. It has been too early to be sure of the fortitude of the generator, but so far it has been trouble-free.
Need help finding a solution?
Let us help you choose the right hydrogen gas supply for your GC
PEAK's after-sales care has you covered
At PEAK, we pride ourselves on putting our customers first and making sure their experience exceeds their expectations. While the team at Citrus & Allied Essences had an issue initially with their generator, our team were quick to resolve this issue so that the lab experienced as little disruption as possible. It was unfortunate Barry and team had experienced delays in shipment and install but pleased they are now happy with their generator's performance.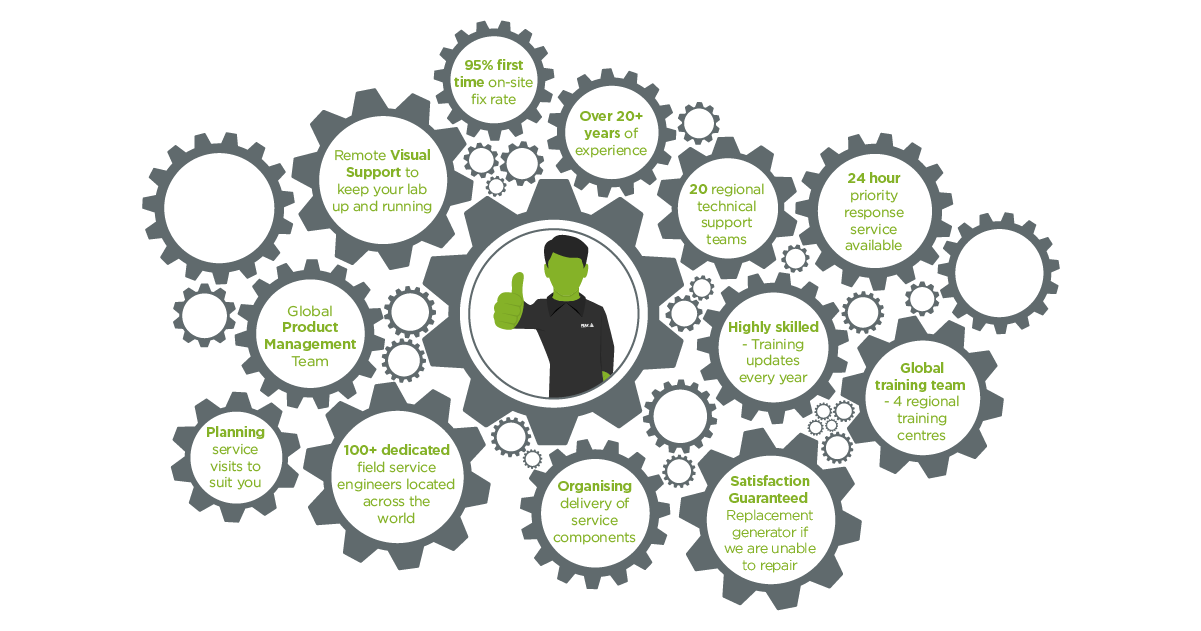 One of the biggest advantages of having a PEAK gas generator is the associated after-sales services that we have available. We are lucky to have Field Service Engineers located around the world who are able to get out to our customers within 72 hours and, in some regions, this can be in as little as 24 hours.
Our customers also have access to our technical team around the clock and, with our new Visual Support, we are able to diagnose and resolve issues without even having to step foot in your lab. By using your mobile phone camera, our team can view the inside of your generator to help you troubleshoot any issues and, if these cannot be resolved on the call, the engineer we send will already be equipped with all the information they need to resolve you issue in a timely manner.
The perfect hydrogen gas generator for your GC
The Precision Hydrogen Trace has been designed primarily for GC carrier gas, but can also be used for detector gas, just as the team at Citrus and Allied Essences use the generator. The Precision Hydrogen Trace 1200 produces up to 1200cc/min of high purity nitrogen which provides the convenience of only needing one generator to supply multiple instruments.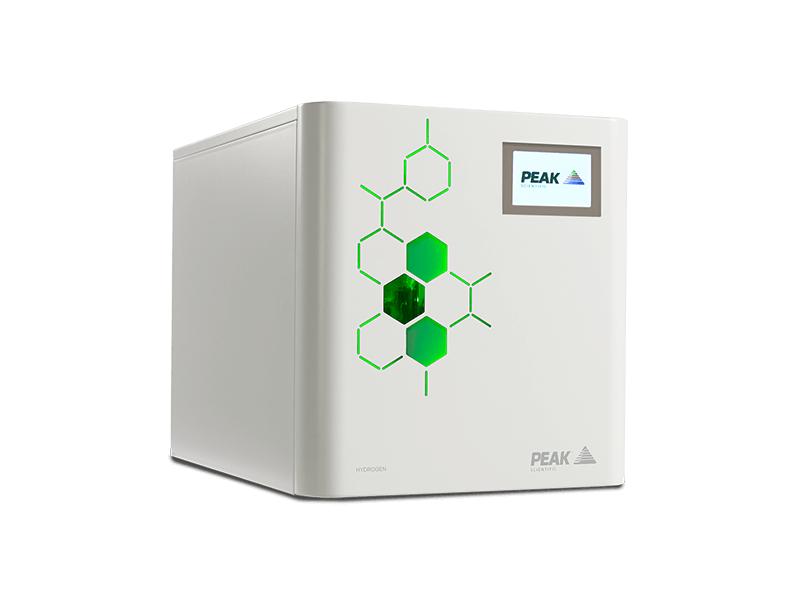 PEAK Scientific's Precision Hydrogen Trace 1200
By introducing a hydrogen gas generator into your lab, instead of the use of compressed gas cylinders, you can benefit from a safer alternative to cylinders in your lab, guaranteed hydrogen when you need it without having to take time away from your work to switch cylinders, and also reducing your impact on the environment with fewer deliveries to the lab.
PEAK's Precision range has been validated and approved by a number of leading instrument manufacturers which can provide you with peace of mind knowing leading GC manufacturers agree that we are the right solution for their instruments.

Need help finding a solution?
We are experts in our field - with over 20 years' worth of experience in pioneering cutting-edge gas generator technology, we have worked closely with leading instrument manufacturers to help you find a solution tailored to your specific needs.