Published
22nd March 2022
How to prolong the lifespan of your nitrogen gas generator
It's a well known saying that "Time is Money" and for laboratories this is especially true. Given the volume of specialist equipment needed to function, there is certainly plenty of opportunity for downtime to have an effect.

What can I do to optimize my generator's performance?
At PEAK Scientific, we produce a range of laboratory nitrogen generators which are primarily used for LC-MS and GC applications. No matter what your laboratory analysis is, it is essential that your gas generator is working at full capacity to ensure maximum uptime for your lab.
There are a number of ways that you can ensure your lab is working to the best of its ability:
Maintain the room temperature below 35°C and the relative humidity below 80%.
Ensure your nitrogen generator is in a dust-free room which is cleaned daily.
Utilize atmospheric air; there should be a minimum air gap of 3 inches surrounding the generator.
Don't install the generator close to an air conditioning outlet as this can affect your generators performance.
Drain tubing should be connected to a suitable transparent container which must be emptied regularly. The seal must not be air tight as water and air are expelled at pressure.
Given how frequently a nitrogen generation system is used in laboratories though, even the best equipment will need to be maintained periodically to keep providing the best results.
Need some more help?
Let us help you take the next steps to getting your generator covered with [PEAK Protected]
What is a nitrogen generator used for?
PEAK's nitrogen generators are use in a number of applications including LC-MS, GC & GC-MS, ICP-MS, MP-AES, CAD, ELSD, Sample Preparation, and CD. These applications are used across a range of industries such as Academia, Biotech, Clinical, CRO, Forensics and Pharmaceuticals. Unplanned downtime in many of these industries could have a huge impact, not only on the development of crucial research, but the overall financial returns of the lab.  
Nitrogen generator maintenance
In order to guarantee your nitrogen generation system is performing at its best, it is crucial to schedule planned maintenance to make sure that all the moving parts within the generator, especially integrated air compressors, are working as they should. It's vital to ensure that the moving parts and crucial elements of your generator are regularly serviced to minimize any unscheduled downtime.
At PEAK we provide a number of service benefits that give you peace of mind that your lab gas supply will not drop off mid-analysis.
One of the key points that sets PEAK apart from our competitors is our world-class service offering. We offer rapid response, on-site service and, because we have PEAK trained Field Service Engineers located across the globe, you can be sure you are receiving the highest quality service.
We have a range of Service Plans available in our [PEAK Protected] suite that are suitable for any lab and any budget.
| PM Plan | Complete Plan 48/72 | Complete Plan 24 |
| --- | --- | --- |
| - | Guaranteed response time | Guaranteed response time |
| - | Breakdown visits | Breakdown visits |
| - | Updates of components and software included | Updates of components and software included |
| Annual preventative maintenance visit | Annual preventative maintenance visit | Annual preventative maintenance visit |
| Phone access to technical support helpdesk and instant support with PEAK Visual Support | Phone access to technical support helpdesk and instant support with PEAK Visual Support | Phone access to technical support helpdesk and instant support with PEAK Visual Support |
With [PEAK Protected], you will have access to around the clock support by phone or online with PEAK's global technical helpdesk which now includes PEAK Visual Support.
At PEAK, we have recently introduced the latest support offering in the form of Visual Support.
In order to reduce downtime in your lab even further, we have adopted an Augmented Reality system where we can see your generator through your mobile phone camera. We can guide you through fixing the generator fault independently and in real time – without the need for an engineer to visit your lab.
Should an engineer need to attend site, we are able to provide them with all the information they need to quickly, and efficiently, complete the repair which will lead to reduced downtime for your lab.
What are the benefits of purchasing a service plan?
PEAK's global team of Field Service Engineers are on hand to attend your laboratory to perform any service or repair. PEAK is able to support all of our global engineers with the knowledge and support of a global organization.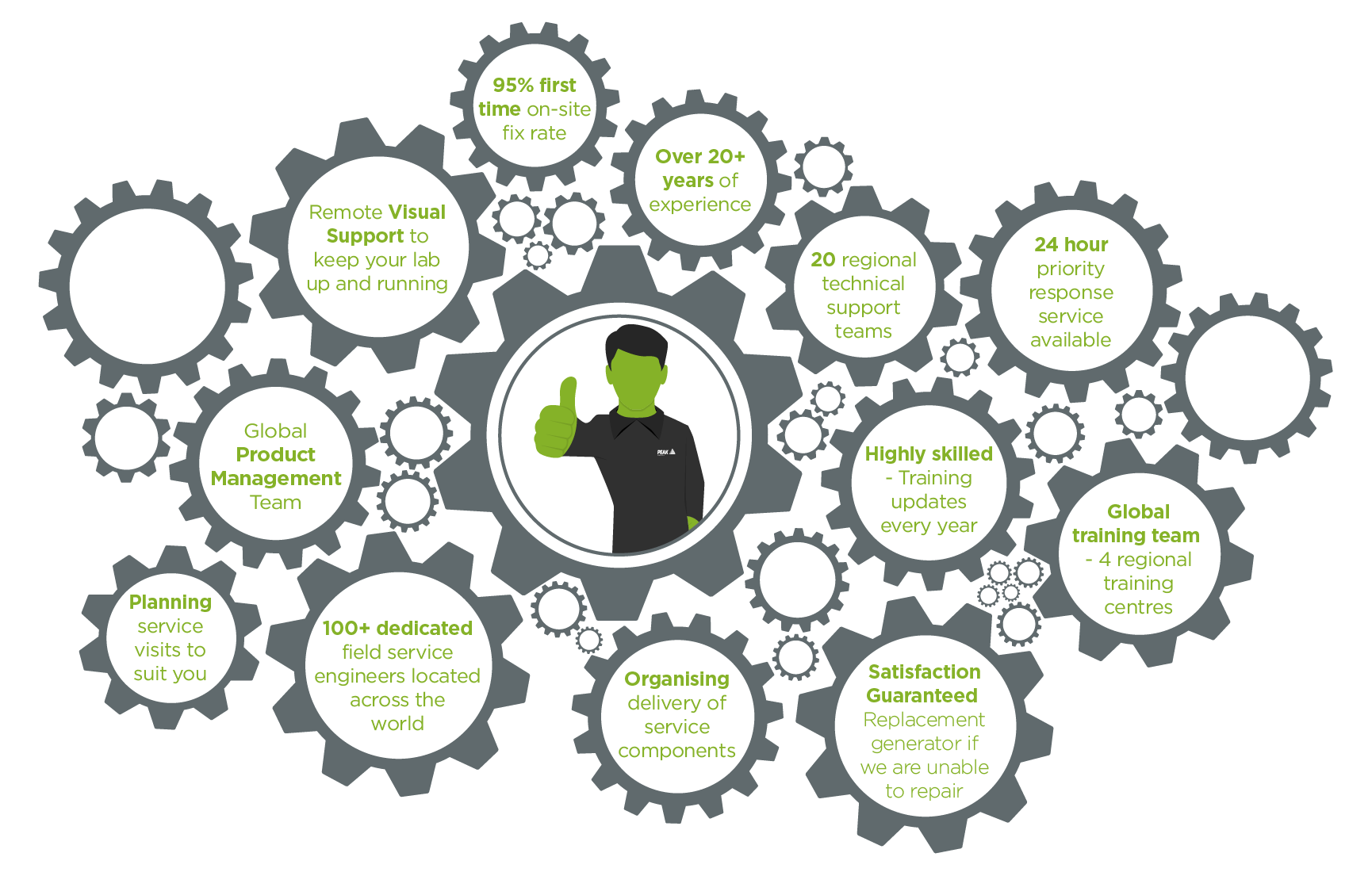 PEAK provide a range of service options to help keep your lab running.
The benefit of an annual PEAK service plan is that you know your maintenance schedule is every 12 months, regardless of whether you use your generator for 8 hours a day or 24/7.
This maintenance can also be scheduled to coincide with the maintenance of your LC-MS or GC equipment, meaning you will not experience more downtime than is necessary as your whole system can be serviced at the same time.
Ultimately, a service plan with PEAK helps you to streamline your workflow and maximize the uptime in your lab.

Need help finding a solution?
We are experts in our field - with over 20 years' worth of experience in pioneering cutting-edge gas generator technology, we have worked closely with leading instrument manufacturers to help you find a solution tailored to your specific needs.