Application Types GC & GC-MS
Part number: 10-9240

Status Retired i
Integrated compressor Yes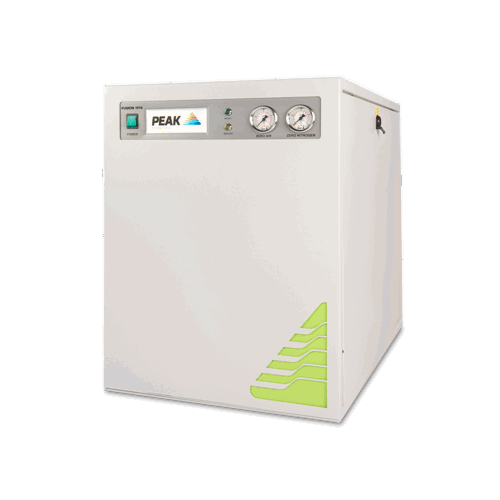 Fusion 1010 Nitrogen Generator
The Fusion 1010 dual gas generator was developed to deliver high purity zero nitrogen and zero air, for GC carrier & detector gas. The Fusion 1010 also comes with a rapid restart function allowing the unit to be operational shortly after a power cut, or if power is removed from the unit. Ideal for laboratories in locations where a steady power supply cannot be guaranteed.
Features
Catalyst chamber removes hydrocarbons (as methane) to <0.1 ppm
Zero air and zero nitrogen improve stability of baseline
Delivers two separate outputs of zero nitrogen and zero air
Rapid restart function allows for immediate supply of gas after a power cut Internal air compressor removes the need for an external source of air
Compact size means the generator can fit under a standard lab bench
Noise level lower than most standard laboratory instruments 12 month comprehensive on-site warranty
Gas
Gas Type: Nitrogen
Min Gas Flow: 0cc/min
Max Gas Flow: 600cc/min
Max Output Pressure: 80psi/5.5bar
---
Gas Type: Air
Max Gas Flow: 1500cc/min
Max Purity: <0.1ppm
Site & Installation
Start Up Time: 3 hours
Voltage: 230 ± 10% VAC
Frequency: 50 / 60 Hz
Current: 5 Amps
Accreditations: CE
Dimensions & weight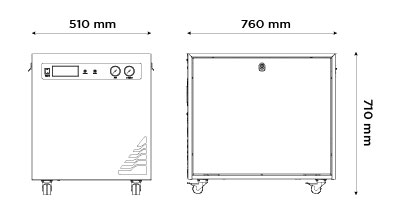 Size (HxWxD) mm: 510 x 760 x 710 mm
Size (HxWxD) Inches: 20.1 x 29.9 x 28 inches

Need help finding a solution?
With over 20 years' worth of experience in developing gas generator technology alongside leading instrument manufacturers, we offer reliable laboratory gas solutions to meet your specific needs.