Part number: 3304934 (120V)
3304550 (220-240V)

Status Available i
Integrated compressor Yes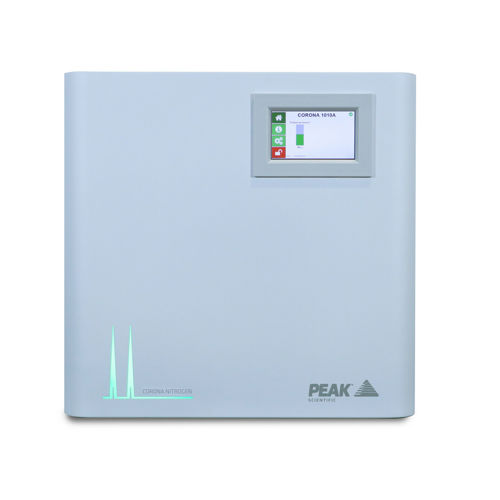 Corona Nitrogen 1010A
PEAK's Corona 1010A has been developed to meet the demands of labs requiring high purity nitrogen for their applications.
Suitable, primarily, for Charged Aerosol Detectors, the Corona 1010A generator delivers a high-purity, filtered nitrogen supply for applications requiring flows of up to 5l/min at 80psi. With a space-saving design and built-in air compressor, the Corona 1010A can fit seamlessly into any laboratory.
Request a quote
Features
Suitable for applications requiring high purity nitrogen
Full colour, touch-screen user interface for ease of operation
Built-in air compressor to maximize space in lab
Dedicated solution for ThermoFisher Scientific's Corona and Vanquish instruments
Tried and tested membrane technology delivers high purity nitrogen
Gas is supplied on demand so generator works to your schedule
The most cost-effective method of gas supply
Gas
Gas Type: Nitrogen
Max Gas Flow: 5L/min
Max Output Pressure: 80psi/5.5bar
Max Purity: >98%
Site & Installation
Gas Outlets Fitting: 1 x ¼" BSPP & 1 x 6mm push fit
Start Up Time: 5 mins
Power Consumption: up to 680VA
Voltage: 120V±5% / ~220-240V ±10%
Frequency: 120V 60Hz / ~220-240V 50/60Hz
Current: 5.2A @ 120V / 2.3-2.7A @ ~220-240V
Particles: <0.01ɥm
Phthalates: Phthalate & BHT Free
Suspended Liquids: None
Dimensions & weight
Size (HxWxD) mm: 540 x 406 x 417 mm
Size (HxWxD) Inches: 21.3 x 16 x 16.4 inches
Generator Weight: 31.5kg / 69.3lbs
Discover your ROI
PEAK's ROI calculator is an easy-to-use online tool that will quickly help you see when you can expect to make a return on your investment on your gas generator. . By answering a few simple questions, we will calculate how many months it will take to make a return. 

Need help finding a solution?
We are experts in our field - with over 20 years' worth of experience in pioneering cutting-edge gas generator technology, we have worked closely with leading instrument manufacturers to help you find a solution tailored to your specific needs.