Application Types FT-IR
Part number: 45-1060

Status Available i
Integrated compressor No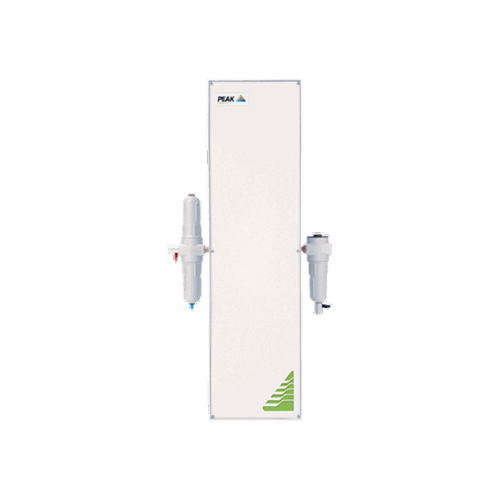 PG28L Purge Gas Generator
The PG28L gas generators from Peak Scientific are suitable for laboratory detectors requiring CO2 free gas such as FT-IR analysis. Using Pressure Swing Adsorption technology to remove organic contaminants and moisture from air, these generators provide a consistent flow of air to ensure little background noise in laboratory analysis.

Requiring minimal maintenance, the PG28L does require an external source of air to operate, Peak Scientific will be able to help with recommending a suitable air source if your laboratory does not have one.
Request a quote
Features
Purge Gas (PG) generators from Peak Scientific produce air which is free of CO2
Ideal for commercial labs with a high throughput rate of samples
High performance filters and PSA ensure maximum reduction of moisture (< -70ºC dew point).
Few moving parts means minimum maintenance requirements and 24/7 performance
Position generator where required, wall mountable for small labs
More cost effective than any other gas supply as the FT-IR detector needs a constant flow of gas
Completely silent in operation
12 month full comprehensive on-site warranty
Gas
Gas Type: Air
Max Gas Flow: 28L/min
Max Output Pressure: 100psi/6.9bar
Max Purity: <1ppm CO2
Site & Installation
Gas Outlets Fitting: 1/4" BSP Female
Min Inlet Pressure: 100psi/6.9bar
Max Inlet Pressure: 120psi/8.3bar
Power Consumption: 240 W
Voltage: 120 - 240 ± 10% V
Frequency: 50 / 60 Hz
Current: 0.08 A
Particles: < 0.01 µm
Accreditations: CE,FCC
Dimensions & weight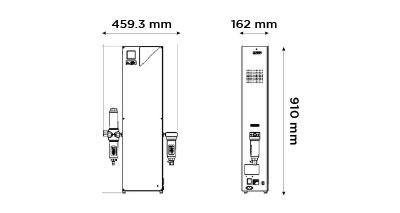 Size (HxWxD) mm: 910 x 459 x 162 mm
Size (HxWxD) Inches: 35.8 x 18.1 x 6.4 inches
Generator Weight: 19kg / 41.8lbs
Service Requirements
Annual replacement of particulate filters

Need help finding a solution?
With over 20 years' worth of experience in developing gas generator technology alongside leading instrument manufacturers, we offer reliable laboratory gas solutions to meet your specific needs.