Published
10th August 2015
Fresenius Kabi Oncology use Peak's hydrogen generator for their GC analysis
Fresenius Kabi Oncology Ltd discover the benefits of using Precision Hydrogen generator from Peak Scientific instead of gas cylinders for their GC analysis.
Name: Imran Ahmed
Job Title: Senior Research Scientist
Company: Fresenius Kabi Oncology Ltd., Gurgoan, India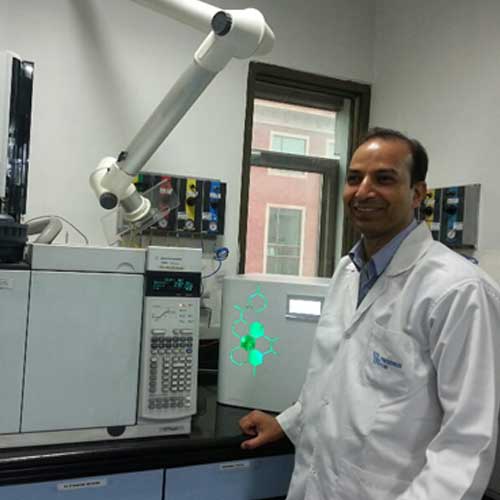 Imran Ahmed, Senior Research Scientist, Fresenius Kabi Oncology Ltd
Fresenius Kabi Oncology, performing with Precision
Fresenius Kabi Oncology Ltd. primarily operates in the field of research and development, as well as manufacturing, of world-class oncology drugs. The company aims to provide state-of-the-art third generation chemotherapeutic drugs, from initial development to product delivery across the globe. Fresenius is fast emerging as a leading player in oncology generics on the strength of its comprehensive product portfolio of injectables, oral cytotoxics, cytostatics, intermediates and active pharmaceutical ingredients (APIs).
Imran Ahmed, Senior Research Scientist at Fresenius, shared with us how the use of Peak Scientific's generators have provided peace of mind and easier use of his GC equipment than their previous solution of gas cylinders and generators from another gas generator supplier.
Typically, what is the focus of your GC analysis—what sort of applications?
"We use Agilent GC for Active Pharmaceutical Ingredients (API) Testing. Our GC is used with a Headspace along with an FID as the detector."
What Peak Scientific generators do you have in your laboratory and which instruments do they supply?
"We have a Precision Hydrogen Trace 500 model which is used to fuel our Flame Ionization Detection (FID) for our GC. We also have a Fusion 1010 Nitrogen generator with a flow rate of 600cc/min Nitrogen used for carrier gas in addition to Zero Air generators with flow rates of 7L/min. All of these gas generators are used for GC applications."
What made you choose a Peak generator and how long have you been using them?
"We were using gas cylinders and gas generators from one of your competitors previously, but due to the inferior product quality and insufficient service support by the competitor, we chose Peak Scientific products and we have now been satisfied Peak generator customers for the past two years."
What did your previous gas supply solution look like?
"Before moving to our Peak generators, we were dependent on gas cylinders and gas generators (from another company) for the supply of Hydrogen and Nitrogen to our GC."
What has been the key benefit of deploying our generators in your own experience?
"Peak generators have benefited us by eliminating the safety hazards associated with gas cylinders. It has also helped us to provide an uninterrupted supply of gas to our GC for prolonged usage. Now we no longer need to depend on gas cylinders."
How would you describe your experience of dealing with Peak Scientific in terms of purchase and support?
"We have had an excellent experience dealing with Peak. The Peak team is very supportive in terms of sales and service. There has always been a timely response from their staff."
Would you recommend Peak Scientific generators to other GC laboratories - and if so, what would be your main reason for the recommendation?
"I recommend Peak Scientific for their superior service support which is translating into better product performance. Peak's service team has provided accurate responses to all of our inquiries."
***
Peak's Precision series gas generators, specifically designed for GC applications, allowed Fresenius Kabi to increase the safety and efficiency of their lab due to minimizing the handling of gas cylinders. Removing gas cylinders from the lab means an uninterrupted supply of gas and no longer facing the hassle of running out of gas during analysis. This was the primary concern with gas cylinders for Fresenius Kabi as users had to changeover cylinders regularly.
Replacing generators from a different supplier with Peak Scientific generators highlights the superior quality, not only of the product, but also of the high level of local support Peak Scientific provides to its customers, no matter where their lab may be located in the world. 
Would you like more information?