The French Scientific Police Institute uses a Peak nitrogen gas generator for their LC-MS
The French Scientific Police Institute is using an NM30LA nitrogen gas generator to run their LC-MS application.
Name: Grégory Deffontaine
Job Title: Engineer
Company: Scientific Police Institute (France)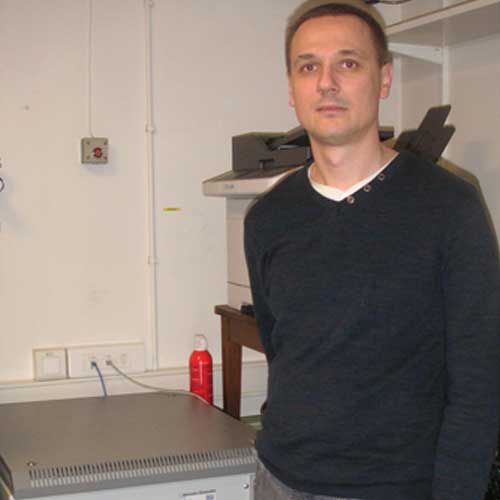 Gregory Deffontaine, Engineer, Scientific Police Institute 
Peak's gas generators are built to last
Gregory Deffontaine works as an Engineer for the French Scientific Police Institute and is using an NM30LA nitrogen gas generator to run his LC-MS application. In this user story he explains how he has been using Peak gas generators in his lab since 2008 and how having an uninterrupted supply of gas to his LC-MS instrument allows him to carry out toxicological analysis for crime cases such as murder investigations. 
1. Typically, what is the focus of your LC-MS analysis - what sort of applications?
"We use our LC-MS for toxicological analysis in the context of judicial inquiries, this can range from rape, murder, violence etc. to try and identify the causes of death."
2. What Peak Scientific generators do you have in your laboratory and what LC-MS instruments do they supply?
"We have NM30LA nitrogen gas generator model that feeds our LC / MS Thermo Scientific LCQ Fleet trap and triple quadrupole."
3. What prompted you to choose a Peak generator and how long have you used them?
"We purchased our NM30LA gas generator along with the LC / MS from Thermo Scientific. We also purchased an additional nitrogen generator that is used for evaporation of organic solvents. The generators coupled LC / MS respectively from 2008 and 2011. The latter, used for evaporation, was received in 2013."
4. What has been the key benefit of deploying Peak generators as opposed to your previous gas supply solution?
"Our previous gas solution was a Domnick Hunter Nitrogen generator with a separate air compressor. The benefits of having a Peak gas generator is the skill, professionalism, availability and friendliness of the staff with whom we have contacted throughout the years of working alongside Peak."
5. In your opinion, what is the main advantage of owning Peak generators in your laboratory?
"One of the main advantages of having a gas generator is the money you end up saving in comparison to bottled gas cylinders."
6. Have you ever had a site visit from a Peak engineer, if so, could you describe your experience of this support?
"I have had excellent experiences with Peak Scientific from technical business through to administrative services. We especially appreciate the skill, professionalism, availability and friendliness of the staff that we contact with in Peak France"
7. Would you recommend Peak Scientific generators to other laboratories - and if so, what would be your main reason for the recommendation?
"Yes I would recommend Peak Scientific for their quality products but also and especially for the excellent after-sales service.
---
Having an NM30LA in the lab is a true testament to the clever design engineering and the robust components that Peak use within the gas generators.  Our NM30LA was designed with the same care and attention as its successor the Genius NM32LA which is now Peak's proven compressor based nitrogen generator for LC-MS applications.
Gregory stated that he has had an excellent experience working alongside Peak from the initial enquiry through to the install and general maintenance of the product.  The service Peak provides is another reason why Peak stand out from its competitors.  Having a dedicated [Peak Protected] aftersales and support team means that Peak can be on hand to assist in the unlikely event of a breakdown or for planned preventative maintenance for your generator. Our aim is to keep your lab running as effectively and efficiently as possible. 
With reliability and consistency at the heart of all Genius gas generators you can safely say it's good to have a Genius in your lab.
Would you like more information?