Published
6th December 2022
University of Siena invests in the future with PEAK
The University of Siena in Tuscany, is one of the oldest and first publicly funded universities in Italy. Founded in 1240, the university underwent massive expansion in the 20th century, growing from a cohort of 400 students between the World Wars, to its current one of around 20,000-strong.

We spoke with Marco Consumi, a Researcher at the University, about their experience with the PEAK PG14L Purge Gas generator.
Typically what is the focus of your analysis - what sort of applications?

FTIR spectroscopy with ATR accessories mainly devoted to biological and materials studies.

What PEAK Scientific generators do you have in your laboratory and what instruments do they supply?

We use the PG14L which is connected to our Thermo Nicolet IS50.

What prompted you to choose a PEAK generator and how long have you used it?

The main reason was the conversation with our area representative about our needs, which generator would suit our requirements and the comparison of the PEAK generator to other systems on the market.

What has been the key benefit of deploying PEAK generators as opposed to your previous gas supply solution?

We expect to see a better value to cost ratio with the PG14L - especially when it comes to maintenance costs.

How would you describe your purchasing experience with PEAK in terms of speed of response, ease of ordering, catering for your needs and timing of delivery?

Everything went smoothly during the purchasing process. The only thing that took longer than expected was the delivery time, but this was due to the pandemic situation.

Have you ever had a site visit from a PEAK engineer in relation to your generator, if so, could you describe your experience of this support?

So far, there has been no need for a maintenance visit.


Need help finding a solution?
Browse our range of nitrogen, hydrogen and zero air gas generators
Putting the customer first
At PEAK, we hold our customers at the heart of everything we do and we strive to offer the best service from the moment you become a PEAK customer. This is perfectly illustrated with our team in Italy and the level of service provided to Marco and the team at the University of Siena throughout the process.
Our sales team are on hand to talk you through all the options available to you and offer you the best solution for your requirements and, in the case of Marco, that was the PG14L to meet their FTIR Spectroscopy needs.
PEAK's Purge Gas solution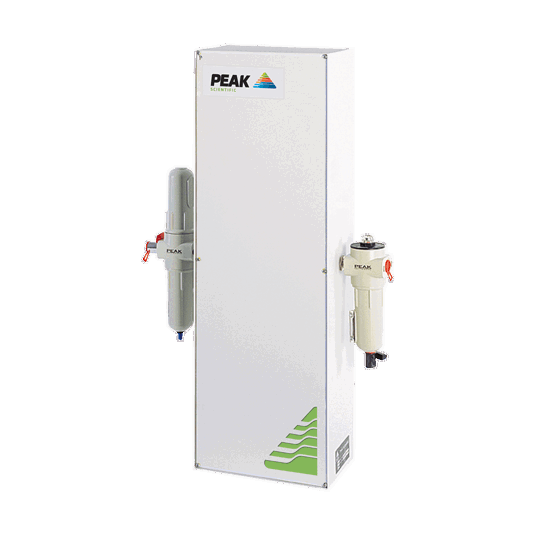 PEAK's PG14L Purge Gas Generator
PEAK's Purge Gas generators for FT-IR come in two models, the PG14L and the PG28L. These are designed for laboratory detectors that require CO2 free gas such as FT-IR analysis. The PG range uses Pressure Swing Adsorption technology to remove organic contaminants and moisture from air, these generators provide a consistent flow of air to ensure little background noise in laboratory analysis.
The PG range does require an external source of air to operate, but this means there are minimal moving parts in the generator therefore reducing maintenance costs to the lab.
Take control of your lab gas
Get in touch with our team today to get a quote for your own in-house gas generator
The PG range doesn't come with a large number of moving parts which means that the generator has a long life cycle as there are fewer opportunities for wear and tear. As with any lab equipment though, it's important to make sure it is running at its best so that your analysis isn't impacted.
This is why we have a range of Service Contracts available in our [PEAK Protected] range to make sure that you have peace of mind that your generator will always be providing the best gas for your instruments needs.
With plans that provide you with 24/7 technical support, including our Visual Support service where we can help diagnose any problems by just using you mobile phone camera to see inside your generator, we are able to ensure maximum uptime in the lab.
Depending on your location, you could also see a field service engineer within 24 hours of a problem arising and, with our 95% first time fix rate, you can have the confidence that your issue will be resolved immediately.
Take control of your own lab gas
An in-house gas generator from PEAK Scientific is designed to make life easier for the end user – no delays in gas deliveries, no monthly financial outgoings for cylinder contracts, and the guarantee that your instruments will always have a supply of gas when they need it.
The team at the University of Siena have realized these benefits by investing in their new PG14L purge gas generator and seeing a better value to cost ratio than their previous solution while still being able to meet the exact requirements of their lab equipment.