SGS receive PEAK customer service purchasing their hydrogen generator
SGS, a leading provider of inspection, testing, verification and certification services, has been operating in the USA since 1919. We spoke with Nicholas Bryant, a lab analyst with SGS North America Inc., about his experience with the PEAK team and the Precision Hydrogen Trace 1200 which supports his lab's GC.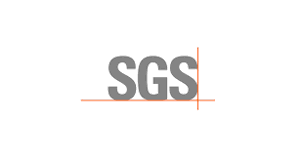 Typically what is the focus of your GC analysis - what sort of applications?:
We are an environmental lab and run waters, soils, oils, and sludges for various environmental contaminants of interest.
What PEAK Scientific generators do you have in your laboratory and what GC instruments do they supply?:
We have a PEAK hydrogen generator and it supplies two GC-PID/FID instruments and two GC-FID instruments.
Is your generator used for carrier gas, detector gas or both?:
The generator is used for both the carrier gas and detector gas for all four of the instruments.
Are you using a GC method(s) for your analysis? If yes, which method(s)?:
We are using:
8021B (Aromatic And Halogenated Volatiles By Gas Chromatography Using Photoionization and/or Electrolytic Conductivity Detectors),
AK101 (For the Determination of Gasoline Range Organics),
AK102 (For Determination of Diesel Range Organics),
AK103 (For Determination of Residual Range Organics),
and 8015C (Nonhalogenated Organics By Gas Chromatography)
What prompted you to choose a PEAK generator for GC and how long have you used it?:
We started looking for a new supplier after having numerous customer service issues with our previous supplier. We decided enough was enough and started the search for a new supplier for our gas generators.
After reading reviews and receiving recommendations from other colleagues in our lab network, I decided to contact PEAK and try to assess their level of customer service for myself. After a few discussions with PEAK, I was impressed with their level of customer service and decided to buy our new generator from them. We have been running it for several weeks now.
What has been the key benefit of deploying PEAK generators for GC as opposed to your previous gas supply solution?:
The PEAK generator looks nicer and is more user-friendly. However, the biggest benefit of switching to a PEAK generator is PEAK's excellent customer service. PEAK's customer service is miles above our previous generator supplier.
How would you describe your PEAK generator purchasing experience in terms of speed of response, ease of ordering, catering for your needs and timing of delivery?:
My experience purchasing from PEAK has been excellent and that's not just comparing it to our previous generator supplier.
Out of all of our suppliers, PEAK is certainly among the top tier when it comes to responsiveness and accommodation. Responses were always same day or next day. We also had special needs because of our location that were handled with grace by PEAK. On top of that, the generator was received in a very timely manner.
Would you recommend PEAK Scientific generators to other laboratories? If yes, what would be your main reason for the recommendation?:
I would highly recommend PEAK Scientific generators to other laboratories. I don't want to sound like a broken record, but the main reason for the recommendation would be PEAK Scientific's top-notch customer service.
Contact us today and make the switch to gas generators
People are at the heart of PEAK
At PEAK, we place the customer at the center of everything we do. From the moment you show interest in a PEAK generator, we want to make sure you have the best experience with us. That includes our customer experience team, after-sales service teams, and your territory manager dealing with your gas needs and purchase.
We strive to be a valued partner in your success and, while having robust, reliable gas generation solutions is crucial to this success, we also believe that every point of contact that our customers have with us is a great experience.
At PEAK, we have a world class global technical support team to help you should anything happen to your generator after installation. This helps us to provide a truly local and responsive service to your lab regardless of where you are in the world.
Fuel your GC with Precision Hydrogen Trace
The Precision Hydrogen Trace 1200 is capable of supplying multiple GCs, as Nicholas is doing at SGS, and is designed to provide the hydrogen gas required for carrier gas and detectors requiring hydrogen fuel gas, such as FID & FPD. PEAK's Hydrogen Trace generators utilize a Proton Exchange Membrane (PEM) to generator hydrogen gas from de-ionized water. A Pressure Swing Adsorption (PSA) dryer is also use to remove residual moisture from the gas.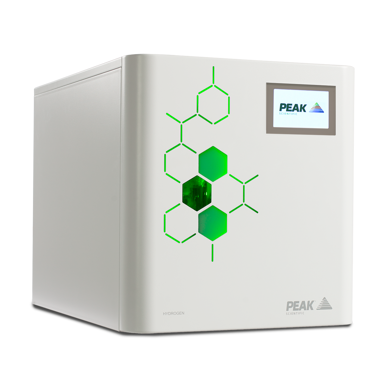 PEAK's Precision Hydrogen Trace 1200
At PEAK, we understand the need for safety in labs and that is why we have safety features built into our generators as standard to provide you with the peace of mind you need in the lab.
Avoid the helium shortage with PEAK
As the lab world is gripped in yet another helium shortage, having on-site hydrogen gas generation available to you can completely negate these helium shortages from affecting your lab or analysis. PEAK's Precision range of hydrogen generators for GC are the perfect solution for those looking for a lab gas solution that means they can avoid the unplanned downtime that comes with these global helium shortages.
Choose PEAK: a safer, dependable and more convenient alternative to cylinder gas. 

Need help finding a solution?
We are experts in our field - with over 20 years' worth of experience in pioneering cutting-edge gas generator technology, we have worked closely with leading instrument manufacturers to help you find a solution tailored to your specific needs.