Published
8th November 2018
PEAK's Genius 1024 is Invaluable in Molecular Science Corporation's Mobile Lab
Molecular Science Corp's (MSC) mobile lab travels across Canada for on-board cannabis testing. Their business demands a reliable nitrogen gas supply that can travel on their mobile lab and a cylinder nitrogen gas supply would not be feasible or safe for MSC to operate.
When MSC opened their cannabis regulatory testing mobile lab, they knew how important it was to pick a gas generator that had the correct precision gas flow and purity that their SCIEX mass spectrometer required. The small footprint of PEAK Scientific's Genius 1024 nitrogen generator and PEAK's service expertise made PEAK Scientific the clear choice for MSC's on-site nitrogen gas generation solution onboard their mobile lab truck.

Name: Brigitte Simons
Job Title: VP of Laboratories Business and Marketing
Company: Molecular Science Corp.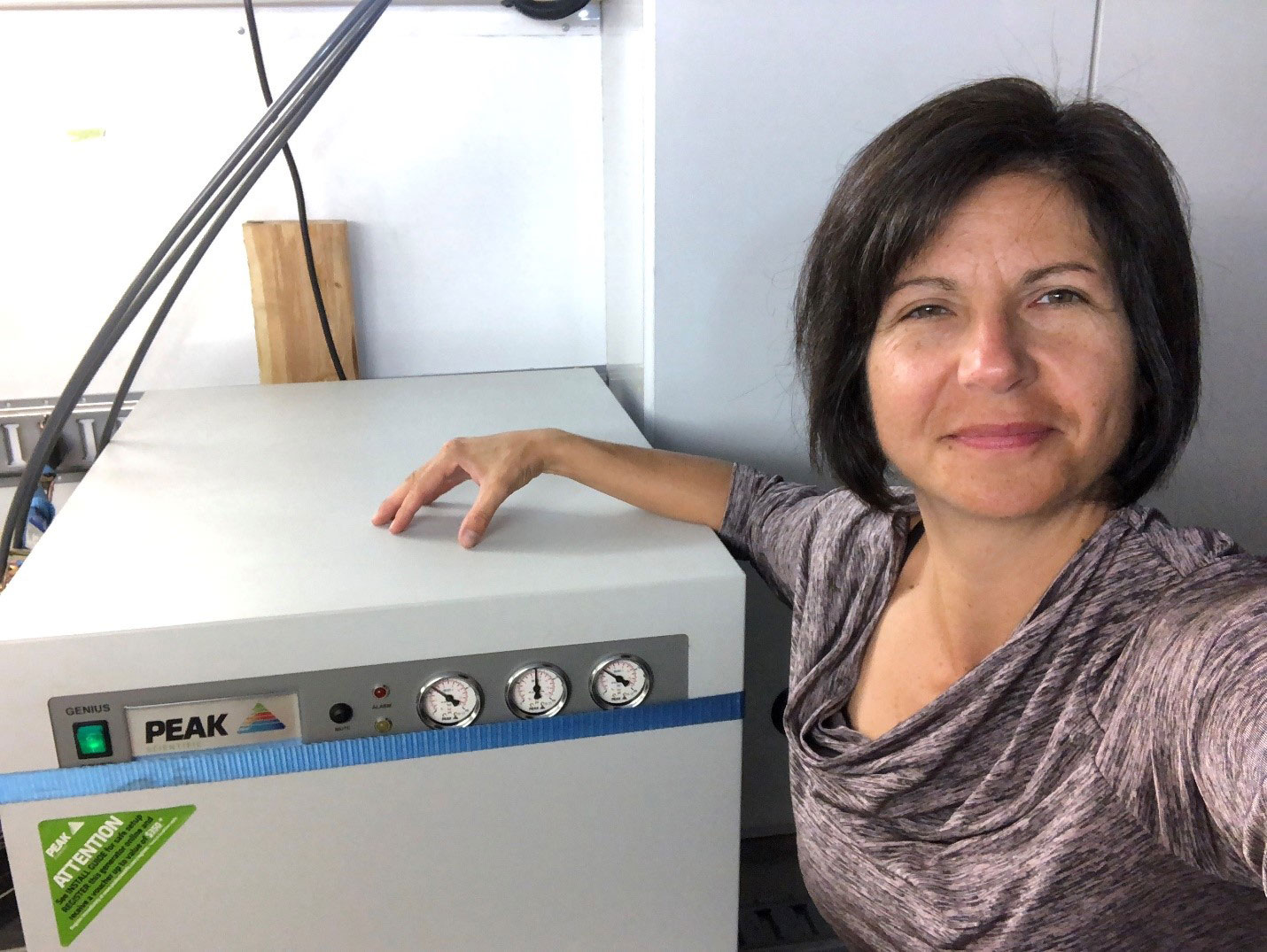 Typically, what is the focus of your LCMS analysis - what sort of applications?
"Our lab is dedicated to cannabis regulatory testing and analytical development which represents an important part of cannabis products set for retail in Canada."

What PEAK Scientific generators do you have in your laboratory and what LCMS instruments do they supply?
"On our mobile lab we have Sciex QTRAP 6500+ LC-MS/MS --> PEAK Genius 1024 nitrogen generator.
The following mass spec–gas gen pairs are in our lab(s):
• Sciex QTRAP 6500+ LC-MS/MS --> PEAK Infinity 1032 nitrogen generator supported by an Atlas Compressor (Tweed Lab)
• Agilent 7890 GC-MS/MS --> PEAK Precision H2
• Sciex QTRAP 6500+ LC-MS/MS --> PEAK Genius 1024 nitrogen generator (central lab)"

What prompted you to choose a PEAK generator and how long have you used them?
"I have witnessed over 100 labs implementing lab gas solutions with a wide range of successes and failures. A sophisticated mass spec requires the exact balance of precision gas flow and purity.

I saw this fail with other gas systems – and always, the mass spec takes the pain points with respect to contamination and down time, often with escalation teams that do not know about gas engineering. PEAK is the only company that takes escalation matters with the mass spec team to resolution and prides themselves on the attention with customers that is truly real. It is impressive how they bring service, field specialists, and sales together.

Their products are on point – small footprint and robust for 24/7 use without deterioration."

What has been the key benefit of deploying PEAK generators as opposed to your previous gas supply solution?
"The organization that stands behind the products has superior knowledge of the entire systems they support."

What is your projected return on investment using PEAK as your nitrogen gas provider as opposed to your previous gas supply solution?
"It is invaluable for the mobile lab, it would have been impossible to operate the mass specs with gas cylinders from a safety point-of-view or from a larger gas generator unit than the Genius 1024."

How would you describe your purchasing experience with PEAK in terms of speed of response, ease of ordering, catering for your needs and timing of delivery?
"My sales representative, François Blain has tenacity, smarts and high attention to detail. We did experience some delays on the Infinity 1032 delivery from the factory – but my rep and Sheila Wilkinson from the project management team were super informative and kind to follow-through with the delivery and gave constant updates. The Genius 1024 was purchased and delivered quickly on our requests."

Would you recommend PEAK Scientific generators to other laboratories - and if so, what would be your main reason for the recommendation?
'Yes, I would recommend PEAK to other labs. My recommendation would be based on the technical robustness merits of the Genius series and the expertise of the sales and service organization to solve any issues with the entire holistic approach to operating analytical equipment.

The user-driven feedback in the design towards making lab gas generators quieter and occupy less space makes it the right choice on the market.

Lastly, the stylish look of the Precision series – makes your lab look better than a bunch of beige metal boxes underneath tables. Nice look overall."

What are the unique challenges you faced with a mobile lab that PEAK has helped you solve?
"The mobile lab is one-of-a-kind without much history on instrument uptime. Therefore, it may exhibit risk in instrumentation uptime when traveling to customer sites for contracted work. To minimize risk, we have support from PEAK's field service team to reach us no matter where we are. Additionally, we have been offered a 1024 service parts kit containing extra filters, valves and relay cables to carry on the mobile lab to reduce time when service parts replacements are necessary."

How does PEAK assist with your mobile lab's Key Performance Indicators? How do these KPI's differ from a traditional laboratory setting?
"The mobile lab is an on-site contracted service. Hours of planning ahead with facilities managers and security officers participate in successful planning for the on-boarding of the mobile lab. It is a time restrictive activity in most cases. Our performance indicators include revenue generation per day of testing activity, data turnaround time, and prompt payment of client billed invoicing upon exit of our on-site work term. The uptime of the mass spectrometer is key to delivering on these KPIs and we lack the ability to activate a backup system in time of crisis in contrary to many traditional lab settings with replicate instrument workstations.

PEAK enables us to reduce the risk in fulfilling the contract deliverables in the time promised to our customers with an express on-site lab solution. We can more accurately predict the time to completion, knowing that the lab gas will boot up the instrumentation as expected, reliably."
---

The Genius 1024 nitrogen generator is well suited to being used as a mobile nitrogen gas solution for MSC due to its compact size, technical robustness, and the ability to consistently and safely produce a constant supply of nitrogen gas to their Sciex QTRAP 6500+ LC-MS/MS without running out or compromising purity. It is also on wheels and can fit easily under a laboratory benchtop and not increase your footprint in your lab or in the field and this is critical for MSC due to their space restrictions on their mobile lab truck.

If you are considering a new, compact nitrogen gas supply for your Sciex Mass Spectrometer, the Genius 1024 nitrogen gas generator might be the right choice for you. It produces up to 19L/min of high purity nitrogen at LCMS grade purity and has been designed exclusively for Sciex applications.

At PEAK Scientific, we are not just looking to shift boxes out the door and we will always go the extra mile for our customers. As Brigitte said, "PEAK is the only company that takes escalation matters with the mass spec team to resolution and prides themselves on the attention with customers." By providing MSC with a 1024 service kit, we have eliminated the risk of having their nitrogen source go down while out in the field.

Brigitte also described PEAK as an organization "that has superior knowledge of the entire systems they support." We are happy to be involved in unique projects, such as Molecular Science Corp's mobile cannabis testing lab, and we look forward to hearing how we can assist your facility.
Learn which PEAK gas generator suits your needs