Published
20th March 2018
Peak gas generators improve LC-MS analysis at Syngenta
Lou Mayer, Technical Expert at Syngenta Crop Protection LLC, a company which strives to transform how crops are grown to enable growers to make better use of available resources, explains how two nitrogen generators from Peak Scientific have improved LC-MS analysis at the organization.
Name: Lou Mayer
Title: Technical Expert
Company: Syngenta Crop Protection LLC
Location: North Carolina, USA

Typically what is the focus of your LC-MS analysis - what sort of applications? 
Low level residue analysis of agricultural products.
What Peak Scientific generators do you have in your laboratory and what LC-MS instruments do they supply?
 We have a Genius ABN2ZA nitrogen generator & a Genius 3030 nitrogen and dry air generator suppling two SCIEX 5500QTRAPs.
What prompted you to choose Peak generators and how long have you used them?
We chose Peak generators as they were engineered for SCIEX instrumentation and we have been using them for over a year and half now.
What has been the key benefit of deploying Peak nitrogen generator as opposed to your previous gas supply solution?
Our house supply was under pressure and not as clean as the gas produced by the Peak generators, and the timing of repairs to house system was a factor.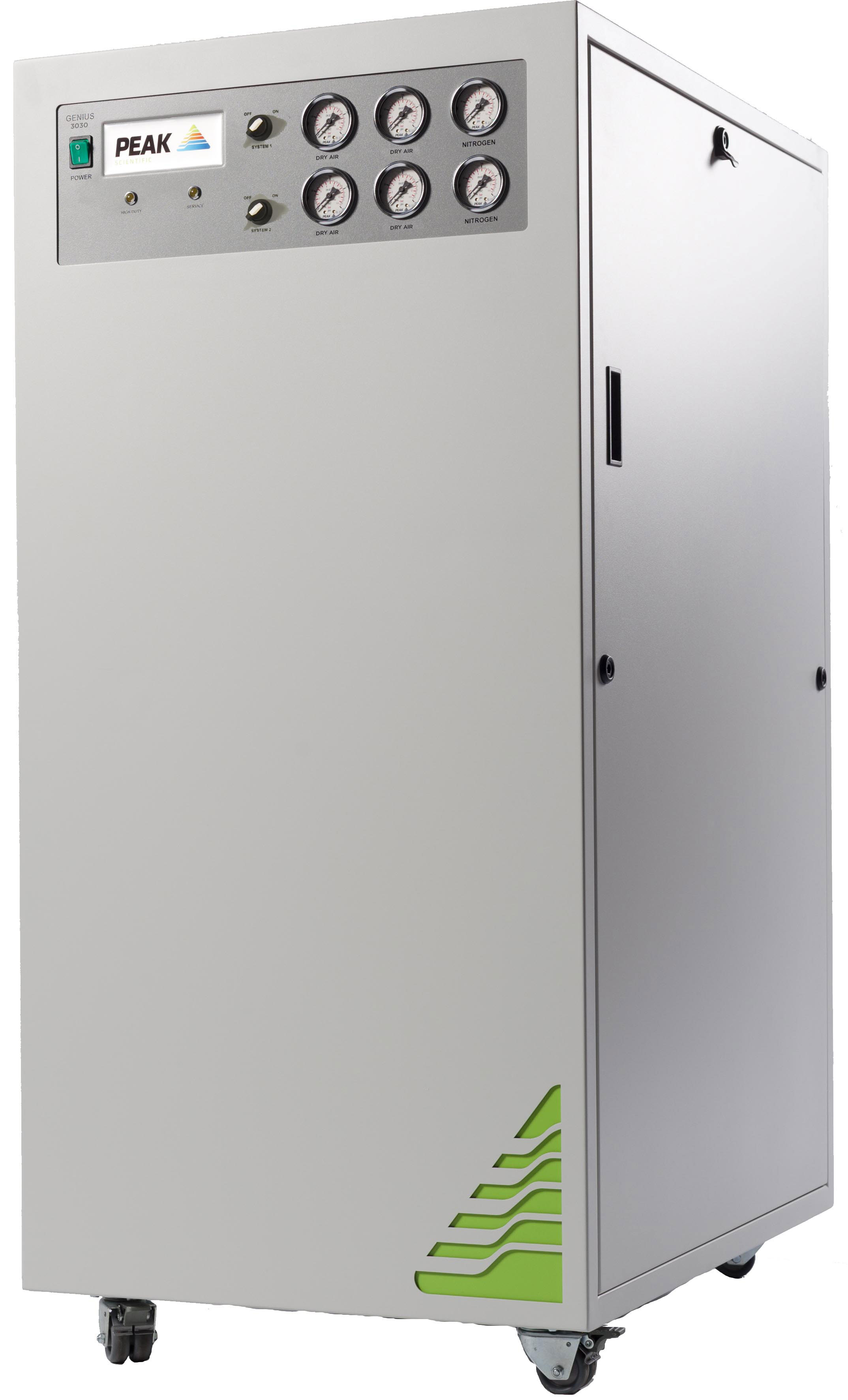 Genius 3030 Nitrogen & Dry Air Gas Generator
How would you describe your purchasing experience with Peak in terms of speed of response, ease of ordering, catering for your needs and timing of delivery? 
The purchase and install was as expected and acceptable, easy and professional.
Have you ever had a site visit from a Peak engineer? If so, could you describe your experience of this support? 
Yes, and the response time was fast and professional.
Would you recommend Peak Scientific nitrogen gas generator to other laboratories - and if so, what would be your main reason for the recommendation?
Yes I would recommend Peak generators as they are dependable and reliable and have proved to be much better than our previous house supply.
---
It is clear that using Peak Scientific nitrogen gas generators has brought improvements to the LC-MS analysis of Syngenta Crop Protection LLC. Upgrading to Peak gas generators has solved the pressure and purity problems which Lou was experiencing with Syngenta's house gas supply, and he has praised the dependability and reliability of the Genius ABN2ZA and Genius 3030 generators, saying that he would recommend them to other laboratories. Lou has also had a positive purchasing and maintenance experience stating that purchase and install was 'easy and professional' and,  when he required a site visit from a Peak engineer, the response time was 'fast and professional.' Thanks to our dedicated engineers located throughout the country Peak has a 48 hour on-site response time in mainland USA and a 95% first visit fix rate - so you will always receive a fast and professional service, just as Lou did. Learn more about becoming [Peak Protected].
The Genius ABN2ZA nitrogen generator which Lou mentioned has now been discontinued and replaced by our Genius 1024 Nitrogen and Dry Air Gas generator. The Genius 1024 has been designed exclusively for SCIEX applications and provides a compact single source gas solution for all SCIEX LC-MS instruments (excluding MD). The Genius 3030 Nitrogen and Dry Air generator which Lou uses was designed for a selection of SCIEX instruments  to supply curtain, source & exhaust gases.
To find more gas solutions for SCIEX instruments
Liked this article? You may also be interested in:
Key points to discover when purchasing lab technology
What sets Peak apart from the competition