Published
23rd August 2016
Alderley Analytical share their experience with Peak
Sally Hannam, Director of Science, shares her experience of using Peak gas generators in her lab.
Name: Sally Hannam
Job Title: Director of Science
Company: Alderley Analytical Ltd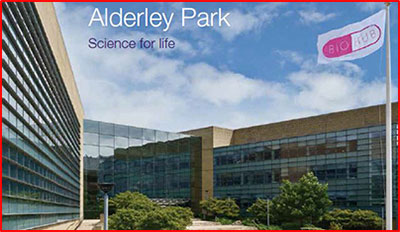 Alderley Analytical Ltd is based at the Alderley Science Park
Bioanalytics with a touch of Genius
Alderley Analytical Ltd is a bioanalytical research organization who offer laboratory services to companies without the physical resource or in-house expertise to carry out research within their own organization. Sally Hannam and her team specialize in assay development and validation, sample analysis, toxic kinetic/pharmacokinetic interpretation as well as reporting and consulting on analyses for the full end to end drug development process.
We asked Sally about her use of Peak Scientific gas generators and her experience of using them in her lab:
Typically, what is the focus of your LC-MS analysis - what sort of applications? 
"Our LC-MS is used for small molecule quantitative bioanalysis."
What Peak Scientific generators do you have in your laboratory and what LC-MS instruments do they supply?
"In our lab we have Peak Scientific NM32LA generators which supply nitrogen to our Waters Acquity IClass UPLC and Xevo TQ-S Triple Quad Mass Spectrometer."
What prompted you to choose a Peak generator and how long have you used them?
"We had used them before and were familiar with Peak's products. We have had our current generator for two years. I have been using Peak generators for 18 years whilst working in a previous company."
What has been the key benefit of deploying Peak generators as opposed to your previous gas supply solution?
"A Peak gas generator was the most cost effective option for our lab."
How would you describe your purchasing experience with Peak in terms of speed of response, ease of ordering, catering for your needs and timing of delivery?
"Peak have provided excellent service and delivery."
Have you ever had a site visit from a Peak engineer, if so, could you describe your experience of this support?
"Yes we have had a site visit from a Peak engineer and our experience of this was very positive." 
Would you recommend Peak Scientific generators to other laboratories - and if so, what would be your main reason for the recommendation?
"Yes, I would recommend Peak gas generators to any lab looking to replace cylinders."
---
Sally Hannam has discovered the true benefits of a Peak gas generator for many, many years. Their lab's current NM32LA is Peak's best-selling product and quite rightly so, as there are thousands of NM32LAs aiding analysis in labs all across the world. The NM32LA's popularity comes from its flexibility to meet the gas demands of most LC-MS systems available on the market as well as its ease of use, reliability and cost effectiveness.
Sally focused on cost effectiveness as the key benefit of using Peak gas generators and for LC-MS systems the use of a gas generator instead of gas cylinders will have a profound effect on reducing the cost of laboratory gas. Despite the higher initial investment required for a gas generator, return and cost savings can be found relatively quickly as there is no longer a need to change over empty cylinders, which can be a fairly regular requirement given the high gas flows needed for most LC-MS instruments. Supply stocks of cylinders and administrative tasks like reordering and managing deliveries are greatly reduced too allowing laboratory technicians can focus on performing analysis.
Like so many of Peak Scientific customers, Sally has experienced excellent customer service, this is an area where Peak excels ahead of other gas generator manufacturers. Peak engineers are highly trained and all maintenance of Peak generators is performed at the customer's lab meaning less hassle for lab technicians and more time freed up to concentrate on their analysis.
Upgrade your lab's performance