Published
11th February 2016
CSIR use Peak Precision for their environmental analysis
Name: Brian Cowan
Job Title: Laboratory Manager
Company: Council for Scientific and Industrial Research (CSIR), Pretoria, South Africa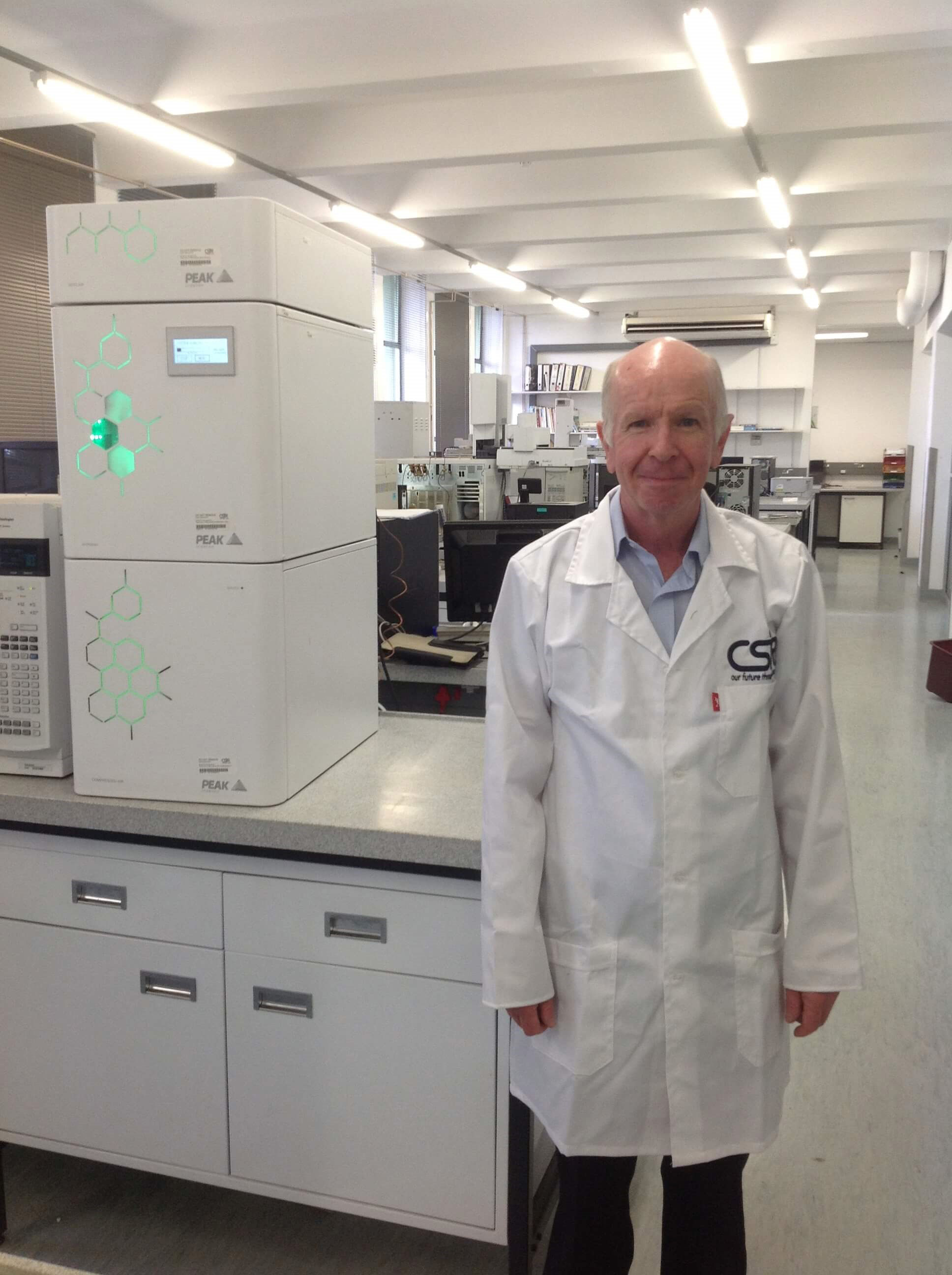 Brian Cowan, Laboratory Manager 
Environmental analysis with Peak Precision   
Brian Cowan, Laboratory Manager for the Council for Scientific and Industrial Research (CSIR) has been using Peak gas generators in his lab for 4 years now.  In the question/answer session below he informs us on how smooth the transaction was from initial enquiry to install at his laboratory and explains the benefits of using Peak Precision Hydrogen Trace 250 gas generators in his analysis. 
Typically, what is the focus of your GC analysis - what sort of applications?
"The focus is on environmental analyses. We analyse water, soil and air for a range of organic compounds e.g volatile organic compounds (VOCs), semi-volatile organic compounds (SVOCs) and petroleum hydrocarbons."
What Peak Scientific generators do you have in your laboratory and what GC instruments do they supply?
"We have 3 hydrogen generators and 3 zero air generators all supplying Agilent 7890 GCs with flame ionization detectors."
What prompted you to choose a Peak generator and how long have you used them?
"We had to move our laboratory a couple of years ago which presented us with an ideal opportunity to move away from gas cylinders. The use of gas generators was a more attractive option to us than building a gas reticulation system to handle cylinders. We looked carefully at the options available to us in South Africa and decided that Peak generators were the best choice for us. We started using Peak Generators more than 4 years ago."
What has been the key benefit of deploying Peak generators as opposed to your previous gas supply solution?
"Not having to worry about the safety aspects of handling gas cylinders. We have gas available on demand and we don't have to worry about the purity or running out. There are also cost benefits in that we no longer have to order cylinders and pay monthly rental."
How would you describe your purchasing experience with Peak in terms of speed of response, ease of ordering, catering for your needs and timing of delivery?
"Everything worked very smoothly from the initial enquiry, to getting the quote, placing the order and to finally receiving delivery."
Have you ever had a site visit from a Peak engineer, if so, could you describe your experience of this support?
"We have our generators serviced annually by a Peak engineer which works well for us. We have also encountered one or two minor problems but these were sorted out very quickly by the service engineers."
Would you recommend Peak Scientific generators to other laboratories - and if so, what would be your main reason for the recommendation?
"I think gas generators are definitely the way to go especially for new laboratories. There are definite benefits from both a safety and cost point of view. From my experience, I would definitely recommend Peak Scientific generators."
---
The Council for Scientific and Industrial Research (CSIR) have both Precision hydrogen and zero air gas generators in their lab, which assist in their analysis of water, soil and air for a range of organic compounds. Having Precision gas generators in their lab has allowed them to produce gas on demand, eliminate the safety fears surrounding the storage of gas on-site and gives their lab an uninterrupted flow of gas at a consistent purity. 
The Precision Hydrogen Trace 250 generator is designed primarily for GC carrier gas use, and can also be used for detectors requiring hydrogen fuel gas such as FID and FPD. One generator is capable of supplying multiple GC instruments. The Precision Hydrogen Trace 250 generator also comes with many highly robust safety features as standard, allowing for peace of mind in the laboratory. 
In addition to the Precision Hydrogen units, Brian also used Precision Zero Air gas generators in his lab, the Precision Zero Air generators are designed specifically to supply clean, dry, hydrocarbon-free air to be used as flame support gas for GC at both standard and trace detection limits.
Would you like more information?