Published
19th September 2016
AMD Industries gets [Peak Protected]
Name: Vivek Chaturvedi
Job Title: Assistant Manager - QA
Company: Amd Industries LTD., Ghaziabad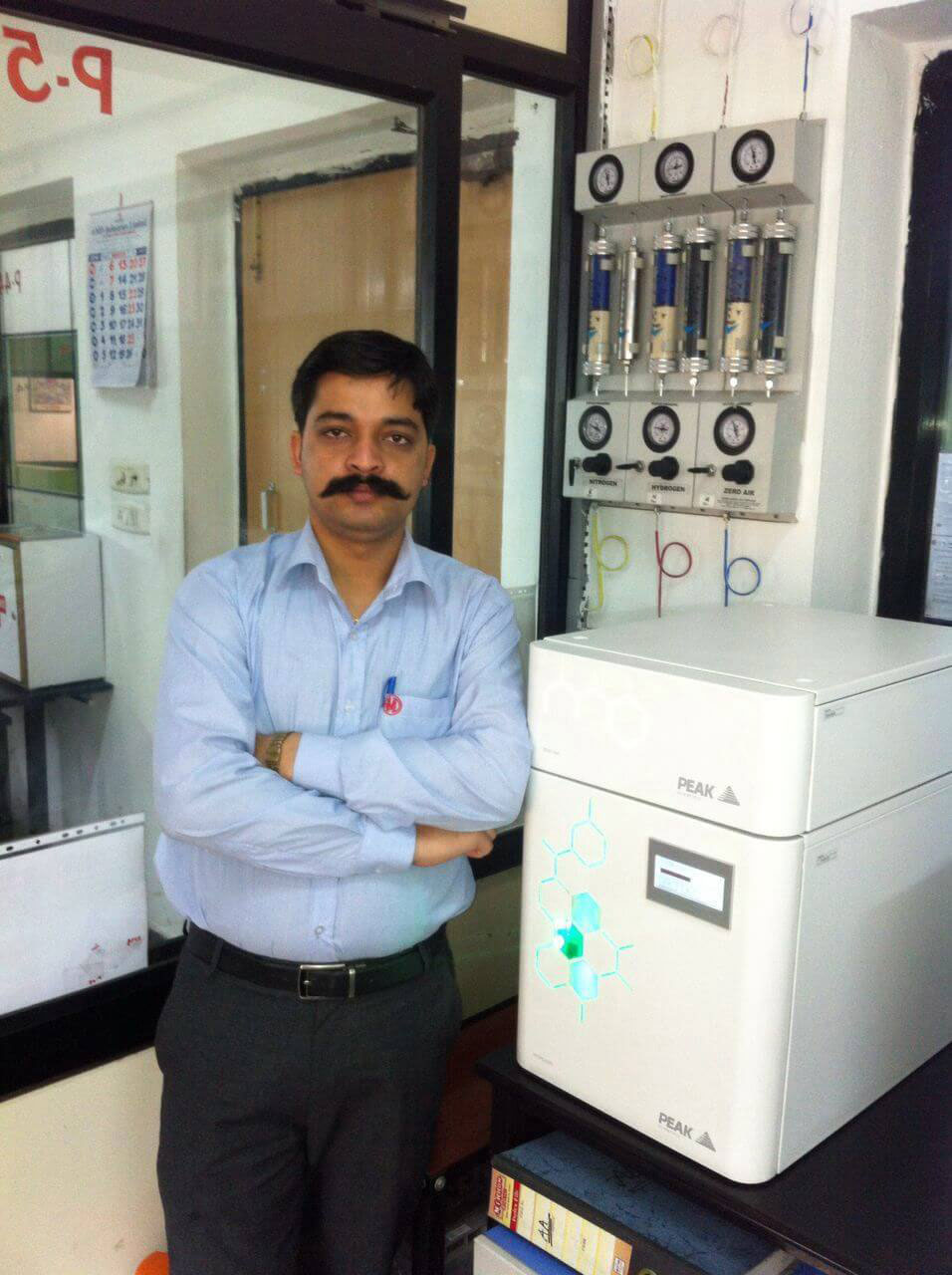 Vivek Chaturvedi, Assistant Manager QA with his Precision gas generators
AMD Industries protect their investment
AMD Industries is a packaging firm who specialise in drinks and pharmaceuticals. Established in 1958, AMD is now the top supplier of beverage packaging in India with high profile clients such as Coca Cola, SAB Miller, United Breweries as well as multinational pharmaceutical and health firms.
To protect their gas generator investment and ensure that their generators were always functioning at their optimum level, Vivek Chaturvedi, Assistant Manager-QA, purchased a [Peak Protected] service contract. We asked Vivek about his lab's use of Peak gas generators and his experience of [Peak Protected] service.
Typically, what is the focus of your analysis – what sort of applications?
"We are analyzing the Acetaldehyde value in PET Preform through Perkin Elmer Gas Chromatographer with Head Space."
What Peak Scientific generators do you have in your laboratory and what instruments do they supply?
"We have a Precision Hydrogen generator providing hydrogen gas for FID fuel purposes at 4 bar pressure and a zero air generator for flame support gas at 4 bar pressure. These generators are used for our GC apparatus."
After purchasing your gas generator, how do you rate the level of service and communication you received from our service [Peak Protected] team when setting up your service plan?
"We have had a good experience with Peak Scientific gas generators performance and reliability. Their support team's communication is of a very high standard."
What made you invest in a [Peak Protected] service plan and what value has it brought to your lab?
"Our system had just finished its warranty period and after discussion with Peak's service sales team regarding different service plans we have now purchased a service plan."
Have you ever experienced a technical fault and had to have a visit from a Peak Field Service Engineer? If yes, what was the reason and describe your experience of this service?
"Yes we recently experienced an issue with our zero air generator and a Peak field service engineer visited our lab immediately (even on their holiday). The system was working again in our lab after only a couple of days but only because it was the weekend, otherwise it would have been operational much faster."
How was your overall experience with the Peak Scientific service team in regards to planning and implementing the preventative maintenance check up on your generator?
"Their warranty support is very good. Yet to experience preventive check-ups and further servicing from [Peak Protected]."
Would you recommend a Peak Scientific generator to other labs – and if so, what would be your main reason for the recommendation?
"Yes, we recommend Peak Scientific generators as they are compact, user-friendly with short & easy start up and shut down procedures, quiet in operation, safe (with in-built leak detector) and many other good features."
---
AMD Industries have had a very positive experience of Peak Scientific and our [Peak Protected] service. After experiencing an issue, they had an engineer in their lab without delay, even during a holiday period, and their generator was promptly up and running again. With downtime reduced to a minimum, AMD's lab analysis was interrupted only briefly with Peak's industry leading gas generator care where with other gas generator manufacturers this would have been a much longer disruption for their lab.
Further to the great service experienced from Peak Scientific, AMD Industries are also very happy with their gas generator due to the numerous features which make a Peak gas generator far superior to cylinder gas or other gas generators on the market. Requiring minimal laboratory space due to its streamlined, stackable design and delivering all the gases required for GC analysis, Peak's Precision Series is the most efficient way of supplying gas for GC carrier and detector gases requiring inert support or fuel gas.
Find out more about Peak's award winning service