Published
30th September 2019
Why choose PEAK's after sales support and service
Behind PEAK's gas generator products are years of innovating cutting-edge technology. But at PEAK Scientific, we also have over two decades' worth of experience in world-class after sales support and gas generator service for our customers across the globe.
Local support on a global scale
Offering customer service of the highest quality is one of our top priorities. That's why our after sales support and gas generator service engineers are provided with regular in-house training. Stationed worldwide, our PEAK field service engineers have in depth knowledge across the range of our products, enabling them to ensure a thorough gas generator service, no matter where you are located in the world.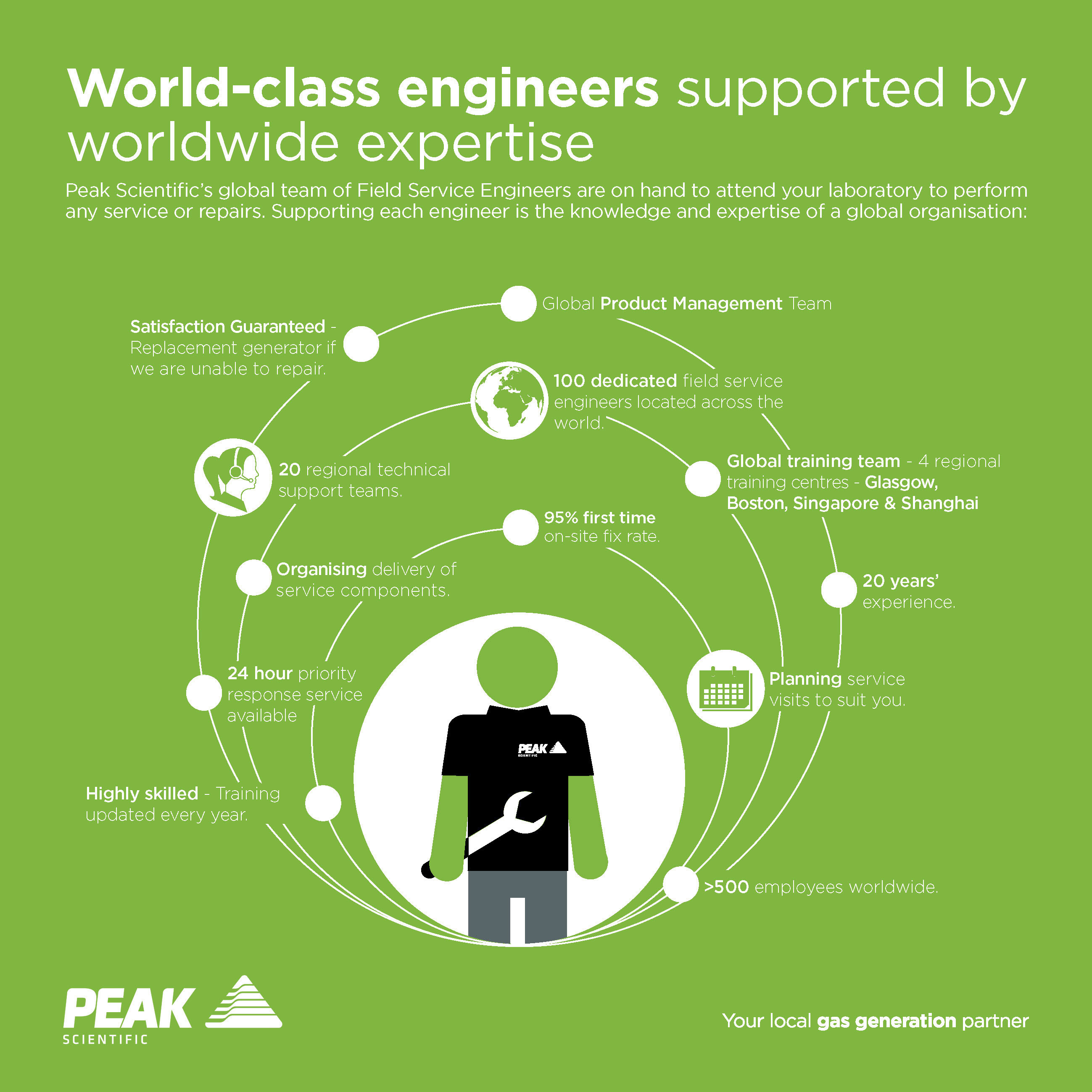 With fully certified field service engineers located in more than 20 countries, we're able to provide local after sales support and gas generator service on a worldwide scale, backed by a global organization specialized in gas generator solutions for labs.
Guaranteed reliability and quality
When manufacturing a gas generator, we know where each and every component is coming from, and we test its quality and reliability. If sourced through third party service providers this aspect of testing generator parts is compromised. Third part service providers do not have access to PEAK's uniquely designed parts and ultimately laboratory analysis and throughput is similarly compromised by using these lesser quality components.
Additionally, without having PEAK's gas generator components, third party service providers might offer unapproved parts which can negatively impact on the quality of gas production by interfering with gas purity and the reliability of the generator. A gas generator service conducted by third parties also invalidates the warranty, since the newly introduced parts would not be recognised as part of PEAK's registered products and the third-party engineer would not be trained or certified by PEAK to service PEAK products.  
Third party service providers may also experience issues when attempting a full service on PEAK's gas generator products as certain units can only be accessed for a service with a password generated by PEAK. These cutting-edge generators use advanced software technology to manage the internal components of a gas generator which can only be accessed by PEAK engineers with the correct codes. This method of handling the internal parts of a gas generator facilitates our process of locating gas generators when we conduct field upgrades, which help us ensure our customers have the latest components installed.
Peace of mind
As your local gas partner, we understand the importance of maintaining a consistent gas supply for your business. Our in-house global network of field service engineers can guarantee our after sales support and gas generator service provide a rapid response service.   
On a worldwide scale, our [PEAK Protected] gas generator service plans not only ensure your generator is in prime condition, but also safeguard your generator's exceptional performance with a rapid response time of 72 hours, backed with annual maintenance checks. For more information on our [PEAK Protected] gas generator service plans click here.
If your gas generator needs a service check, you don't have to be concerned about downtime because a PEAK field service engineer local to you is always ready to help. With a presence in every continent, our comprehensive after sales support and gas generator service will restore your gas supply in no time, ensuring there are little to no delays for your analyses.