Second-hand gas generators: pitfalls or possibilities?
There are many used nitrogen generators for sale in the market, but what are the biggest differences between buying a new generator or a second-hand gas generator? Are there benefits to your lab or is it possible you'll simply pay in the long term?
Depending on your requirements, a new gas generator could start from as little as £4,000 - a small amount for one lab, but a large investment for another. The second-hand gas generator market is particularly appealing to labs with a smaller budget who may not have the resources to spend on a large capital investment like an in-house gas generator.
There are several considerations labs should make when looking into the used nitrogen generator marketplace. Most importantly, what is the life expectancy of a nitrogen generator? Will this vary depending on whether it was looked after by the previous owner?
If a PEAK gas generator is cared for and well maintained, it can carry on supplying laboratories for many years. Our flagship nitrogen generator, the NM32LA, was first manufactured in 1998 and is still being used in laboratories around the world today – long after we stopped manufacturing the product.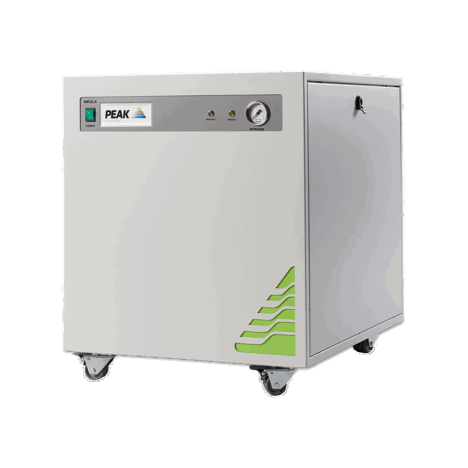 "The nitrogen generator is an integral part of our HPLC analysis for mass spectrometry and also when using our ELS detector. The nitrogen stream is at a constant pressure and so gives reproducible results when used in conjunction with the above instruments.
Once it is plumbed in and turned on you just forget about it as it is a reliable workhorse. In the 8 years we have had it, we have had to call PEAK out only a few times to resolve an issue with it, which they invariably have done within 48 hours of reporting the issue."
What are the benefits of buying a new gas generator?
There are many benefits to buying a new gas generator from the manufacturer. While these will have different weightings depending on laboratory requirements, some factors cannot be overlooked.

There's no unknown service history
When you buy a laboratory gas generator from the manufacturer, you have the benefit of knowing the history of the generator begins with you. All parts are brand new and the generator has not been misused, serviced incorrectly or had non-genuine parts installed before arriving in your lab.
With a used generator you cannot know the strain the generator had been put under by the previous owner - unless they were previously on contract with PEAK Scientific. It's also impossible to know how well the generator was maintained. Regular maintenance and servicing of a gas generator is the best way to make sure the generator is working at its best. PEAK advise servicing to be carried out by PEAK-trained engineers to ensure all work is done following our processes and the manufacturer's warranty is unaffected.
When you buy your generator from PEAK Scientific you have the added benefit of knowing the generator is shipped in the most secure way possible. While there may be incidents that occur outside our control we do include several safety labels to let you know the generator has been transported with the most care. We include both ShockWatch and Tip'n'Tell labels to show whether there was any rough handling of the generator during transportation.

Protection of manufacturer's warranty
New generators come with the added benefit of the manufacturer's warranty being a part of your package at the time of purchase. PEAK Scientific generators come with warranties range from one to two years of fully comprehensive cover. This gives you peace of mind the components in your generator are covered should any faults occur in this period.
While many re-sellers may offer their own warranty, this does not guarantee your generator will be maintained with PEAK-approved parts or by engineers who have been trained to service the generator correctly.
By saving on the initial purchase of a second-hand generator, you may find you will have to make more frequent payments for servicing and replacement of components that make up the generator.
If you buy a second-hand PEAK Scientific gas generator, we advise you to book a paid visit so our engineers can assess the generator. Any parts which are faulty or not approved would need to be paid for and replaced.
From that point, we advise our customers purchase a service contract to make sure the generator is well looked after for its lifetime. By doing this, labs are delaying their use of the generator in the lab as you need to know it can supply gas at your instrument's specific requirements before connection.

Get the specification you want
When you buy a gas generator directly from the manufacturer, you can discuss your exact laboratory requirements when it comes to your instruments. Maybe your lab needs a low flow rate, but high gas purity or you may need a large volume of gas with a slightly lower purity requirement – when you buy a new gas generator you can be sure the generator you receive will meet the exact needs of your instrument meaning you won't need to make any compromises.
A used gas generator will restrict the generator specifications as you are limited to what is available in the second-hand market at the time. You will also be receiving a generator which is outdated and does not include the most recent innovations to ensure longevity of the generator, especially if your lab is using the latest instrument models.
What are the benefits of buying a second-hand gas generator?
While a brand new generator is always going to be the best option to guarantee the best results from your laboratory equipment, there are some instances where labs may feel they are unable to purchase a new gas generator. In these instances, many will turn to the second-hand market.

The initial cost of the generator
One of the biggest draws for labs when it comes to buying a used gas generator is the fact the cost of the generator will be lower than buying a new generator.
Depending on your lab gas requirements, a used nitrogen gas generator for sale could come in at 10%-20% of the price of a new nitrogen generator. This is a similar story for used hydrogen generators. While this cost saving is significant, it comes with the added weight of not knowing exactly how the generator was cared for before it arrived in your lab. A generator that hasn't been well cared for will only lead to costly downtime in the future.
Second-hand or new?
As with many second-hand instruments, the overall benefit to the buyer is a reduced price for the equipment. This fact stands for used gas generators as well, but the other cost factors that could be associated with the purchase of a used generator should also be considered, can your lab afford to have extended downtime?
When you purchase a new generator direct from PEAK Scientific, you can be safe in the knowledge all parts are new and approved by PEAK. There has been no prior life to the generator as it has been built just for your lab, and you have the added reassurance of the comprehensive manufacturer's warranty that comes with any PEAK Scientific gas generator.

Need help finding a solution?
We are experts in our field - with over 20 years' worth of experience in pioneering cutting-edge gas generator technology, we have worked closely with leading instrument manufacturers to help you find a solution tailored to your specific needs.