Published
7th August 2015
PEAK Scientific expands its business in India
PEAK Scientific, a market leader in laboratory gas generation solutions has today announced the opening of an additional office, in New Delhi, India, to accommodate rapid growth and future expansion plans.
The new office, now PEAK India HQ will be supported by their additional office in Secunderabad, offering direct sales, distributor support and technical support service throughout the whole of India.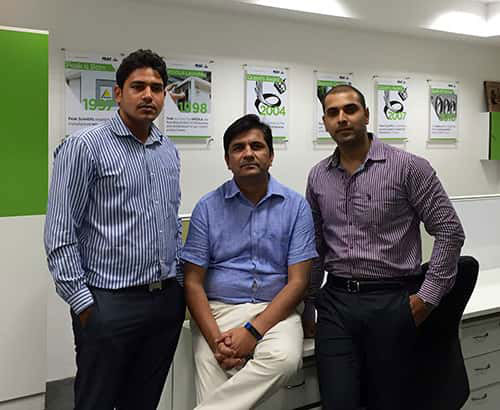 PEAK India HQ 
Vivek Bhatnagar, PEAK Scientific India General Manager stated:
"This investment is instrumental as the company expands. The new office space will allow us to increase our team headcount to support the growth we are experiencing, whilst giving us dedicated facilities for training, sales, marketing and customer technical support. This growth has been made possible because of the trust our customers place on our products and service and also because of our reputation within the scientific industry."
In addition to this PEAK Scientific's Managing Director Robin MacGeachy further commented:
"We are proud to say PEAK Scientific is your local gas generation supplier, and as your local gas generation supplier we have offices located on every continent. In addition to this we also have fully certified PEAK Field Service Engineers stationed all over the world, allowing us to provide industry-leading rapid response service to our customers at all times".
Since its formation in 1997, the PEAK Scientific family has grown to over 350 members, 18 office locations throughout the world and additionally they are supported by authorized distributors and service partners in a further 70 countries worldwide.
The opening of PEAK Scientific's New Delhi office underpins PEAK's position as a truly global company with local offices throughout the world.
With nearly two decades of experience in pioneering gas generator technology, PEAK Scientific develop market-leading nitrogen, hydrogen and zero air solutions mainly for the field of LC-MS (Liquid Chromatography-Mass Spectrometry) and GC (Gas Chromatography).
Whatever your gas generation needs, PEAK Scientific can provide you with a local solution.