Published
2nd September 2019
PEAK Scientific celebrates the commencement of construction work on Renfrewshire innovation district
As a leader in innovation within Scottish manufacturing, PEAK Scientific hosted the press launch to mark the formal commencement of construction work on the new Renfrewshire innovation district.
A networking reception was held at PEAK Scientific's HQ in Inchinnan, welcoming Scottish Government Cabinet Secretary for Finance, Economy and Fair Work, Derek Mackay, Renfrewshire's Provost, Lorraine Cameron, and members from Renfrewshire council, Scottish Enterprise Chief Executive, Steve Dunlop, as well as local businesses and Inchinnan Primary School pupils. The reception was followed by a factory tour at PEAK Scientific's manufacturing site.
Back left to right: James Boyle, Operations Director at PEAK Scientific, Lorraine Cameron, Renfrewshire Provost, Derek Mackay, Finance Secretary of Scotland, Chris Pugh, Engineering Director at PEAK Scientific and Steve Dunlop, Chief Executive at Scottish Enterprise, with Inchinan school pupils
The new innovation district, the Advanced Manufacturing Innovation District Scotland (AMIDS), located next to Glasgow Airport, is set to boost Scotland's manufacturing sector by £535million in GVA a year and will create up to 6000 jobs in the sector.
Working in partnership with Scottish Government and Scottish Enterprise, Renfrewshire council is at the helm of the district's development that is geared to position Renfrewshire at the heart of Scotland's manufacturing sector.
Chris Pugh, Director of Engineering at PEAK Scientific, said,
"We were honoured to host the press launch for such a unique project for Renfrewshire. The development of AMIDS is a major stepping stone which will see more employment opportunities and economic growth generated from the region.
"It's also a fantastic opportunity for Renfewshire to establish itself as Scotland's internationally-recognized hub for manufacturing technologies, research and innovation. We look forward to seeing the council's hard work on the AMIDS project come to fruition."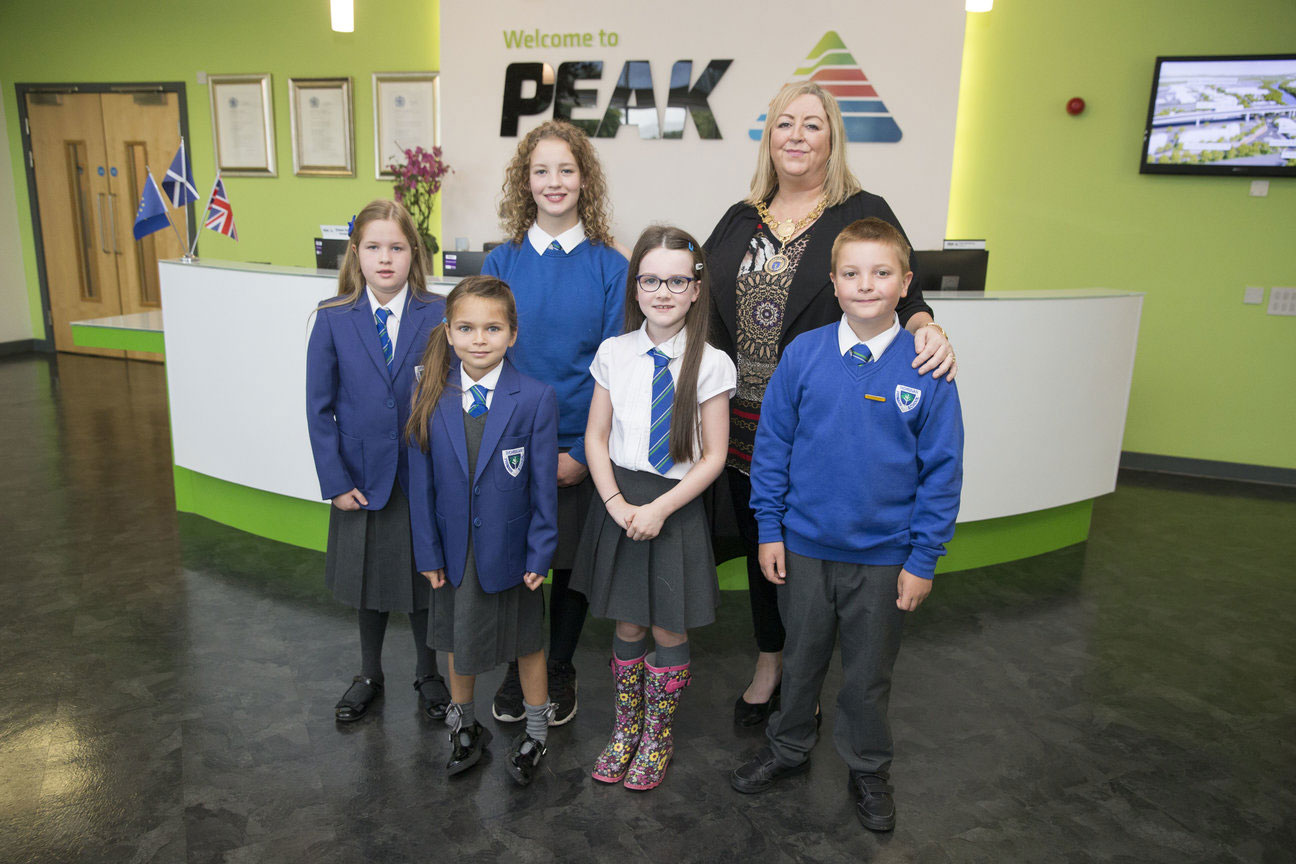 Lorraine Cameron, Renfrewshire Provost, with Inchinnan School Pupils at PEAK Scientific, Scotland, UK 
Construction work has already started on the enabling infrastructure, encompassing new roads and bridges, cycling routes and walkthroughs.
Plans are in place for the 1.6million square feet site to include a 52-hector campus at the center of the district, designed to house companies harnessing new technologies and accessing pioneering research. The site will also be home to the National Manufacturing Institute Scotland and the Medicines Manufacturing Innovation Centre.