Published
23rd September 2016
PEAK launches its new & improved industrial website
PEAK Scientific, a global leader in laboratory gas generator solutions, is delighted to announce the launch of its new PEAK Industrial website.
The newly redesigned Industrial website incorporates a clean & modern design, enhanced functionality and an easy to navigate, content-rich experience, providing streamlined access to essential information, as well as PEAK's key industrial products & services.
With a number of innovative features, such as the nitrogen supply savings calculator, visitors will be able to enjoy an informative browsing experience, drawn from PEAK's experience, expertise and knowledge of a host of industrial sectors, such as aviation/aerospace, electronics, food & beverage, pharmaceutical, metals, plastics and more, as well as on-demand gas generation technology. Users can also look forward to extensive content on products/services, latest news & innovations, applications research and access to downloadable content; all of which will be supported by real life industry user stories, highlighting the benefits of on-site nitrogen generation over bulk supply methods, such as gas cylinders or dewars.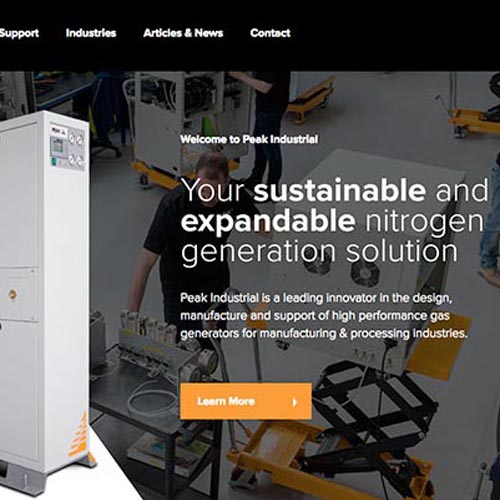 The website officially goes live today and can be accessed via: http://www.peakindustrial.com. With the website officially going live, PEAK's Head of Marketing, Mark Flanagan, had the following to say:
"The launch of our new PEAK Industrial website marks a step change in our investment and expertise in high-flow nitrogen solutions, centred around our flagship i-Flow nitrogen generation system. The new site has been designed from the bottom up with the objective of making it easy for customers to gain insight into our products, understand the technology involved, typical applications, read about other customer experiences and most importantly, explain the unique benefits of working with PEAK when considering a more economical nitrogen supply solution." 
PEAK are committed to the future development of this new website. Its content will be continually improved and updated, with the aim of creating an ever increasingly valuable resource for new & existing industrial customers.  This will  complement existing customer interactions, rather than replace the direct, responsive customer service that PEAK have been known for throughout the scientific market for over two decades.