Published
2nd December 2015
PEAK attend SACI 2015
PEAK South Africa have been very busy coordinating their attendance at the 42nd National Convention South African Chemical Institute (SACI) this week.  The event is set to run until the 4th of December and already the team have been reporting back to PEAK HQ about how busy the exhibition space has been.
SACI's mission is to promote the development and image of Chemistry in South Africa, advising on chemical education and other Chemistry related legislative matters of public and environmental concern.  They aim to play a leading role in assuring the professional competence and integrity of chemists and to foster international collaboration as part of an African chemistry community.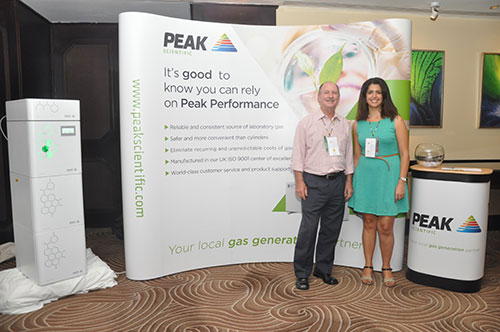 Speaking on behalf of PEAK Scientific, South Africa Director, Dean Milbank stated:
"We are half way through the exhibition and our booth has seen a record number of visitors. We love informing end users on the benefits of using a laboratory gas generator over traditional gas methods, like cylinders. There are still two full days of the exhibition left and I urge those who attend to visit our booth to learn more about producing gas on demand."
If you are unable to attend the exhibition and would like additional information on PEAK Scientific and its product offering please click here to speak to one of our gas experts.