Published
15th August 2018
Kelsey MacDonald updates PEAK about her progress on the Ladies European Tour
Kelsey MacDonald tells us in her own words how she has been finding the Ladies European Tour, what her highlights have been and where she is off to next!
---
Hi everyone,
I hope you have been able to follow my progress and results online. If you haven't, here is a little update.
After the Lalla Meryem Cup in Morocco in April my next event was the Jabra "Evian Qualifer" in May. This was at such a beautiful venue with the most amazing views looking out on to the mountains. It was my first tournament in 4 weeks so having a score card was a little daunting. I realised from this break between events that it's so important for me to have the physical score card in my hand. I had a solid week with lots of birdies and positives however it was clear there was a bit of "rust" present.
With the tour schedule being far and few events between, I wanted to make sure I was peaking at the right time. My priority was the Scottish Open at the end of July at Gullane. So I decided to make sure I had some events that would enable me to be fully prepared for teeing off at the Scottish open.
I played in a few pro-am and access / mini tour events. Of note was the FOPE invitational in Italy where I finished 2nd. This was very instrumental to my game, a huge boost for my confidence and it allowed me to move into the next few events with more excitement. In the Santander event, in Zaragoza the week prior to the Scottish Open, I finished 8th and it was a great opportunity to highlight my strengths and weaknesses going into a competitive week.
The Scottish Open was amazing. It's the only event in the year when my friends and family can come and watch. I was so lucky to have one of my best friends carry my bag, Katy McNicoll, who is an assistant professional at Gullane. We had an amazing finish to our season last year so I had an amazing feeling about the week. It was great to have some inside knowledge and friendship and banter on the bag.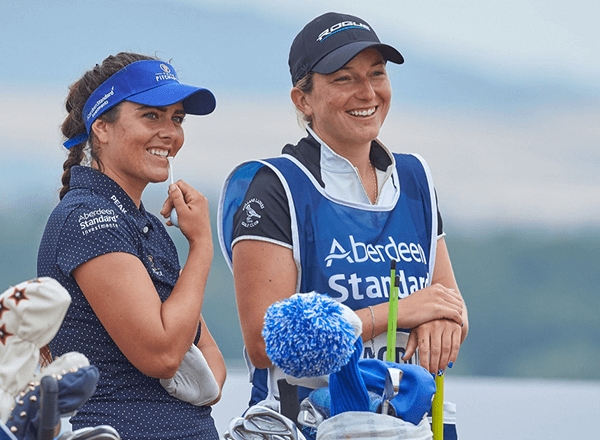 Kelsey MacDonald and Katy McNicoll at the ASI Ladies Scottish Open at Gullane
I also had one of my best friends who hadn't seen me compete in two years come to support, and I also had Fiona Taylor from PEAK Scientific come and support. To have family, friends and sponsors support such an amazing event in your home country is such an amazing feeling. The Scottish Open is a co-sanctioned event with the LPGA so it has a huge prize fund and attracts big names. The likes of Michele Wie, Catriona Matthews and Anna Norquist, who are some of the most successful women golfers in history, were playing.
 Aberdeen Standard Investments set up an amazing Scottish Open. I was lucky to help with some activities that week for getting young girls interested in the game. Such a rewarding experience!
Giving a great performance and playing at the weekend was a great feeling. The conditions were tough at the weekend and my final round wasn't what I hoped for. However, I was extremely pleased with my performance and know my game is so close!
My next event is the Lacoste Ladies Open in Bordeaux at the start of September. From now until then I will be sharpening up my wedge play and will keep grinding to give myself the best chance of performing.
I wouldn't be able to do all this travelling and competing if it wasn't for my sponsors! So I'm feeling very lucky.
Outwith golf
Before the Lacoste Ladies open I'll be heading to Bolton Abbey to see my beautiful cousin get married and I'm also looking forward to seeing Nina Conti at the Edinburgh Fringe Festival, she is an amazing comedian and I recommend going to see her! 
---
Well done to Kelsey. PEAK Scientific is proud to sponsor a successful and extremely talented female golfer - keep up the good work!
Found this article interesting? You may also like:
Kelsey MacDonald makes the cut at the ASI Ladies Scottish Open
Kelsey MacDonal to represent PEAK on the Golf course