Published
2nd August 2021
Kelsey MacDonald kick starts her '21/'22 season
2021 - Here we go!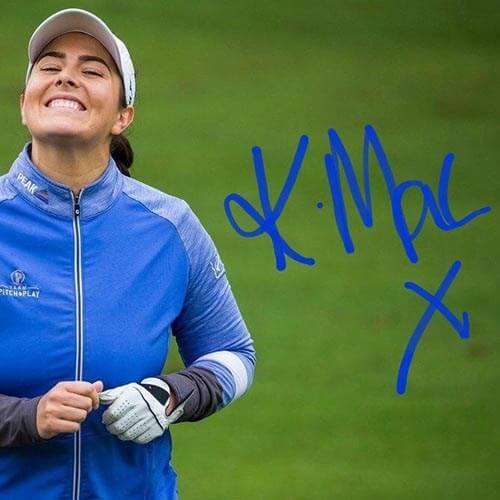 With no idea how my golfing season was going to go, the only thing I could do was to get fit mentally, physically and get my golf at its best.
From January to May, with no events because of Covid, I was determined to get up every morning with a purpose; going to the gym, walking Lochie the dog, practicing golf, eating and drinking well and, most importantly, staying safe.
It was slightly disappointing not to return to South Africa this year as I always enjoy the event. I had finished with a top 5 last year just before we scrambled to get home as Covid lockdown was imminent! 
The Ladies European Tour have done a great job this year getting more than 20 events and, with some of them 4+ weeks in a row, it is important to pace the year carefully.
We are used to making plans well in advance to get the best deals for hotels and flights, but I soon found out that travel arrangements were going to be easily disrupted and getting covid tests for flying in time (every country has different guidelines) took a lot of patience! Staying in 'bubble hotels' has also meant staying further away from venues so it's mandatory to hire a car. All the costs this year have increased so I can't thank PEAK Scientific enough for the support I have received and identifying how tough this is with all the extra costs and struggles.
I happily set off for my first event in Italy having been vaccinated. This year, in particular, it is important to have a caddy so, with George in tow, friend and pro, we flew into Turin for the Ladies Italian Open.
It's very strange this year with protocols and bubbles to adhere to, no reception parties and really doing your best to keep safe. I enjoyed Italy and made a solid start to my season.
Next was a drive to Evian in France, via Switzerland, where I was delighted to finish 15th. I looked at how many birdies I had that week which matched the tournament winner. I took a lot of positives knowing my game was trending in the right direction.
We had a long drive back to Turin to fly to Sweden - not as exciting as it sounds with destination times to make. What was impressive was the fact we had been in 5 countries in 24 hours; France, through Switzerland, to Italy by car followed by flying via Amsterdam to Gothenburg.
Sweden was a joint event with the Men's European Tour. Annika and Henrik doing their part to bring men and women together for a very high profile event. I was happy with my game but fell short of making the cut. However, I enjoyed using the facilities at the Vallda Golf Club over the weekend.
The next stop was a well-deserved week at home to get the golf clothes washed and repacked before the next 4 events on the schedule; Czech Republic, Amsterdam, London and Finland.
Normally, at most events, we have to attend a reception party or a visit to a local tourist spot or business. Whilst I am happy to stay in my bubble and stay safe, there is a different feel to things this year and it's very difficult being confined to just hotels and the golf course. This I something I have struggled with and I know that there are many other players finding this aspect of the travel hard.
11 birdies and 1 eagle in the Czech Republic allowed me to finish 40th with lots of positives. 
Holland was a great track but, unfortunately, I missed the cut by one which was extremely difficult to take.
Next stop - London at the Centurion Club. I was tournament leader after round 1 (great to see my name at the top!) and finished the week 8th. Being at the top of the leaderboard cemented all the feelings that this is what I want to do and this is where I belong. A top 10 finish with top world players also meant my world ranking went up!
Alongside the London event there was a team event which consists of 3 pros and an amateur playing together with the 2 best scores counting. 
This was a fantastic event and I was looking forward to going to Finland to bounce off of the momentum I had created over the season so far. I was quickly brought back down to earth as, no matter how safe I was and following the rules, I tested positive for Covid 19 and missed the next event in Finland.
I had to do 10 day isolation down in Watford which was extremely tough and had been a huge set back mentally and physically.  I'm determined not to let this affect me moving forward as I have a long season ahead.
Now off to Northern Ireland, World Invitational, mixed with the Men's European Tour and the LPGA
I am most looking forward to the Ladies Scottish Open at Dumbarnie as I have played several rounds with Robin and have great memories there!
Stay safe