Published
26th February 2018
How did our 'Genius' generators earn their name?
How did our 'Genius' generators earn their name?
The Genius Series of compressor based nitrogen generators for LC-MS was developed by our team of dedicated engineers and is the culmination of over a decade's research and field testing.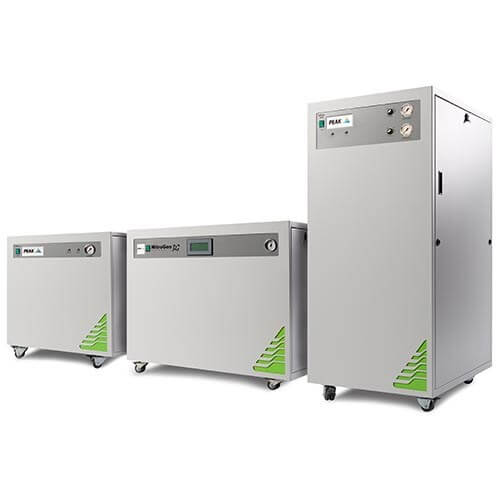 A selection of Genius nitrogen gas generators
Genius nitrogen generators were designed to be true standalone nitrogen delivery solutions, each containing an air compressor so that there would be no requirement for an external source of air. A 'genius' solution for laboratories without an external air supply.
Producing laboratory grade nitrogen using tried and tested membrane technology, Genius nitrogen generators provide a reliable and consistent source of nitrogen gas on demand.  One of the genius things about these generators is that they remove the need for nitrogen cylinders or dewars, completely eliminating recurring administration and delivery costs while removing the safety concerns and manual handling associated with these inconvenient gas supply methods.
All Genius nitrogen generators have service indicators as standard which provide an alert when preventative maintenance is required, ensuring maximum uptime.
Genius generators are also a more cost-effective solution than traditional cylinder gas with a smaller carbon footprint as there is no need for repeated deliveries.
So, as a cost-effective, safer and more environmentally friendly nitrogen delivery solution for laboratories without an external source of compressed air, Peak Scientific are confident that our Genius series of nitrogen generators live up to their ambitious name, and, with 1000s of Genius generators performing in laboratories all over the world and over 60 positive reviews for the Genius series on SelectScience, it seems that our customers think they do too.
To learn more about the Genius series
Liked this article? You might also be interested in:
Genius NM32LA continuously produces for Durham University
Peak Scientific Introduces Genius 1024 - SCIEX approved gas generator
Improving LC-MS Separations with on-site nitrogen generation