Published
29th November 2017
How can you tell if your cheese is Irish?
As consumers, many of us care about the origin of our food. Origin is sometimes used as a benchmark for quality and we are often willing to pay more for food based on its origin.

This is why it's become increasingly common in recent years for high-value foods to be fraudulently mislabelled. So how can you tell if your food comes from the location claimed on its label?
A project in Ireland funded by the Irish public health body, Safefood, examined various cheeses which were labelled as coming from  Ireland to see if this was accurate. The Teagasc and Queen's University Belfast teams working on the project researched analytical methods which could be used to determine food product origin. In food products like cheese, concentration and relative ratios of key analytes are mainly influenced by animal diet and geographic location and, as food animals reside in certain geographic locations and are mainly fed a grass-based diet, the team reported the potential for developing fingerprint models that can characterise indigenous farmhouse cheeses.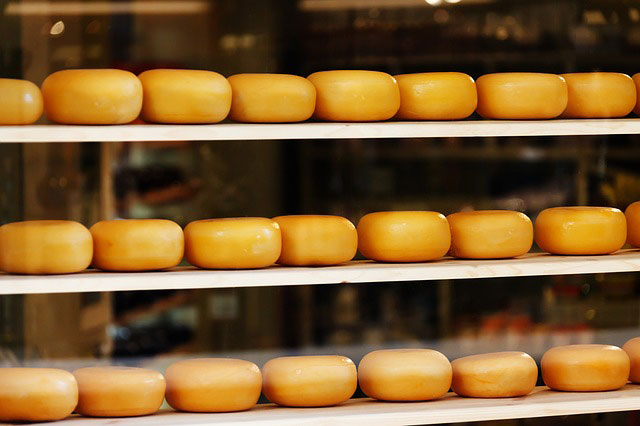 Cheese of unknown origin in a shop window
Analytical methods for Isotope Ratio Mass Spectrometry (IRMS) and Inductively Coupled Plasma Mass Spectrometry (ICP-MS) were established and validated and data was collected and analysed, leading to the development of indicative models for confirming the geographic provenance of artisan cheeses produced in Ireland. So by using IRMS and ICP-MS, you can discover if your cheese is Irish.
ICP-MS-based analytical techniques are used in a number of areas of analysis including food, pharmaceutical, environmental, geochemical, nuclear, and medical fields to monitor test samples for trace elements and their isotopes. Samples are ionized by application of an argon torch and electromagnetic field, followed by mass/charge ratio separation via a mass spectrometer. In order to eliminate major spectral interferences generated by ions derived from the plasma gas, a collision gas such as hydrogen or helium is used.
For those in the market for hydrogen gas for their ICP-MS, PEAK Scientific's Precision Hydrogen Series has the answer. The hydrogen generators in this series are each capable of generating hydrogen collision gas for ICP-MS. 
To find out more about PEAK generators for ICP-MS
Source
Found this article interesting? You may also like:
Agilent ICP-MS aids in a murder investigation
Putting the 'cheesy' back in cheese